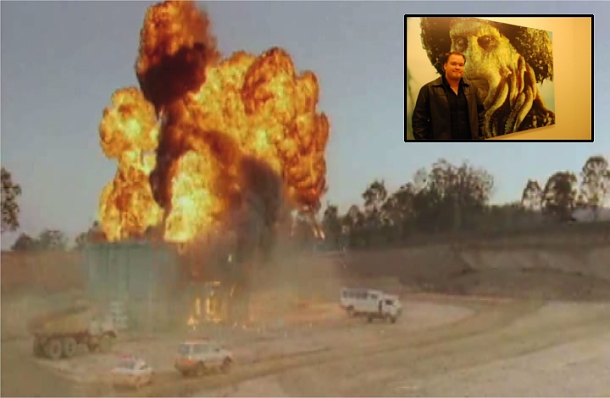 A still from Hollywood VFX supervisor Allan McKay's demo reel and (inset) McKay himself, with friend from ILM.
"People under pressure are more likely to snap," writes Allan McKay. "Crazy deadlines and depressing work environments lead to people panicking, not thinking clearly [and] avoiding talking with management or showing their work in fear of bad responses."
McKay should know: as a TD and VFX Supervisor for hire, he's worked through deadlines at ILM, Blur Studio, Frantic Films and Digital Dimension; and as the director of his own company, Catastrophic FX, he's been on the far side of the management divide.
Which is what makes his new article, entitled 'Overtime vs Productivity', all the more compelling. In it, McKay recalls 145-hour working weeks, and clients who would fly in staff to oversee artists in shifts. But intriguingly, his conclusion is not simply 'Overtime is bad'. Or at least, it isn't 'Studios who ask artists to work over time are bad'.
Long working hours almost always result in decreased artistic productivity, points out McKay. Unfortunately, it isn't always in the studio's gift to avoid them.
But there are things that can be done to take away the sting. In the article, McKay points to payment of overtime by the hour rather than the day; meaningful personal contact with management; and studio bosses who step in as a blast wall between client and artist. He is currently soliciting other suggestions online.
Should we have to work overtime in the first place? Undoubtedly not. But in an imperfect world, these suggestions do have the ring of practical damage limitation. Read the article for yourself and post your thoughts.
Click here to read the article online
Tags: Allan McKay, overtime, vfx