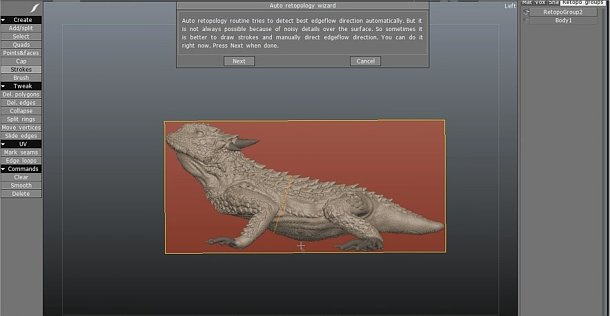 Developer Andrew Shpagin has released version 3.5 of his sculpting tool 3D-Coat, including what is being claimed as an "industry-first auto retopology" system.
The demo video from the 3D-Coat website shows a rapid, wizard-like process, in which the user paints out areas of the model that need to retain high polygon densities, then draws lines on the surface to define edge flows. The software then calculates the new topology.
The resulting geometry looks good, although early testers report a few tris and n-gons among the quads.
3D-Coat 3.5 also introduces multiresolution voxel sculpting, better UV management, a 'coarsing' export option (a kind of 'anti-subdivision') and a large new library of primitives.
You can read the full feature list on the 3D-Coat website here.
Pricing also changes, with the cost of the Professional edition rising slightly to $349 from 16 October. It is currently available at a discounted rate. The lower-functionality Educational edition costs $99.