GREEN LANTERN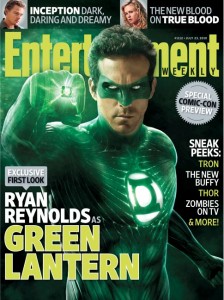 I have only recently started reading the Green Lantern Comics but it did not take long for me to fall in love with them. Apparently this was exactly what happened with Ryan Reynolds as he auditioned for the role of Hal Jordan, Green Lantern of sector 2814. Now say what you will about the costume design, I'll admit I was really against it at first but it is starting to grow on me. I mean I really hated it, but then again I bitched about the X-men costumes and the organic webbing in Spider-Man when they were first released. I have high hopes for this film, my only complaint being that they are bringing Paralax into the picture so early.
The panel begins with Geoff Johns, Ryan Reynolds, Mark Strong, Blake Lively, Peter Sarsgaard, and Martin Cambell taking the stage. They waste no time in giving the fans what they want, the very first footage from the movie to ever be seen. Only so much has been filmed so the teaser is a true tease but knocked my socks off none the less. The scenes are fast but we get a quick glimpse of OA, the center of the universe and home of the Green Lantern corp. We also see Hector Hammond, played by Peter Sarsgaard, with a a large and deformed cranium after he obtains his psychic abilities. Other quick glimpses include Abin Sur, the Green Lantern who passes his ring onto Hal Jordan, on an operation table and Hal Jordan using the ring to manifest a giant fist to fight off some muggers. My favorite part from this entire thing was the quick glimpse of Tomar Re, it makes me giddy to think about what the other corp members will look like. Like I said this was some very short footage but I like the look so far, my only disappointments being that we didn't get to see the Green Lantern costume in motion or Mark Strong in his Sinestro make up.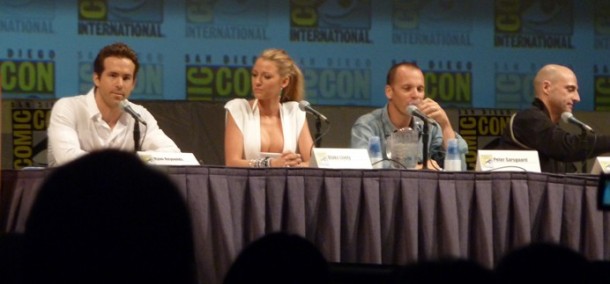 There were 2 questions worth reporting on from this panel, one being how Ryan Reynolds got the role. He explained that he knew nothing of Green Lantern and that he kind of walked into the audition figuring if they wanted to give it to him they would. He found himself realizing how much he loved the material and that it was not going to be that easy, WB apparently made him really work for the role. Reynolds admits he is glad it happened this way because he walked into the audition with the same of arrogance Hal Jordan has and feels the entire experience helped him prepare for the role. The second question being from a young child, simply asking Ryan Reynolds to perform the Green Lantern Oath.
Yeah, Ryan Reynolds is awesome…deal with it. Next the Green Lantern ring he was wearing, and used in the film, was given away to one lucky audience member who had a piece of paper under their chair. Despite desperate pleas from the audience to show the footage one more time we got no such thing. The possibilities for this film are endless. If they pull it off right we can see the Sinestro wars on screen, they could even start introducing the other rings from the emotional spectrum!? I certainly cannot wait for Green Lantern to light up theatres June 17th 2011.
HARRY POTTER and THE DEATHLY HALLOWS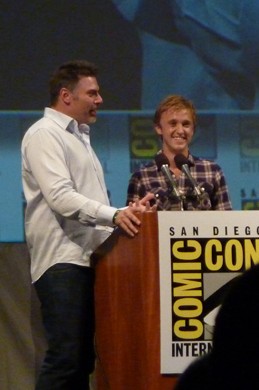 Unfortunately there will not be much to report here. To the Harry potter fans' dismay, many of which who camped out overnight for the panel, only one member of the cast was present. This was Tom Felton who plays Draco Malfoy in the films, but even then there was no Q&A and we jumped right into the new footage.
The first part is just an extended version of the most recent trailer, we got to see more action sequences which was nice. It was what followed that really grabbed my attention. We are given our first look at Bill Nighy as Rufus Acrimgeour, as well as the ministry of magic being taken over by the dark followers of he who shall not be named. We are shown a battle of wizards in a forest, a confrontation between Ron and Harry, and a great sequence of Hagrid flying through the night sky with Harry on his motorcycle as he evades the attacks of countless Death Eaters. The clip ends with Harry and Voldemort seemingly having their final duel among some ruins. The Harry Potter logo flashes with a pumped up epic version of the theme in the background.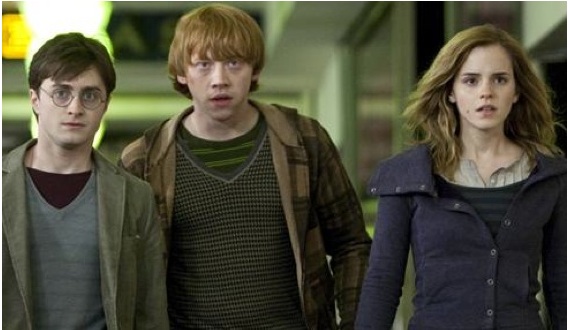 I never read the books but I have been following the movies. Some I felt were fantastic, others not so much. It has been a hit and miss series but I can honestly say the final entries in the Harry Potter saga (it is being split into two films, part 1 being released November 19th 2010 well part 2 is July 15th 2011) have the potential to be the best. The epic conclusion to a decade long series is bitter sweet and I personally look forward to it, just don't expect me to be dressed up as Harry at the midnight showing. I'm Slitherin if anything ;).
SUCKERPUNCH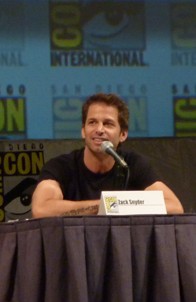 I walked into this panel knowing nothing of the cast, story, or even the look of the film. It was sheer curiosity that drew me in. This would be Zack Snyder's first movie that wasn't an adaptation of something else. It is based on a screenplay by him and is 100% original. That being said, a small part of me feels the footage shown was juvenile, silly, and downright weird. What does the other 98% of me think? This looks like the live action anime, badass femme fatale, action packed, acid induced, burlesque show I have been waiting for my entire life.
The panel begins as Zack Snyder is introduced on stage. Now there is one thing you need to understand, the man is a revolutionary visionary, but he cannot speak if his life depended on it. 80% of the time his answer to a question is "Awesome" or if he does start talking he never actually answers the question and just moves on. Next Emily Browning, Vanessa Hudgens, Jamie Chung, Carla Gugino, Abbie Cornish, and Jena Malone are all introduced on stage. We get some Q&A from fans but one thing is finally set straight after all these years….Zack Snyder likes women. This got a huge laugh from the audience since Zack said it was put into question after he did 300 and made those guys look a little too good.
I'm not too familiar with these actresses but they all had an energy and charm on stage I couldn't help but love. They were charismatic and almost giddy to see what the footage would look like. Well the moment of truth came, we were treated to the premier of the full length Suckerpunch trailer which was an extended version of the recently released trailer below.
This is the part where I am supposed to describe the extended trailer to you, but as you can imagine from the trailer above that is impossible. So much happens so fast I cannot possibly describe the exact scenes to you. Imagine 300 but instead of Spartans we have 5 beautiful femme fatales and instead of fighting Persians they fight giant robots, samurais, nazi zombies, and dragons. Oh and they do all this with flying mech warriors, machine guns, and katanas. Throw in some burlesque, some One Who Flew Over the Coocoo's nest and some Alice in Wonderland, and this deranged cocktail of awesomeness is the result. They are all patients at a mental institution who seem to travel to this world as an escape. I do not know the full details of the plot but This movie certainly looks like the adrenaline Zack Snyder we all know and love. Though you can try, as the trailer puts it, you will be unprepared for March 25th 2011 once this fantastic chaos hits screens. Below is a gallery of the recently released banners for the film.
MACHETE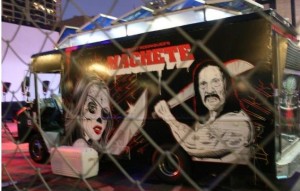 When Grindhouse was released my favorite parts were the faux trailers. Take a wild guess which one I prayed would be made into a full length film? That's right, Machete. There was not a panel per se for this but instead they rented out a parking lot and did what Mexicans do best, have a party. Free Tacos, free tequila, free tecate, low riders, and dancing go-go girls. Robert Rodriguez himself was actually serving tacos from the taco truck earlier in the day! I love these types of things and on top of all the free goodies Michelle Rodriguez (who seemed pretty trashed by this time) and Danny Trejo were there to present the exclusive footage just for Comic Con.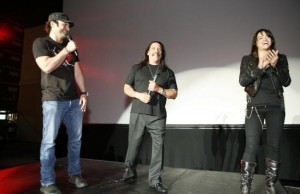 The footage looks great, it is griddy, hardcore, and Danny Trejo kicks ass in all the right ways. My favorite seen was when he turns some surgical knives into a knife tipped whip to use on the baddies, then he also has a bone saw he uses to cut a guy open right down the middle. Obviously this wouldn't be awesome enough for a Rodriguez film, so of course Machete reaches inside the guy, pulls out his intestines, runs down the hospital hallway, leaps out the window and uses it as a rope to swing into the window below. Yeah, that just happened and it was great, and I'm not just saying that because I was drunk. I am overjoyed the trailer got made into an actual film, now if only Rob Zombie's "Werewolf Women of the S.S" could get made? I want Nicholas Cage as Fu Manchu dammit! Machete slashes it's way into theaters March 25th, 2011.
THE COSTUMES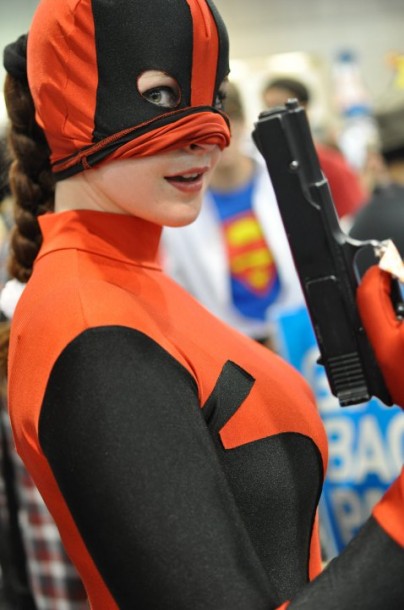 The good, the bad, and the weird. No matter how you judge them the costumes are one of the best features of this event. No matter how poorly they are made they add an extra bit of magic. I unfortunately did not get to finish my Green Lantern costume for this year but there is always next year right? Of course one cannot complain when you have a few dozen slave Leia's walking around.
I managed to catch up with one particular costumer, the beautiful Tallest Silver. She managed to make a name for herself as THE Lady Deadpool at the local comic book conventions. She was kind enough to answer some quick Q&A on costuming and even offers some tips for all you future costumers!
Me: How long have you been attending comic book conventions and how long have you been costuming for them?
Tallest Silver: I've been attending comic book conventions (and specifically Comic Con International) since 2003. I've been cosplaying at them since 2005.
Me: You have developed a bit of a fanbase and have established yourself sort of as THE Lady Deadpool, how does that feel?
Tallest Silver: It's silly, really. I don't know if I'd call it a FAN base, but it's really sweet that people think the real Lady Deadpool is me. So I keep providing ridiculous shenanigans for them. But I'm sorry, Deadpool's female self should not be blonde! She should be auburn and named Jade. It's just funnier that way!
Me: What advice can you give people who are interested in costuming at their local conventions?
Tallest Silver: I have a few rules when I dress up, like I only pick characters whom I love and identify with and, in theory, that I look like! Example: I'm never going to dress up like Emma Frost. I don't like her as a character, I don't relate to her in any way, and I don't LOOK a THING like her. Now, people don't have to follow my rules, but at least be familiar with the character you're dressed up like. I like to be in character walking around the con because I think that makes everything more fun. You look like them, so act like them! It's my way of showing the creators how much I LOVE their characters. As for body image and what not, I am all for ANYONE dressing up like their favorite character. Fat, thin, gender differences, DOESN'T MATTER. But you don't have to make the costume EXACTLY like how it is depicted on paper. They're a cartoon! You're a real person! You can modify and adjust costumes to flatter yourself and how you look. It also gives a piece of yourself into the character. Just have fun with it. Oh, and store bought costumes look bad. Buying accessories is one thing, but modding and making your own costume just looks so much better and shows how much effort a fan puts into a costume.That's really admirable than some cheap Halloween costume you bought on sale.
Below is a gallery of some of my favorite costumes from this year's comic con.
THE SWAG
One thing everyone goes nuts for are the free promotional goodies various companies hand out on the exhibit floor, as well as out on the streets of Downtown San Diego. Everything from t-shirts, pins, posters, pens, food, tattoos, hats, ice cream, bandannas, lanyards, gift cards, books, usb thumb drives to…everything imaginable! Half the fun for me was hunting down as much swag as I could. Though I was not able to get some things I really wanted you can see what I did manage to get below.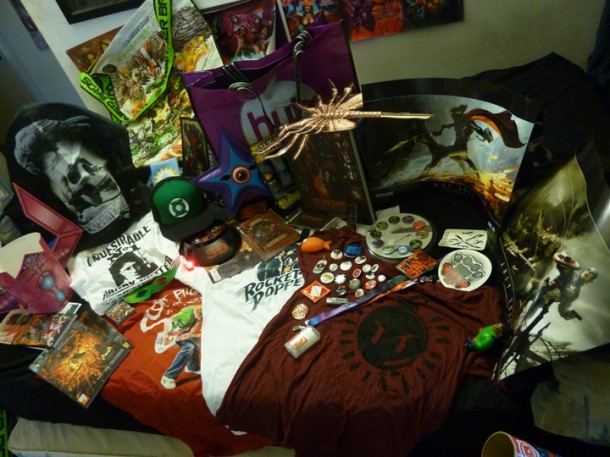 Well Comic Con has once again come and gone. It was so much fun yet so physically draining. I will have to ask you all forgive me for not attending the MARVEL panel, believe me i really wanted to but i was not gong to sit in Hall H for 7 hours during horrible movie presentations when there were adventures to be had on the exhibit floor.After hearing about the stabbing incident over a saved seat perhaps it was better I wasn't? I hear all doubts concerning THOR can be laid to rest, I hear Captain America will be amazing, I hear The Avengers is going to be the big event next year with Mark Ruffalo subbing for Edward Norton as Bruce Banner. I cannot wait for Comic Con 2011.
Tags: comic books, comic con, effects, green lantern, machete, movies, sdcc, suckerpunch, tron