Natural Point is well known for building low-cost motion capture equipment and software. You can set up a decent motion capture system for $5k. Hot on the heels of the virtual cinematography system used in Avatar, Optitrack has released their own low-cost version called Insight VCS (Virtual Camera System). The camera system basically combines motion capture with a moving camera, with the real-time preview rendered on the camera screen. Not bad for the price…
From the product pages: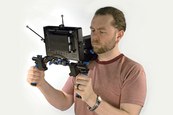 The Insight VCS enables you to combine physical camera moves and an exceptionally customizable software interface to articulate cinematographic realism in your virtual environment. No more keyframing splines. No more artificial, linear camera moves. Stop staring at numbers and sliders and pick up a camera.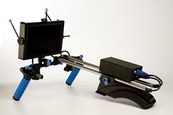 Designed for professional production work, the VCS:Pro replicates the organic cinematographer's experience with exceptional fidelity. The professional model includes a 1280×768 HD LCD display for real-time feedback, mappable buttons and joysticks for extensive camera control, and a robust Redrock Micro shoulder mount kit. Markers and posts are included for a variety of marker configurations.