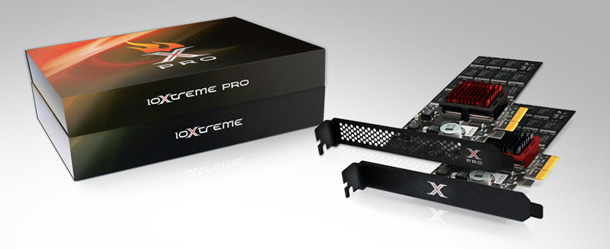 When we discuss computer graphics hardware, we tend to first talk about video cards, CPU's and how much processing we can do to get images drawn as quickly as possible on screen. We tend to forget one crucial component of the puzzle, which is memory throughput, and how data is transferred within a computer system.
If you've ever had to work with massive amounts of data, for example, multi-layered HD footage for compositing or point-cached files, you begin to really hit performance bottlenecks in terms of data bandwidth. Your multi-core CPU might be running just fine but it's the speed of the data going in and out which is holding everything up.
That's where Fusion IO comes in. Fusion IO is a relatively new company specializing in solid state storage technology. In a nutshell, if you put in the workstation-level ioXtreme card into your workstation's PCI-E slot, you immediately get 80GB of non-volatile flash storage that runs at an average bandwidth of 520MB/S (700MB/s read, 280MB/s write). It's not just the size of the pipe that counts either as one has to consider latency. The L1-L3 cache on your CPU has a typical latency in the nanoseconds. RAM is faster, but typical harddisks and SSD's are in the range of milliseconds, while a card like ioXtreme runs only slightly slower than RAM, which makes it perfect when you need immediate memory to read and write from.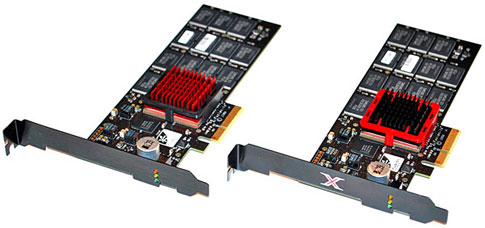 So, at the entry level, it's akin to sticking 80GB of RAM into your computer, but it acts like a hard disk (data is non-volatile, that is, it stays there even if you turn off your machine). If you're a compositor, just set up the ioXtreme card as a scratch disk and you're flying (so to speak).
Performance is also scalable with multiple cards. For example, an ioXtreme Pro (which enables scaling) combined with an ioXtreme will increase total read performance to 1.4GB/s. Three cards increase that to a mind-boggling 2.1GB/s read.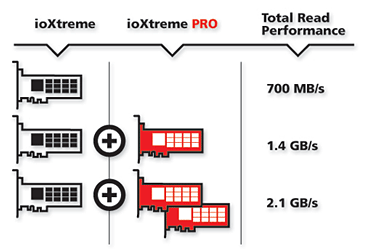 We think this is pretty kick ass technology. Definitely, if you're doing data intensive type of work, this is something you'll want to consider.
The 80GB ioXtreme card is available through Amazon.com for $895.
Also, check out Hot Hardware's impressive 13-page write up on the product.
Related Links
Fusion IO
ioXtreme on Amazon
Hot Hardware's write-up