-CGC Archive-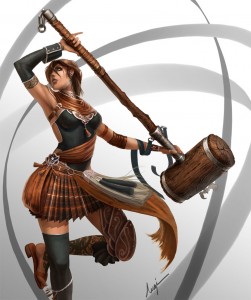 CG Channel introduces a very talented freelance artist, Fred Augis. He is our new CG Elite member.

Tell us a bit about your background and where you're working right now.
Concept and illustration projects are quite new for me. At first, I was a graphic designer who became a rough designer. Since 2004, I've been using a tablet. In the beginning, I had to "tame" it. But it is such a pleasure to work with it… Today, I'm still a freelancer who can live on his art. My next objective? -Working with foreign clients – progress in english. A part of my job which is also interesting.
How would you describe your work?
I'm essentially working on character design. I have always been fascinated by the human body and its mechanics, which is, I think, the best harmony of all mammals. I also like to play with contrast values and complementary colors because I like the idea that extremes are co-existing harmoniously.

How long have you been making art?
I began to draw when I was a little boy. A family heritage I would say. During a part of his life, my father, who had become a kitchen designer, drew a lot. At that time at home, you could find all the drawing materials you needed to take the first steps as a draftsman. As a teenager, I found my inspiration in manga (like Katsuhiro Otomo or Akira Toryama) and comics. Of course, I like Franco-Belgian culture, but I was more sensitive to the dynamics of Japanese graphic. During my communication and advertising studies in Lyon, I learned how to hold a brush, create some arrangements and use Photoshop. With rough technique, I found the dynamics I was looking for in manga. Drawing any rough-shape quickly helps me to layout a composition or storyboard. After my baccalaureate (A-Levels), I got into Emile Kohl, an art school in Lyon. There I learned animation, illustration processes, and all the traditional techniques I needed to know. Too expensive for me, I had no choice to leave that school after one year and find a job. I decided to be my own chief. As an independent, I made a lot of graphic works (at that time, I was a better graphic designer than an illustration designer). And one day, one of my friend lent me an A6 Wacom tablet. That experience changed the way I work. I'm now working for the video games industry and companies which are looking for concepts or illustration projects.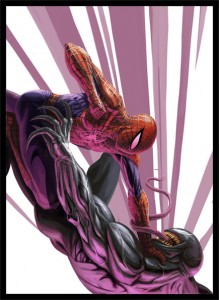 What are your motivations for creating?
I like to keep away from technical limits and evolve professionally in my art. I try to keep as close as possible to realism. When you get it, the real creation can rise, and artistic personality can be built free of constraints. That's my point of view.
What is visually inspiring to you right now?
I'm a big fan of the movements created by the video game industry. Many of the artists stand apart from others. Brushes give a very interesting execution and open up new perspectives for instantaneous creation called Speed Painting.
I also find my inspiration in fantasy or science-fiction movies, comics and art books. Today, I try to go back to realistic stuff by working from natural elements.
What's your favourite comic book?
With Hellboy, I had to rediscover Mike Mignola's work. I'm a fan of his style and his compositions. Each of his vignettes could be an illustration in itself.

Do you have a favourite super hero?
I can't identify myself to any super hero, but when I was playing the X-Men game on Super Nes, I like to take Cyclops.
Tell me about the process of creating work digitally.
I usually begin my work with a sketch in Photoshop. Then, I layout silhouettes, grey values, and one color which includes the composition hue. Then I use different brushes to refine forms and colors. At the end, I layout all the textures for my drawing.

Do you have any traditional art training?
Yes from Lyon, but frankly I'm happy to find my own way in digital art. At that time, brushes and painting were not my cup of tea. That all changed one day. However, one thing is missing in digital art: the heat. Using a tablet and keyboard can't give you that feeling.
Do you use any 3D programs?
Not at the time. In the past, I used Lightwave and Softimage a bit but I felt more interest and ambition for 2D to pursue my experiments with 3D. When 3D becomes less complex, I will try again.
How long does it take to do an average piece?
I'm not working more than twenty hours per picture, usually because I can't get more time per project. That's why I always try to work as fast as possible. In the future, I hope to get more time per project. By the way – our painter's master is taking more than a month to complete their work, so maybe I won't take over a month, but I could take more than my "twenty hours" to draw something.

Do you use a Wacom tablet?
Yes, a Wacom Intuos A5. I am satisfied with it, but one day I would like to get a tablet PC – like the Motion Computing LE1700 tablet. That would be great…
Any advice for new artists just diving into this field?
Take care not to separate substance from form.