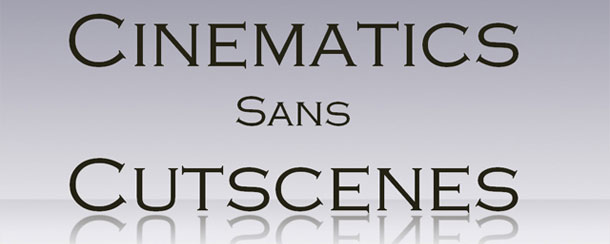 Last year, I had the chance to attend Montreal International Game Summit where I attended Jonathan Cooper's talk on game cinematics without the use of cut scenes. The contents of his entire talk are pretty much now online at his blog. Jonathan Cooper is a "Scottish video game developer working at Ubisoft Montreal".
Excerpt:
The problem with Cutscenes:

Control and choice is restricted, if not removed entirely.

One second the player is running around, making choices and personally involved in many aspects of how the story or adventure is progressing, then the next they are force-fed exactly what we as developers want them to see and experience. This is fundamentally against the nature of our medium, and greatly restricts their experience for the duration of the cutscene back to the levels of the older medium of film.

Cutscenes make a clear division between the gameplay and the story.

The visual difference between cameras (and often character fidelity) in gameplay and those for cinematic cutscenes negatively reinforces the fact that most of gameplay involves little to no story progression at all.

Cutscenes are opt-out.

Once a cutscene is triggered, often without the player's consent or choosing, his or her only option is to exit the cutscene. This brings with it issues of missing important information after the point of exit, and more importantly highlights the fact that we have a major problem here. If we have a design element in our medium that consistently requires we add the option to skip it entirely, then surely there is something fundamentally flawed with some aspect of that element?
Related Links
Cinematics Sans Cutscenes – Jonathan Cooper