FXGuide posts an interview with Carey Villegas, one of Imageworks' visual effects supervisors on the film. Check it out.
fxg: How did the Red Queen's character come to have such a large head?

Villegas: Well, Tim Burton's an artist himself, so he was always sketching designs for the characters. His style was to draw them with really large heads and eyes. So we wanted to incorporate his drawing style into the actors playing these characters. For the Red Queen, we really wanted to give her this caricatured feel – this enlarged head and a really tiny cinched in waist.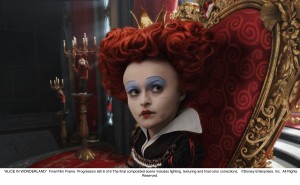 Related Links
FXGuide – Alice in Wonderland