The Gnomon Workshop has posted an interview with Scott Patton, whose impressive credits include being on the design team for James Cameron's Avatar.
Scott recently released two Gnomon DVD's on 3D character design for film.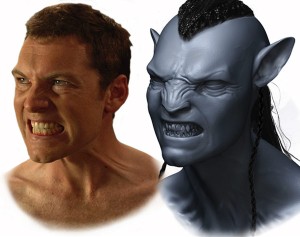 Quote: Scott Patton started his career as a make-up effects artist in the 1990s, developing his sculpting, painting and design skills under the tight production deadlines of the movie industry. Patton's work as a make-up effects artist can be seen in a diverse range of films from Sin City and Kill Bill to Amistad and The Green Mile. While working on the Academy Award winning The Chronicles of Narnia: The Lion, the Witch and the Wardrobe, Patton discovered ZBrush and quickly realized that this tool could speed up the often frustrating character design process. Joining practical and digital sculpting in his production workflow, Patton joined Stan Winston Studios and the design team for James Cameron's Avatar. After the unfortunate death of Stan Winston in 2008, Patton helped the remaining S.W. team in creating a digital design department for their new company Legacy Effects. Since that time, Patton and Legacy have designed characters for Indiana Jones and the Kingdom of the Crystal Skull, John Carter of Mars, Pandorum, Iron Man 2, Thor, Cowboys and Aliens, Terminator Salvation and more.
Interview with Scott Patton
3D Character Design Volume 1 – Proto-concepting for Film
3D Character Design Volume 2 – From Concept Model to Presentation Art