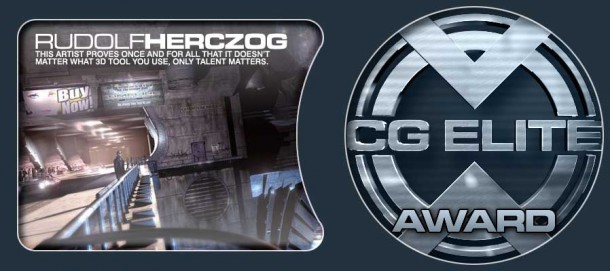 This is why CG Channel and CG Elite were created in the first place, to celebrate talent first, technology second. This artist proves once and for all that talent is always the most important. Rudolph Herczog did not use Maya, XSI, LightWave or 3DS Max to create his astonishing work. Rather, he used inexpensive solutions such as Bryce and Electric Image Universe, packages worth only a few hundred dollars.
A few years ago, I had a debate with the host of a so-called "High-End" web-site about the very definition of "High-End". Is it defined by the price-tag of your application or is it your ability to do high-quality, professional work with your tools? I have always believed that talent is always by far the most important. And this is the proof I was right.
Introducing the wonderful work of Rudolph Herczog from Sweden, digital painter and 3D artist extraordinaire. Here is our interview with him.
CGC: Perhaps you could begin by talking about yourself and what brought you into this industry in the first place?
RH: Well, my name is Rudolf Herczog, and I'm a 32 year old graphic artist from Sweden. I'm doing this mainly as a hobby, but also do freelance work from time to time.
I more or less got into 3D by accident, thanks to a friend of mine. He introduced me to Metacreations and Bryce, and that got me hooked.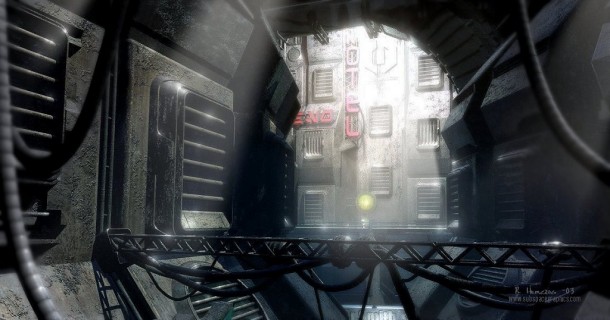 CGC: What were your favorite TV shows or books, comics as a kid?
RH: I never was much into books, but I've always loved comics. Asterix and Tintin is still among my favorites. As for TV shows, I pretty much watched everything. 🙂
CGC: Where do you draw your inspiration from today?
RH: Everything really, construction, architecture, movies, etc. Sometimes a cool name can give me an idea.
CGC: Who are your favorite non-digital artists?
RH: That would have to be the artist Al Porta who made cover art for the artist KOTO. He's the one that inspired me to start drawing future cities when i was younger. Love his work!
CGC: Who are your favorite digital artists?
RH: Oh, I have many, but if I must choose, Gary Tonge's work is fantastic.
CGC: What are the typical steps are involved in the creation of your images?
RH: Well, usually I have most of the image done in my head when I begin. I begin by modeling the main building and setting the camera view. Other building and props are modeled in a separate window, and later positioned in the main scene, texturing the models as I go. About halfway through, I set up the proper lighting and start to put in characters and props, like cables etc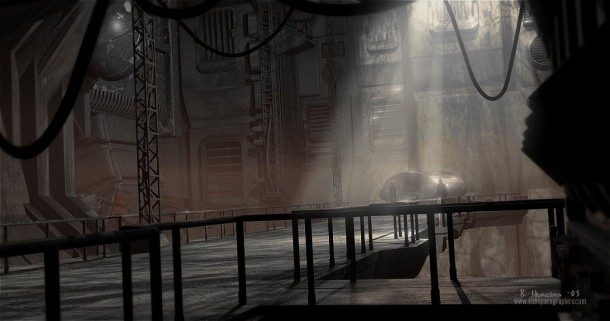 Images above: (click image to see full version)
Finally I add additional lights, where needed, to get the atmosphere i want.
Once the image is rendered, I run it through Photoshop and Universe Image Creator to make color corrections, light rays etc.
CGC: How much time do you usually spend on one of these?
RH: Everything from a couple of days to 2-3 weeks.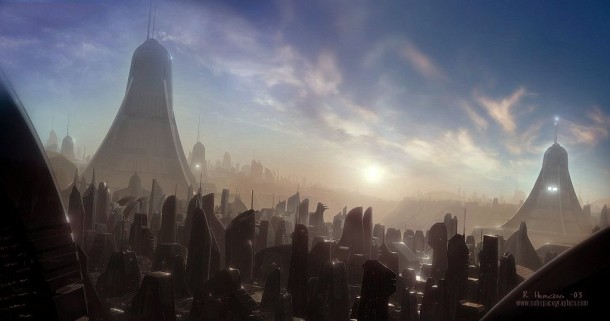 CGC: If you could travel in time and you could decide to work on any film that has been made in the past, what would it be?
RH: Blade Runner! I love trashed up worlds, mixing the old with the futuristic. And it's a great movie… 🙂
CGC: What types of projects inspire you the most?
RH: Everything that has something to do with sci-fi. Since it's my favorite genre, it's easier to come up with ideas.
CGC: f some sort of alien from a more advanced, alien civilization and offered you to transform any of your drawings into reality, what would it be?
RH: Hmm…This would be really hard to choose. Most of my images, are not very human-friendly, but I think I would choose Giants. I've always been interested in ancient civilizations, and to explore the remains of a long lost alien world would be out of this world.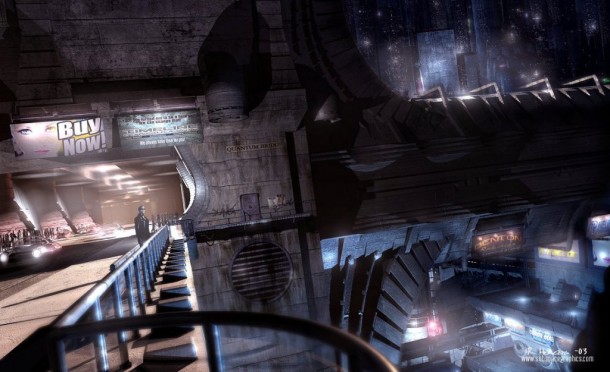 Visit the gallery of Rudolf Herczog on CG Channel.com
Tags: Rudolf Herczog