"Strike"
We are pleased to introduce an artist Jean-Sébastien Rolhion from France. He's been posting some fantastic images on the web lately, and we are thrilled to give this great talent the exposure he deserves.
CG Channel's primary mission is to seek out and expose new talents. Our forum exists to give a voice to the images. Nothing makes us happier than giving someone a push to reach their goal.
Look for "Strike" in our discussion forum. Oh, and he's using LightWave 3D!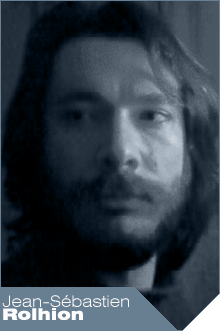 CGC: What is your professional and academic background?
JSR: I'm 30 years old and I live in France. Well, my background is a little bit dark, and chaotic. I've gone to school for accountancy studies which I dumped after going for 4 years, because I needed money to live… I worked in different places in France in different activities like administrative, industry, building industry,… and chemistry where I spent 5 years in a pharmaceutical laboratory. After several accidents in the lab, I decided to quit and save my health, I was wondering what type of job I could do next… As I always liked art in general (sculpting, painting, drawing I'm doing as well…) I started to train myself in photoshop and on different webtools to try to find a job in a webagency, because I thought then there would probably be some artistic work to do in this domain. After 3 months of training during my unemployed period, I found a job near my town in a new web design studio (Ab'6net), and I'm still working there for now more than 2 years. I came to CG one year and some time ago, to find some new tools to use on the web, and I discovered the whole world of 3D. I never expected to see all the things that could be done with this new tool, and since this day I'm real passionate for CG. I still have alot of things to learn after one year, but anyway, I really enjoy this thing that became a real hobby to do after my actual work, at night, where my ideas are closed to my dreams….
CGC: Some of the latest characters you have created are really spectacular. Why don't you begin by telling us what made you do them?
JSR: Well, first I tried to train on rendering and lighting, so I needed some characters to try real skin rendering… I still didn't find the right settings, but anyway… So I created some good textures as well, and finally my first goal was to get as far as possible from the beginning. This training pushed me to create different characters for a whole personal project I'll probably never finish, but the main thing for me is to train, to earn technical experience in the same time I can manage a whole little world of characters with their own story, nature, etc… and why not try the next step : animation.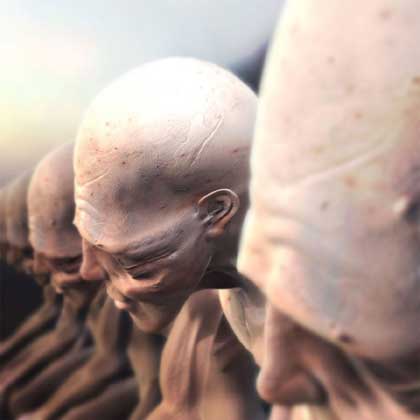 CGC: How do you typically begin a project?
JSR: I usually begin with a rough idea in mind. I create directly with my tools… No sketches, no drawings, nothing except my mouse. That's where I begin. Ideas come while I'm doing it, when modeling, while rendering, etc… I'm always thinking, observing my environment, and sometimes something gives me a new idea and it goes right into my project. I never really define a project in advance because I'm sure I'll see changes happening while I'm doing it. I can't really do things thought-up by others; I don't see the fun in doing it.
CGC: Tell us about the surfacing aspect of your characters?
JSR: I really like surfacing. I use a lot of procedural textures for most of my work. I like to play with both images and procedurals to obtain something different, and generally I take my own pictures of textures. For example, to create a face texture, I take some picture of my own face, and then enhance, copy, paste those elements with some Painting tools and paint again on it to obtain the good UV maps. It's never perfect, but I like to play in 2D to have something looking weird. Sometimes If I see something interesting, a wall for example, I will take pictures for the next time I need a wall texture.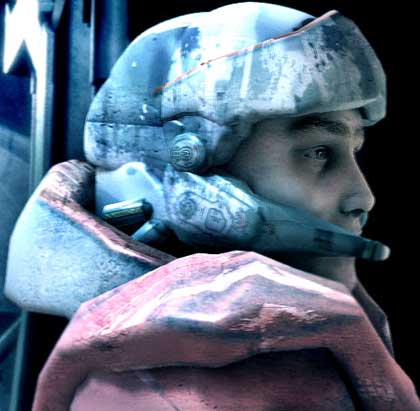 Procedurals are also great for texturing. One of my work (Wynrorn) is something like 90% Procedural texturing. The way is for me to find the good balance between these two methods, including the fact I have to create decent lighting for it as well.
CGC: Lighting also plays an important role in your work. What's your secret?
JSR: Observing. Like I said before, I can't close my eyes on the environment, and when I see a light on a wall, on a floor, or even on people around me, then I can find an idea to create this lighting, to fake something that looks real… Lighting is very important in a scene, and gives the whole flavour of an image. Someone I really like who is creating those lighting effects is Amaan Akhram. I think this guy totally rules in this area, and I hope one day to obtain the same results.
Technically I don't have any special secrets, I use both HDRI rendering and radiosity with different area lights to obtain the result you see in my images. The best thin is to carefully use both of them, and to place the light sources in the right places. Sometimes it's chance I admit. I can generate up to 10 renders to obtain the result I expected. Sometimes, I fail, and I'm still working on it because I'm not satisfied with the results.
CGC: What are your favorite weapons (software/tools) for your work?
JSR: My lethal weapon is Lightwave 3D 7.5 … I tried alot of tools, but Lightwave is the only one for me I really enjoy to use, because of its simple interface, and very efficient render tool. I don't know why I choose it, but now I can't do anything without it…
I also use the Lightshaders plugin alot, created by Massimo Curatella. This really rocks with all those presets I can easily modify!"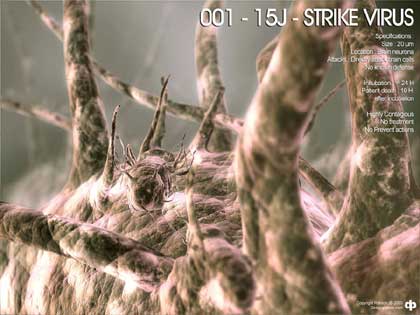 My favorite 2D tool is photoshop. I use it everyday at my job to create web interfaces, and now I use it for my texturing objects, and for post production. I generally try to make as little change as possible after render, only to change saturation, or balance color. I don't need 2 hours of post-production after rendering I mean. I already think as if I wanted to turn my renders into animations, so the post prod I have to do under photoshop has not to be impossible to do under a video post prod tool like Combustion or After Effects for example.
CGC: What's your greatest source of inspiration for your work?
JSR: I think our own past is already a source of inspiration. Moving, talking, visiting, observing, are sources of inspiration. For me everything and everybody is inspirational. Of course I really like some artists who give me inspiration, but I think the most inspirational thing is the world around us. Open your eyes, listen and watch the other cultures… There's so many things to see in this world giving the real significance of this word : inspiration 😉
CGC: What's your ultimate professional goal in life?
JSR: Well, some will think I'm not ambitious, but I don't have a professional goal in life, because life is already a goal in itself, and that's already a lot to manage. Jobs always took 2nd place in my life, so no I don't have a favorite thing I'd dream to work on. I only take opportunities I have, and it's always a pleasure to work with different people, of different social being. If one day an opportunity knocks on my door, I don't say I wouldn't open it, but I'll think about the consequence it will have on my personal life before saying yes. I'm already 30 years old, so even if I have some time left (I hope so), I hope to enjoy the future as i enjoy now. The door is open… just knock .
Related Links
Jean-Sébastien Rolhion's home-page
Interview by Jean-Eric Hénault
Major Editorial Contribution by: Xen Wildman
Tags: Jean-Sébastien Rolhion's, Lightshaders plugin, LightWave 3D, Strike