Autodesk has released Flame 2021.2, the next update to its compositing, finishing and effects software, adding a new AI-based Salient Keyer that automatically generates a matte for any object within a shot.
The update also adds a new Search tool for adding nodes to Batch, BFX and Action schematics more quickly, and introduces a choice of single and dual-panel UI layouts.
New Sematic Keyer automatically isolates any object within a bounding box
The 2021.2 update brings the AI-trained keying functionality added to Flame over the past two years to a logical conclusion.
Whereas previous releases have added automated tools for keying the sky, human heads and bodies, and invividual parts of the face, the new Salient Keyer works with any arbitrary object.
Users box-select the part of a frame and Flame automatically identifies the most obvious object it contains, then generates an extraction matte for it.
The system works for multiple foreground objects within a bounding box, and the resulting matte can be adjusted manually via controls to dilate or erode its edges, or to change the transparency detail preserved.
The bounding box can be animated, making it possible to extract moving objects from footage: according to Autodesk, reframing produces "amazing results for objects that can be recognised".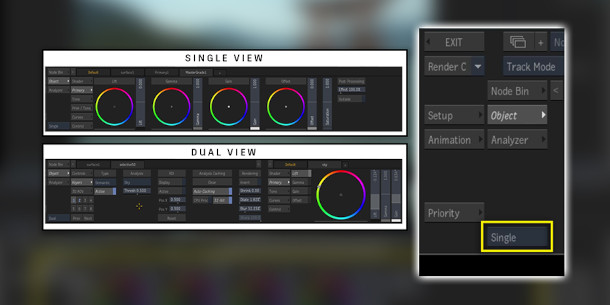 Workflow improvements: new node Search tool, choice of Single and Dual panel UI layouts
Workflow improvements include a new Search tool, which enables users to add nodes to schematics more quickly by keying in the first letter or letters of their name, then selecting matching nodes from a list.
It is available in Batch, Batch FX, Modular Keyer, GMask Tracer, Image, and Action schematics.
The update also introduces toggleable Single and Dual panel UI layouts, shown in the image above, replacing the existing Left Expanded, Both Panels, and Right Expanded options.
Performance improvements on larger timelines, support for PNG export
Performance improvements include improved interactivity when navigating or scrubbing "larger, more complex timelines", although Autodesk doesn't quantify the speed boost.
In addition, on CentOS, the machine learning models used by the new AI-based tools are now serialised on the system disk the first time they are used, reducing loading time on re-use.
Users can also now flush maps and machine learning caches from a clip or timeline segment.
Other changes include the option to export content from Flame as 8-bit or 16-bit PNG files, and to export Sony XAVC Intra and Long-GOP codecs as QuickTime files.
You can find a full list of smaller features and format updates via the link below.
Pricing and availability
Flame 2021.2 is available for CentOS 7.4/7.6 Linux and macOS 10.13-10.14 and macOS 10.15.1+ on a rental-only basis. Subscriptions now cost $550/month or $4,415/year.

Read a full list of new features in Flame 2021.2 in the online documentation
Tags: Action, AI-based, AI-trained, autodesk, Batch, Batch FX, bounding box, compositing, finishing, Flame, Flame 2021.2, GMask Tracer, isolate object, machine learning, machine learning cache, Modular Keyer, new features, node search, object matte, price, Salient Keyer, Search tool, semantic keyer, system requirements, vfx