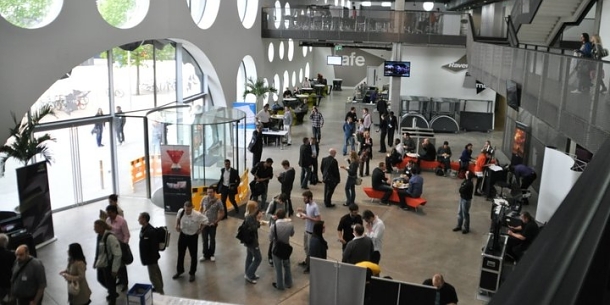 The first bluegfx expo, held this May. The next event is free and takes place on 3 November.
UK-based distributor and training company bluegfx has announced the line-up for its second 3D expo day, to be held at London's Ravensbourne college on 3 November.
Entry to the event is free, and provides access to sessions from staff at some of the UK's leading VFX, games and visualisation firms, including Framestore, MPC, Saddington Baynes, Burrows and doublesix games.
Autodesk's Jamie Gwilliam, Chaos Group's Konstantin Gaytandzhiev and Lightmap's Mark Segasby will be hosting technical sessions.
Updated 18 October: bluegfx has just announced new sessions from Cinesite's Michele Sciolette and Double Negative's Gavin Graham. You can see any future updates via the link at the foot of this story.
PRESS RELEASE (Exerpts)
bluegfx, a leading supplier of software and hardware technology and services for the digital media industry, today announced the second bluegfx expo will take place on 3 November at Ravensbourne. The one-day event will gather experts from all sectors of the media and entertainment industry to debate and discuss hot industry trends and issues. Key topics already on the agenda include 3D stereoscopy: hype or reality and Collaborate to create: managing assets efficiently and profitably.
High-calibre experts from the film and TV, games and design visualisation industries already confirmed to present include:
Steve MacPherson, VFX CTO at Framestore
Chris Christodoulou, creative partner and director of CGI at Saddington Baynes
Alan Marques, post-production expert and founder of Magic Camera Company
Mike Owen, CGI technical director at Burrows
Tanguy Dewavrin, art director at Double Six Games
More speakers will be announced in the coming weeks.
Supporting bluegfx expo are software and hardware manufacturers Adobe, Autodesk, BlueArc, Chaos Group, Nvidia and PipelineFX. On the day, their experts will showcase and advise attendees on industry-leading solutions for 3D animation and design visualisation, stereoscopic 3D, editing, networked storage and render management.
See the full line-up for bluegfx expo and register for the event
Tags: bluegfx, bluegfxexpo, event, free, games, London, vfx, visualisation