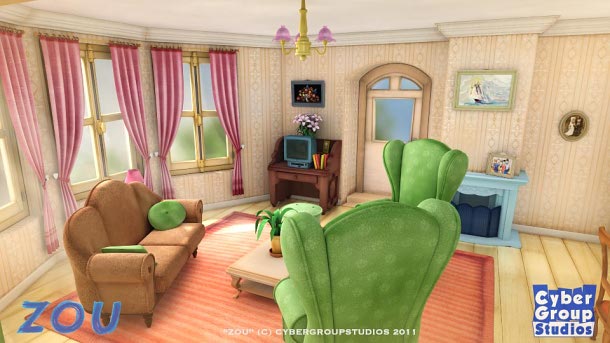 Look-development work completed by Cyber Group Studios in Relight. The Bakery is to release a suite of free tools complementary to its flagship interactive relighting application.
The Bakery is to release a suite of free tools to complement its Relight interactive relighting software.
The Bakery Imaging Toolkit, due for release on Wednesday, comprises playback and image-viewing apps, and an authoring toolkit for compositing nodes. Users will be able to share their nodes via The Bakery website.
PRESS RELEASE (Excerpts)
The Bakery, the 3D computer graphics software company, will unveil a new range of free tools for lighting professionals at the forthcoming MIFA show in Annecy, France. The new toolset, which is available from this month, draws on the core technology of Bakery Relight™, the Company's high-end interactive lighting, shading and rendering solution, which launched at NAB 2011 in Las Vegas earlier this year.
The Bakery will also host an Exclusive Launch Event on the morning of Wednesday 8 June 2011 (10.00 – 12.00hrs – Salon Verdi, L'Impérial Palace, Annecy, France), where they will give a full presentation on the new toolset and Bakery Relight. The event will also include presentations by key clients, such as Dwarf Labs and Cyber Group Studios on their production workflow and latest projects using Bakery Relight.
"By making these tools available, our aim is to help create a close collaborative network within the lighting community, and to introduce 3D artists worldwide to the revolutionary production workflow, which is at the heart of Bakery Relight," said Bakery CEO, Erwan Maigret. "We are giving users unique access to key technology tools to handle full 3D CG productions, and to complement their lighting and rendering needs. What we want from them in return is detailed feed-back and ideas, which will ultimately enable us to improve and extend this toolset for our user base. Users will be able to share their new compositing plugins via a dedicated page on our website."
The free toolset will include:
Bakery Comp
A simple node-based compositing tool with C++ extensions to enable users to write new compositing nodes for simple 2D CG compositing. This compositing tool includes the Bakery's object model and scene representation with abstract classes creation, and supports major image file formats
Bakery Image Player
For playing image sequences, with stereo synchronisation
Bakery Image Viewer
To display native Bakery image format as well as other standard formats
"The key function of compositing tools should be to handle complex live-action FX integration in the easiest possible way. This basic process of the mixing of multiple layers is often much more complex than it should be. We want to help users overcome the cumbersomeness of lengthy rendering times in complex 3D imaging and to help them simulate interactive lighting with speed and ease. Simple compositing tools like the one we are now offering should be sufficient to assemble these layers and should be made available to any user having to deal with such problems," said Maigret.
For further details and to obtain the free Bakery Imaging Toolset, please contact: freesupport@bakery3d.com.