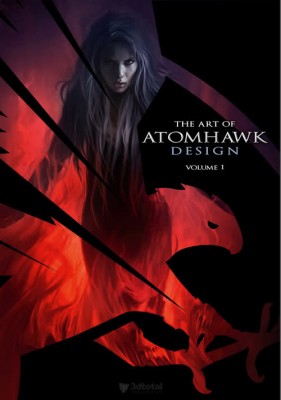 Atomhawk Design's first foray into the book market could stand to shed a few pounds, but it's not a bad starting point for anyone interested in the art of videogames, says Fernando Caire.
When Midway Games went bankrupt in 2009, many talented artists were put out of a job. But out of the ashes of the once-prominent videogame company arose a new design studio that would not only take on the challenging task of of proving itself in a competitive field, but do it during the peak of a recession.
Founded by Cumron Ashtiani, Peter Thompson, Corlen Kruger, and Steven Pick, all former employees of Midway Newcastle before its liquidation, Atomhawk Studios now boasts a long list of clients, including Ubisoft, Ninja Theory and Sumo Digital. The studio has worked on a wide range of recent titles, including Mortal Kombat, Dead Island and Enslaved: Odyssey to the West.
Now you can see some of that work in print form, thanks to a handsome 192-page slipcover book, The Art of Atomhawk Design: Volume 1, published by 3DTotal.
Broken up into four chapters – characters, action, environments, and vehicles – the layout is fairly straightforward. Displaying a full range of art styles and subject matter from multiple Atomhawk projects, there is plenty of eye candy here that any artist can appreciate.
The character chapter has a variety of different character styles to look at. Yakuzas, strippers, zombies, fantasy warriors, amazons and even female luchadors (my personal favorite) are all featured here. Corlen Kuger's works are the highlight of this chapter: horror pin-ups with a stylish retro feel, in a long poster format. Fully rendered pieces as well as sketches show some rather impressive character development.
The action chapter shows artwork of action shots such as intense car chases, shoot-outs and bathroom brawls. This chapter starts off fairly generically, with standard gang wars shots and fight scenes. Luckily, this isn't the only type of art here: the most interesting pieces are from a fantasy battle, a zombie invasion and a Silent Hill comic, and provide a welcome change of pace. There is also an interesting four-page section showing storyboards from the studio's work on Wheelman.
Less of the realism, more of the apocalypse
The environment chapter is pretty self-explanatory, and unfortunately it runs a little too long. As beautiful as the artwork is, this is the least interesting chapter in the whole book. There are a variety of environments on show, but the most interesting ones are the futuristic and post-apocalyptic ones: the contemporary set pieces are plainer and less interesting, and this chapter probably could have done with fewer of them.
Lastly, but certainly not least, is the vehicles chapter. Loaded with everything from cars to military units, there is a huge variety of design work here. For me, the car designs look too much like Hot Wheels, while the 'future police chopper' looks a bit too much like Boba Fett's Slave I from Star Wars, but the zeppelin at the start of the chapter is excellent, and overall, there is plenty to feast your eyes on.
It could stand to lose some fat, and the environment and vehicles sections would benefit from more variety, but The Art of Atomhawk Design is a well-put-together book. I certainly hope there will be a Volume 2 showcasing even more impressive works from this up-and-coming studio.
Flip through a preview of the book on the 3DTotal website
Buy The Art of Atomhawk Design: Volume 1 on 3DTotal (£29.99)
Buy The Art of Atomhawk Design: Volume 1 on Amazon.com (RRP: $49.99)