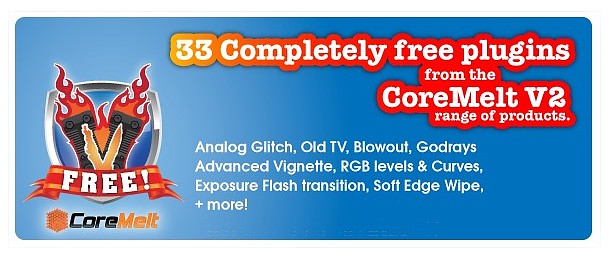 CoreMelt has released a free sampler pack of its effects plug-ins for Final Cut Pro, Motion and After Effects.
The tools included in CoreMeltFREE span a diverse range of tasks, from creating film strips and carousels, to vignetting and generating God rays. There are also a good selection of tools for music visualisation.
PRESS RELEASE (Excerpts)
CoreMelt, the leading provider of advanced video plug-in effects, has announced CoreMeltFREE, a compelling new collection of 33 visual effects plug-ins based on CoreMelt Complete V2, the company's highly regarded and comprehensive line of professional products featuring over 200 GPU accelerated plug-ins for faster rendering and workflow.
The CoreMeltFREE bundle includes an assortment of plug-ins from each of the eight products in CoreMelt Complete V2 – from soft organic glows and blurs to advanced color correction tools and instant photo montages, to audio reactive animations – power-packed to give motion graphics artists and editors working in Final Cut Pro, Final Cut Express, Motion and After Effects (Editions: CS3, CS4 and CS5 64 bit) an effortless way to sample the highest quality visual effects tools without any restrictions completely free.
Inside CoreMeltFREE
The CoreMeltFREE bundle includes a sampling of plug-ins from the CoreMelt Complete V2 range of products, as follows:
ImageFlow FX V2
Features 30 dynamic animation styles to create stunning montage animations from stills, movies and compositions.
Editors Tools V2
A collection of 54 plug-ins containing two bundles — Pigment for advanced color correction and Gadget, the 'Swiss Army knife' of video utility tools geared to help editors and artists polish and manage every day 'bread & butter' editing challenges.
Motion Graphics Box V2
A collection of 60 plugins containing two bundles. Luminous featuring assorted glows and blurs necessary to illuminate motion graphics projects; and Shatter, which provides a range of cutting edge, stylized, funky and grungy effects. Aimed at editors creating motion graphics for music videos and intro sequences, this collection provides quick and intuitive control for enhanced workflow.
PolyChrome Transitions V2
A collection of 61 motion and filmic transition effects aimed at FCP editors working on corporate or event video projects that want to add more depth to transitions between cuts. Contained in two bundles – Delta V for 3D, layer, grunge and stylized motion transitions, and TRX for specialized filmic and high color transitions featuring precision dissolves and fades for 10-bit color workflows.
VeeYou V2
The CoreMelt VeeYou V2 package is comprised of 14 plug-ins that instantly give artists creating music videos, voice overlays and high impact scenes heavy with motion graphics such as intro sequences great looking EQ, VU and waveform animations that sync to audio.
Read a list of the plug-ins included in CoreMeltFREE
Tags: 33, After Effects, CoreMelt, CoreMeltFREE, effects, Final Cut Pro, free, plug-ins, video editing