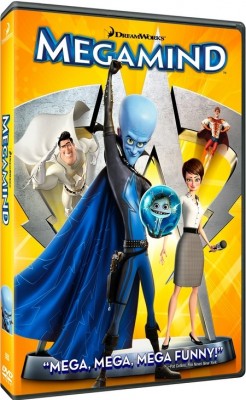 Ignore the dance sequences and the lack of extra features on Blu-ray: Megamind is a superior supervillain comedy, says Fernando Caire.
I've been reading comic books since I learned my ABCs, so trust me when I say that nothing is more routine than the battle between a hero and his nemesis. Batman vs the Joker, Superman vs Lex Luthor – even Wile E. Coyote vs the Road Runner. Every Yin has its Yang, and every force of good will meet its own particular force of evil head on countless times. But commonplace though the theme may be, we rarely get to see it through the villain's eyes.
Though Megamind is not the first movie to tackle this perspective (Despicable Me was released earlier the same year), DreamWorks' animated feature proves to not only be a superior film – but also, despite a few missteps, a more enjoyable one.
The story follows Megamind (voiced by Will Ferrell), the lone survivor of a destroyed alien planet, who was sent to earth by his parents. Unfortunately a neighboring planet does the same, sending another child who will eventually become Metro Man (voiced by Brad Pitt).
The young Megamind, despite some good intentions, decides being good is not his forte and instead sticks to what he is good at: being bad. So he becomes obsessed with taking over Metro City (or as he puts it, 'Metrocity') and destroying its champion and protector, Metro Man.
The voice acting is universally strong. Will Ferrell does a fantastic job of giving dimension to a character that could easily have gone way over the top. Tina Fey (Roxanne Ritchie) does a great job as the love interest who is always getting kidnapped by Megamind, to the point where nothing surprises or even frightens her anymore. Jonah Hill (Titan) only adds to the hilarity with clever puns and unbelievable stupidity. But the real show-stealer is Megamind's loyal servant and friend Minion (David Cross). All the talent is right, and blends into a humorous cocktail that I have not seen in an animated film in a while.
Unfortunately, you can tell a DreamWorks animation by its musical sequences, and Megamind is no exception. Bad to the Bone by George Thorogood and Crazy Train by Ozzy Osbourne feel particularly out of place here. I will admit that the use of Guns N' Roses Welcome to the Jungle towards the end was fairly awesome: I just wish the other songs were handled just as well – or better, were not present at all. The dance sequences were pointless and I sat there stonefaced (well, looking at my watch) waiting for them to end.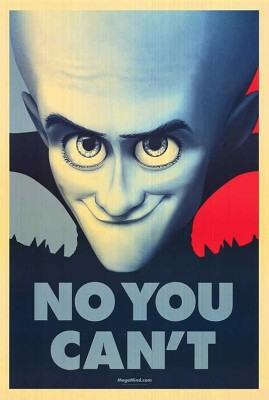 Another complaint is that while most Blu-ray releases come with four discs (the HD copy of the film, extra features, a DVD copy, and an extra disc with a digital download option) Megamind only comes with two: the Blu-ray, with a lackluster selection of extras, and the DVD copy. I would have liked more behind the scenes and making-of footage. Only other thing that was provided was a coupon for Chuck E. Cheese.
Director Tom McGrath (Madagascar, Madagascar 2) has made a hilarious film with a new twist on the superhero genre. As comic-book-inspired animations go, it comes a distant second to The Incredibles (where's the well-deserved sequel, Pixar?) but that doesn't stop it from being a good comedy, and an even better homage to the superhero genre. You should at least give it a watch – and better still, repeated viewings.
Megamind is released by Paramount Pictures. The movie is out now DVD and Blu-Ray in the US and Canada, with a European release to follow in April.
Buy the Megamind Blu-ray on Amazon.com
View a slideshow of images from the movie:
Tags: blu-ray, Dreamworks, megamind, Review