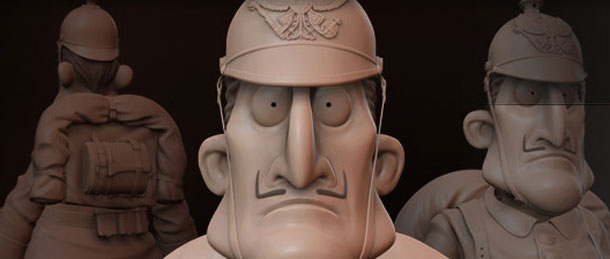 We just added a great new training digital download to the store by Alessandro Baldasseroni! This almost 5-hour training video is now available from the CG Channel store for only $69.
In this DVD Alessandro shows his workflow to model a stylized character for production, based on a given concept. The essential steps are covered, starting with the presentation of the initial 2D concept and associated reference materials. Alessandro then demonstrates blocking out the character with ZSpheres in ZBrush using the concept as reference for proportions. This becomes his base in 3ds Max to block out all the main components through polymodeling. Next, he details the character with a combination of polymodeling techniques in 3ds Max and ZBrush sculpting. Particular attention is paid to keeping the topology of the various parts consistent for an animation environment, showing in particular how to efficiently retopologize parts in 3ds Max to achieve a better geometry distribution. After modeling an addition to the character not present in the initial concept, Alessandro renders and presents the final model in ZBrush in the form of a character sheet and a turntable.
Stylized Character Modeling for Production with Alessandro Baldasseroni
About Alessandro Baldasseroni
Alessandro Baldasseroni is a self-taught 3D artist specialized in character modeling and texturing. He started his career working as a generalist with a leading game developer in Milan, while also continuing to develop his personal portfolio based on high resolution characters and 3D illustrations. The international recognition soon followed allowing him to be featured on several international magazines and artbooks including Digital Art Masters and Ballistic Publishing's Exposé and Elemental. After freelancing for major studios in the game industry such as Massiveblack, Flagship Studios and Blur, he moved to California to join Blur as lead character artist. His professional work can be seen on several game cinematics, commercials and features including Star Wars: The Old Republic, Warhammer Online, The Force Unleashed, NFL on FOX, Halowars, Mass Effect 2, The Simpsons ride at Universal Studios, Dante's Inferno and many more.