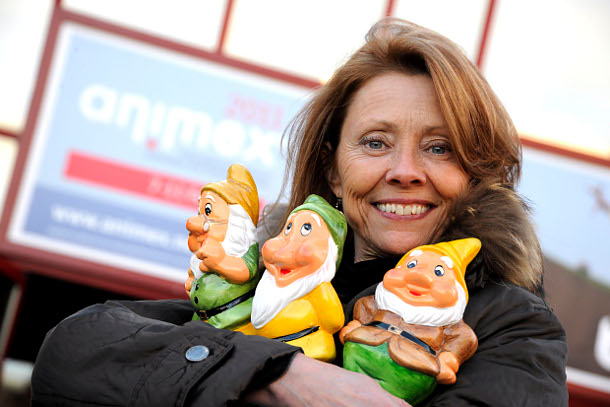 The Animex festival may be little over a decade old, but this year's Animex Talk programme reached back to Disney's second Golden Age to discover what today's artists can learn from the classics, reports Jim Thacker.
Over the past decade, Middlesbrough's Animex festival has quietly been building a reputation as the UK's premier CG event. Held at Teesside University from 7-11 February, the festival has now expanded to a five-day programme of talks, workshops, screenings and awards that delights regular attendees – but increasingly defies any attempt to see every session.
So while Animex Game drew in speakers from LucasArts, EA, Valve, Double Fine and Media Molecule, and the workshops offered the chance of a day's coaching from American McGee's Grimm art director Ken Wong, we'll be focusing here on the Animex Talk sessions on animation and VFX.
Fortunately, the show organisers have compensated for human failings, so you can catch a range of videos from the show's other strands on the festival website. Sorry Animex, but there's just so damn much of you.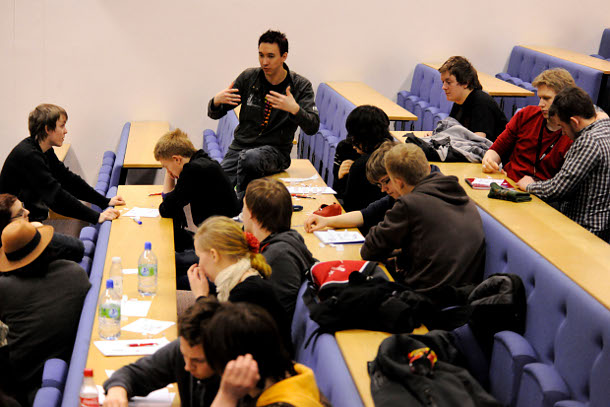 Spicy Horse Games art director Ken Wong in action during Animex 2011's workshop sessions.
Animex may not yet be its teens, but the show has a much deeper sense of history: something established early on by Disney veteran Joseph Gilland. In his Elemental Magic session, drawn from his book of the same name, Gilland argued for the role of classical principles in that most technical of 3D disciplines: effects animation.
?I've worked with VFX supervisors who have never animated a bouncing ball,? he revealed. ?Suddenly, digital technology comes along and [the industry] wants to throw away 60 years of experience, research and insight.?
Pointing out that practical ink-in-water tests from Fantasia were referenced by Pixar for The Incredibles, Gilland argued passionately for the need for effects artists to learn from real life.
?When you brush your teeth, that's visual effects,? he said. ?When you have a shower. When you pour a cup of tea, and there's steam.?
At one stage flashing up a set of 100 everyday phenomena that effects artists could benefit from studying – an idiosyncratic list that ranged from the fluids and smoke to laundry detergents, soup, ukeleles and handbags – Gilland pointed out that modern technology gives artists an unparalleled opportunity to capture custom reference material.
?Now you can just whip out your iPhone, there's really no excuse [for not recording your own reference footage],? he commented. ?The internet is an incredible resource, but why search on YouTube if you can see something for yourself??

Scott Pilgrim vs. The World. To capture the energy of the source comics, effects house Double Negative turned to a grab bag of digital techniques, hand-drawn art and photographic effects.
The idea that modern effects animation can pick up on traditional design principles was echoed in a zeitgeist-capturing talk from Double Negative's Andrew Whitehurst on the studio's work on Scott Pilgrim vs. The World.
Augmenting photorealistic effects with a grab bag of unconventional elements – photographic flares, hand-drawn frames flashed up for a fraction of a second, CG light blurs used to mimic anime speed lines – Whitehurst revealed how Double Negative strove to preserve the energy of Bryan Lee O'Malley's source comics.
?Anything we could do to make any impact look big, we did,? he said.
And while conventional good taste dictates that some types of effects are beyond the pale, Scott Pilgrim was anything but conventional.
?There are more lens flares in the film than any I can think of,? laughed Whitehurst. ?We'll take anything Star Trek's got and we'll raise them.?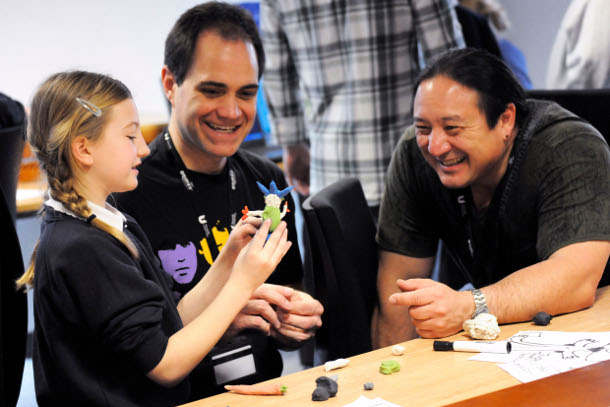 Former Disney artist and documentarist Tony West (centre, with palaeontologist and animation consultant Stuart Sumida) meets a young fan.
But the lessons of history aren't always pleasant ones, as former Disney artist Tony West reflected in his session entitled The Return of The Dreamer.
West's documentary Dream On, Silly Dreamer, premiered at Animex in 2005, traced the decline of Disney from its 1990s second Golden Age to the round of layoffs that preceded the studio's temporary retreat from 2D animation in the middle of the following decade.
Six years on, West reflected on the film, and the toxic combination of financial pressure and poor management decisions that he believes led to the crisis.
?I believe the problem began after The Lion King,? he said. ?The studio wanted a blockbuster hit every time.?
Instead, unsustainable expectations, coupled with an aversion to creative risks and the relocation of the animation team to a ?postmodern gas chamber? of a new facility, began to sap the studio's spirit.
A shot of a sign reading 'The beatings will continue until morale improves' neatly captured the staff's frustration.
West acknowledges that the animators themselves ?weren't innocent?, hiring agents to negotiate inflated salaries during the boom years; and says that the film is not intended as a criticism of the CG era that followed.
?A lot of people think we made it because we don't like computer animation, and that couldn't be further from the truth,? he said. ?[But if] you have the London Philharmonic at your disposal, [why] turn it into a boy band??
Now, following 2009's The Princess and the Frog, West says that while his original aim was only ?to expose the story?, he hopes that he has played some small part in Disney's return to 2D.
?When I say I had the greatest job in the world, I truly mean it,? he reflected. ?Everybody who works in the business knows what I mean.?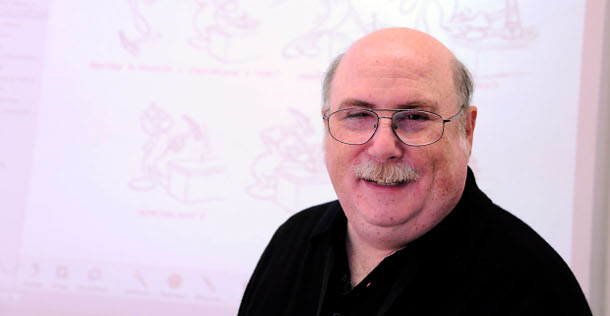 Animex keynote speaker and animation legend Eric Goldberg, with some of his work.
And few more so than Animex 2011's closing speaker. Reflecting on the highlights of a career spanning more than 30 years, Eric Goldberg discussed his role in creating some of Disney's most memorable characters, from Phil the satyr in Hercules to the Genie in Aladdin.
?One of the nicest things in my career was to make [Genie voice actor] Robin Williams laugh,? he said.
During a bravura presentation – ?When [the show organisers] asked me to speak about myself for three hours, I thought it was a touch on the pretentious side, but I'm equal to the task,? he quipped – Goldberg traced his progress from an animation-obsessed teenager to apprenticeship with Richard Williams and the founding of his own successful commercials company, Pizazz Pictures.
?It wasn't a term people had heard a lot,? he noted. ?We'd get messengers ringing the doorbell and asking for 'Piss-ass Pictures'.?

Eric Goldberg conducts a live masterclass on the design of Louis from The Princess and the Frog: a feat he repeated at Animex.
Although also made redundant during Disney's mid-2000s crunch, Goldberg returned to the company to animate Louis in The Princess and the Frog, and is currently working on Winnie The Pooh. In between, he was involved with some of the decade's great lost projects, including proposed 3D animated versions of both Roger Rabbit and cult 1980s US comic strip Bloom County.
Looking back on more than three decades in animation, Goldberg echoed Tony West's sentiments about the delicate relationship between art and business.
?The greatest piece of advice I ever got was from Chuck Jones,? he revealed. ?He said [of studio executives]: 'You know, they'll always hate you, because you can draw and they can't.'?
For a show that was as much about the power of human creativity as the potential of new technology, it seemed a fitting note on which to close proceedings.