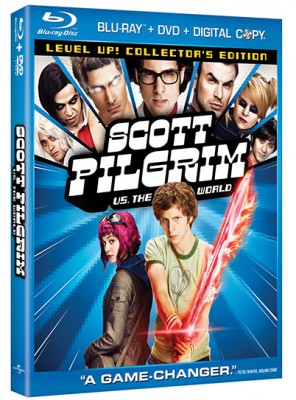 The box-office takings suggest you didn't see it at the cinema – so do yourself a favour and watch Edgar Wright's note-perfect adaptation of the Brian Lee O'Malley's comic books on Blu-ray, says Fernando Caire. If the film doesn't do it for you, the extras will.
There was a wonderful summer film this year which, chances are, you did not see. Younger viewers didn't get the 8-bit videogame references and anyone old enough to remember those games couldn't relate to the hipster cast. Instead, you probably watched the disappointing Expendables or the mind-numbingly stupid Vampires Suck. Scott Pilgrim Vs. The World is the sad tale of a movie that failed to find an audience.
But if you chose to not watch this fantastic film in theaters, do yourself a favor and watch it at home in epic Blu-ray quality.
Some of you may remember my review (if not, read it here) so I won't bore you with plot details. Just be aware that it's a visual masterpiece, and will keep you entertained from beginning to end.
But if that isn't enough for you to purchase this two-disc Blu-ray set, then rest assured: Universal Studios Home Entertainment has provided plenty of extra features that will blow your mind.
With a visual spectacle like this, it would be criminal to not include an abundance of bonuses focusing on the special effects. Luckily, there are quite a few documentaries and features focusing on the making of, pre-production of and visuals from the film.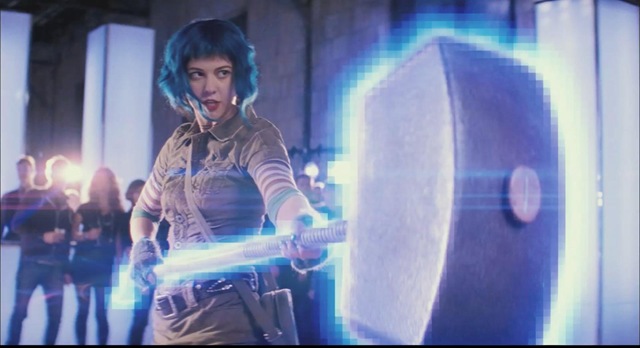 Watching the movie for the third time, I began to notice small details: not only in the flashier, effect-heavy scenes, but subtly within the background. For example, in the scene where Scott and Ramona are riding the bus, note how the streetlights in the out-of-focus background form little hearts, instead of the circular blurs you might expect – and how they become X-shaped when Ramona explains her seven evil ex-boyfriends. The details easily go unnoticed, but each one reflects the care Director Edgar Wright put into every scene.
Along with the making of the film, there are also the deleted/extended scenes. Some of these are okay, but frankly only two or three are worth watching: the rest barely add anything different.
The blooper reel wasn't as funny as I had hoped, either, but watching Michael Cera [Scott Pilgrim] repeatedly miss the trashcan while he throws his package behind him was pretty hilarious.
Other extras include music videos from Scott Pilgrim's fictional band Sex Bob-omb, as well as Metric's Black Sheep, also included on the soundtrack. The package also includes Cartoon Network's Scott Pilgrim Vs. The Animation cartoon: a prequel to the film, and animated in the style of Brian Lee O'Malley's original comic books. Cast members who lend their voices include Michael Cera, Allison Pill [Kim Pine], Mae Whitman [Roxy Richter] and Jason Schwartzman [Stephen Stills].
Bundled with a DVD copy and a digital download, this Blu-ray set comes with all the necessities for anyone who loved, or will eventually love, this movie. The extras may be a mixed bag, but at their best, they're amazing – and the chance to own the movie in crisp HD quality alone is reason enough to buy.
Scott Pilgrim Vs. The World is released today by Universal Studios Home Entertainment, price $29.98 on DVD and $39.98 on Blu-ray. The UK release date is 27 December.
Buy Scott Pilgrim Vs. The World on Amazon.com
Tags: blu-ray, Review, scott pilgrim vs the world