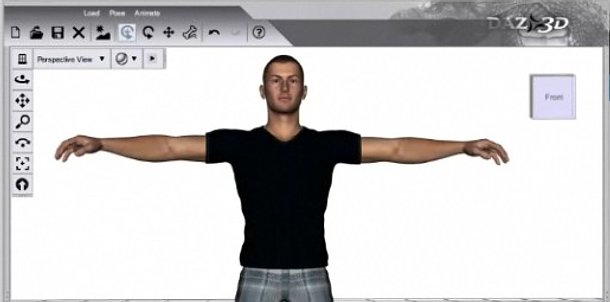 Stock character provider DAZ 3D has teamed up with animation data provider Mixamo.
In practice, Mixamo data already works with DAZ characters, so the announcement seems to be as much a statement of intent as anything else.
However, all Mixamo motions are now guaranteed to work with DAZ characters – or at least, "any character created from the DAZ 3D human figures within DAZ Studio", to use the official, presumably slightly carefully worded, formulation.
Users can also preview motions directly on DAZ's Michael and Victoria characters in Mixamo's online viewer.
Characters with Mixamo motions applied will be available from DAZ's online store. We're not sure yet whether this is intended as a supplement to DAZ's own aniBlocks, or a replacement: more details as we have them.
Update: this just in from Mixamo product marketing manager Jon Burns.
"We are providing another way for DAZ 3D users to animate their characters, one [that] integrates www.mixamo.com into the process.
"The other way for users to get Mixamo animations is from the DAZ storefront – we will continue to grow these animation packs as a way of getting DAZ 3D users familiar with Mixamo's animation range and quality – but the ultimate goal is for all DAZ users to be using Mixamo's online service for animations."
Read more about the partnership online
View a video tutorial showing the DAZ-Mixamo workflow: