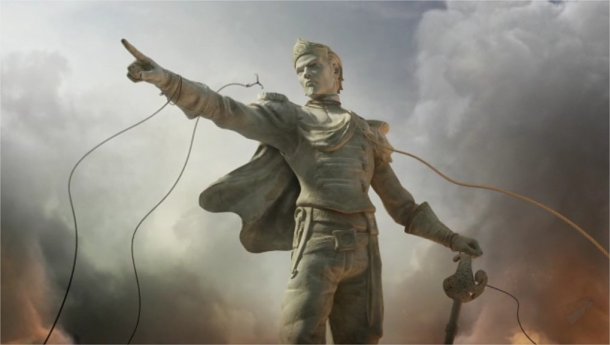 Lionhead has never been a studio you could fault for lack of ambition, and the trailer for its upcoming RPG, Fable 3, sees everyone thinking suitably big.
The one-minute cinematic sees a Civil War-type crowd launching mass insurrection in the streets, sending statues flying.
Some of the facial animation is a bit… well, stare-y, but overall, there's a lot to like, including some suitably epic crowd scenes, presented in gorgeous slow-motion.
Incoming factoid: We've just discovered that the spot isn't an in-house job, as we first thought – but a collaboration between one of our favourite VFX studios, Psyop, and AgencyTwoFifteen.
The hero characters are ZBrush sculpts, rather than original in-game assets, which accounts for their cinematic quality; while the lighting and colour palette result from creative director Laurent Ledru's desire for the spot to look like a painting come to life. Factoid ends.
Check out the cinematic on GameTrailers.com here
Tags: cinematic, Fable 3, Lionhead Studios, Psyop, trailer