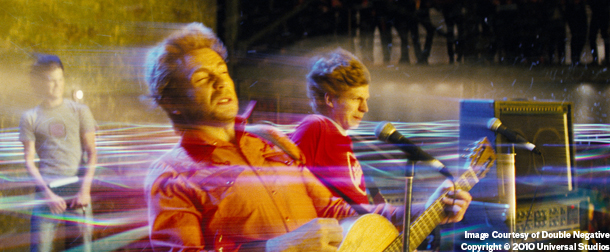 Bored at work? Our round-up of the week's best new 3D animations and VFX videos should help you make it through until the weekend. Today: Elvis sings to elephants and Scott Pilgrim battles the seven evil exes.
We've been fans of Psyop's stylised-but-stylish work for some time now, and their latest ad, for Australian drinks range Spring Valley, doesn't disappoint.
In it, a bottle of Spring Valley transforms into a verdant vernal landscape, including such spring staples as blossoms, deer and… er, turtles and elephants, all set to the accompaniment of Elvis crooning 'Spring Fever'.
Watch the Spring Valley ad here:

Meanwhile, up in the Northern hemisphere, Toronto's Mr. X and London's Double Negative have been at work on the visual effects for Hot Fuzz director Edgar Wright's latest outing: Scott Pilgrim vs. The World, based on Brian Lee O'Malley's cult comic books.
In it, Michael Cera's eponymous slacker must battle his new flame's 'seven evil ex-boyfriends' in a series of battles that play out like videogame levels.
Side Effects has a report on how Houdini was used in the VFX work – which includes 'winterising' sunny Toronto and creating a yeti from pure soundwaves – on its website.
View the Scott Pilgrim trailer below, then check out the article here.
http://www.youtube.com/watch?v=K9nS9iDsaj8
And finally, LA/Hong Kong/Shanghai-based VFX house yU+co has a new website showcasing its recent work, which ranges from a trail for the Dora The Explorer birthday special to the Expressionist-inspired title sequence for last year's Cirque du Freak.
Visit the new yU+co site here.

And now, isn't it time you got back and did some work?