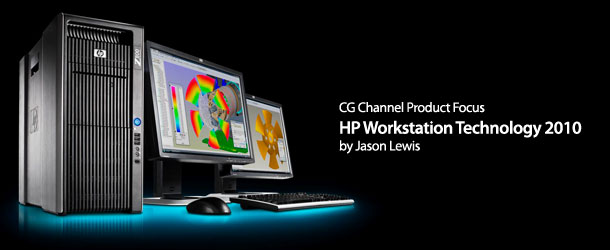 In the digital effects & CG animation age that is modern Hollywood, we tend to "oohhh" and "aahhh" over the spectacular effects, or life-like animated creatures found in today's blockbuster movies. However, as digital artists, we tend to overlook the tools and technology behind these digital masterpieces. The professional workstation is among the most important of these tools, as the software used to create today's CG effects requires a massive amount of computational power that workstations provide in greater quantities than your average consumer level desktop system, or notebook computer. One company in particular that excels in providing top quality professional workstations, and does it for a majority of the large Hollywood effects houses, is HP.
Now if you have been following my reviews of the HP Z-series workstations over the last year, you know that I am a big fan of these systems, and I'm not alone. As a provider of systems to large scale effects houses such as Dreamworks Animation, Weta Digital, and Industrial Light and Magic to name a few, HP Z-series workstations have had a big hand in helping to create many of the big effects heavy motion pictures we all know and love. HP launched the current Z-series workstations in spring of 2009, starting with the entry level Z400, the mid range Z600, and the high end Z800. ( If you would like to catch up on those reviews, they can be found here: Z400, Z600, Z800. In August of 2009 they added liquid cooling in the Z400 & Z800, and in early 2010, they added the Z200 entry level system, and the Z200 SFF ( Small Form Factor ) system. This past spring, they made some additional minor updates to the Z-series workstations such as new graphics card offerings, and most notably, offering the full range of new 4 and 6 core Intel Xeon processors based on their new 32nm process for faster clock speeds and lower power consumption. But before I go into details and benchmarks of the new system, I want to spend a little time and talk about the part HP plays in the operation of many of the professional effects studios, and the general role they play in Hollywood.
This past March, I was invited to attend HP's annual press event in Hollywood, and it was here that I got a little more insight into just how prevalent their systems are in the home of modern cinema. Spread out over two days, the first half of the event took place in one of the most historic and largest independent filming studio in Hollywood, Raleigh Studios. Dating back to 1915, Raleigh studios is as old as Hollywood itself, and it was here that HP introduced us to a handful of their clients who gave us some demos of their business, and showed how HP systems are incorporated into them. These Included a formula 1 racing team, that use HP systems to record and analyze race data from both the car and driver, an architectural design firm, using HP systems to do CAD and previs work, and, in my opinion, the most interesting of the group, a motion capture studio using a pair of Z800 workstations and Autodesk's Motion Builder software to do real-time Mo-cap with a virtual set and a nifty little laptop used as a virtual camera similar to the approach used by James Cameron for Avatar, but in a smaller, more user friendly package. Even more impressive than the actual process involved here, was the fact that the entire mocap stage and setup was built with inexpensive components including the off-the-shelf Z800 workstations, and the results were quite impressive.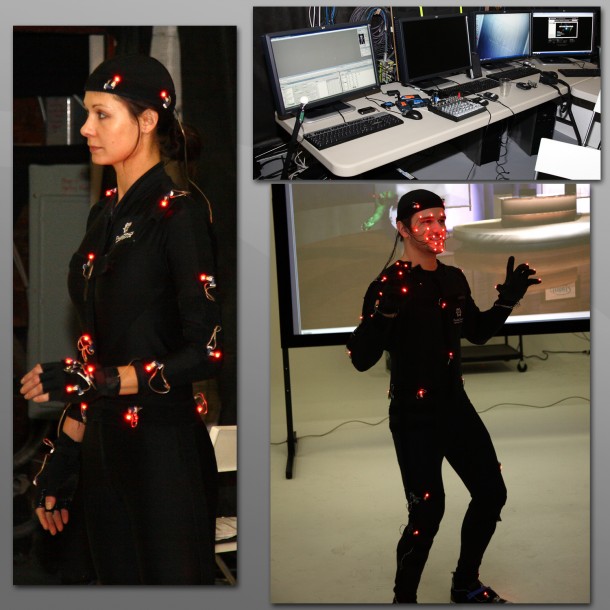 The second day of the event took us to a very well known animation studio located in Glendale, California, Dreamworks Animation. Here we were given a peek inside the working of one of the biggest feature animation studios in the biz. This included a look at their current production pipelines ( How to Train your Dragon was the film used to demonstrate this ), and the Dreamworks CEO and co-founder Jeffrey Katzenberg gave us a brief look at where the tools and production practices are heading for the future. It was here that I also learned that Dreamworks uses exclusively HP systems to create their award winning animated features, and HP is working closely with them to help develop the technology to power the tools they are looking at using for the future.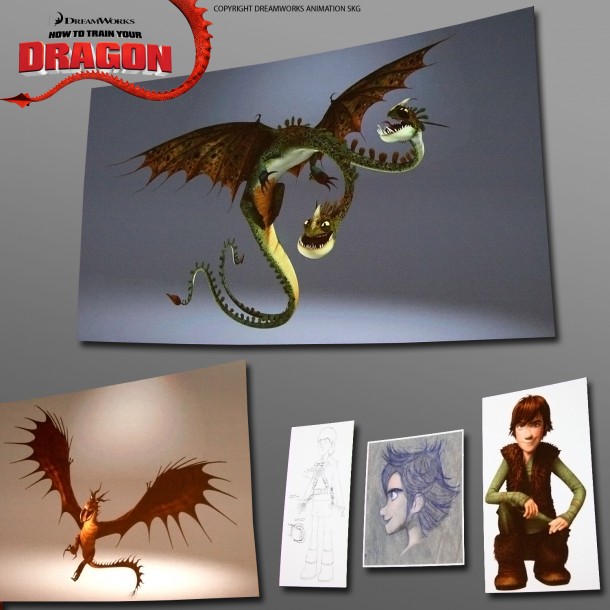 The insight this event really gave me is that not only does HP make great systems, but they offer their customers truly great service and support. The systems themselves are top notch, but what really makes HP stand out is their service and support. And to my understanding, they offer this support not only to their multi-million dollar customers, but all of their workstation customers. Even from the perspective of a journalist, working with them has been a very enjoyable experience. While some companies take that corporation approach and treat their customers very impersonally ( and I am speaking from personal experience), HP takes the opposite route, and gives their workstation customers very extensive and personalized service and support.
Now the spring refresh of the Z series lineup is a relatively minor one in that there are no major redesigns of the systems with the exception of the addition of the Z200 small form factor system which I am looking to review for you here in the near future. The most notable of the updates, is the availability of several new professional graphics cards, and the addition of Intel's newest 32nm Xeon processors in 4 & 6 core varieties. A complete list of available CPUs for each model can be found here: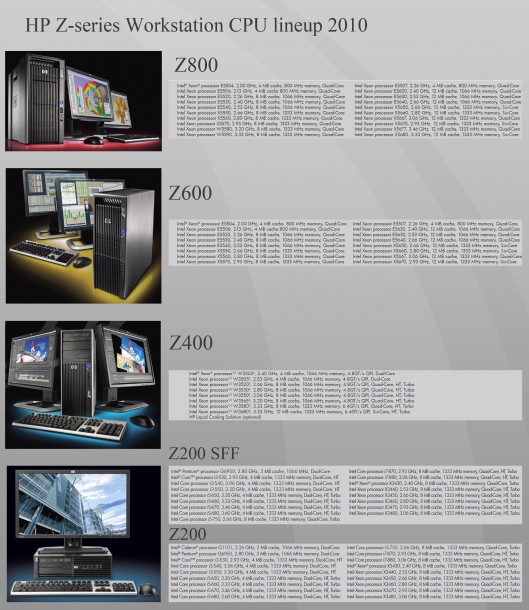 The updated Z800 we are looking at here is almost identical to the last one reviewed earlier this year with the exception of the CPUs and internal hard drives. The current Z800 is equipped with a Seagate 15,000K RPM SAS drive, and a 1TB 7200RPM Seagate SATA drive. I wanted to note the new hard drives because if you read my last Z800 review, you saw that one of the few complaints I had with that system was that it gave off a rather annoying high pitch whining sound. After speaking with an HP product manager at the press event, I learned that some of the OEM hard drives they were using were exhibiting this anomaly, and HP has since switched to different drives with more favorable acoustic qualities. This is apparent, as the current Z800 I am testing does not give off that particular sound, and is overall much quieter that the previous one. The CPUs are the biggest change from the last Z800, to the new one. The previous system used a pair of Intel Xeon 5580 quad core CPUs based on a 45nm process running at 3.2GHz. The current Z800 ditches the quad cores in favor of 2 Xeon 5680 six core CPUs based on Intel's new 32nm process running at 3.33GHz. With a 50% increase in core count, this should have a significant impact on 3D rendering performance and other multithreaded tasks. As I mentioned above, the rest of the system remains unchanged, 18GB of RAM, multi socket 1366 motherboard with a pair of Intel 5520 Northbridge chipsets, and an Nvidia Quadro FX5800 graphics card. I am actually currently running the system with one of ATI's new Fire Pro V8800 cards and I'll talk briefly about that at the end of the article, although, most of the benchmarking listed in this article was performed with the FX5800.
Real quick, before I go into the benchmarks of the Z800, I want to talk about the progress of hardware vs software as this was a bit of an issue for me when I initially received the current Z800. These days, it seems as though PC hardware is evolving at a substantially quicker pace than the software is. This is evident even in consumer desktop systems, as the core count of CPUs seems to increase exponentially each year, yet the rate in which efficient multithreaded software, which is needed to fully utilize multi-core CPUs hasn't really changed much in the last 15 years. We are starting to see a little more in this arena, but again, not by much, making the justification for 4, 6, 8, and even 12 core CPUs somewhat irrelevant for most users. Even many mainstream DCC and production applications are not designed to use more than 2 or 4 CPU cores efficiently, with the exception of 2D & 3D rendering applications. And even several popular rendering packages seems to have some issues with systems with high CPU core counts. Example, when I initially received the current Z800, I found out that there was an issue that seemed to affect several Autodesk applications running under Windows 7 64-bit and Mental Ray when Hyperthreading was turned on. When the software had access to 24 CPU cores ( with hyperthreading turned on, windows sees 24 cores instead of the default 12 ) it would often crash. There were also some stability issues with other software renderers when they had access to 24 CPU cores. Now I am not sure if this is exclusive to Windows 7 or if it is a problem with other OS's as well. The last Z800 was running Windows XP 64 bit, and with hyperthreading on, that system had 16 cores, and it seemed to work fine, but regardless, I am happy to report that with current updates, the problem seems to be fixed. So while I am happy to see the hardware technology progressing so quickly, it is glaringly obvious that the software guys are having a hard time keeping up.
So now let's take a look at the performance of the new Z800.
Application & viewport performance with 3ds Max 2011 / MAYA 2011 / Softimage 2011
The first thing to note real quick is that I have moved over to the current 2011 lineup of Autodesk software mainly for 2 reasons, first I simply like to stay up with the most current offerings on the software side of things, but second, and more importantly, Autodesk's current stance is that their 2011 software lineup are the only ones certified to run under Windows 7. I have tested the 2010 and 2009 editions of 3ds Max and MAYA, and Softimage 2010, and they seem to run fine, but to validate my testing, I am keeping with the current versions that Autodesk certifies will work fine under Windows 7. Now the speed of actually working in these applications is a bit hard to quantify. While we can record performance numbers for things like viewport frame rates, render times, simulation times, etc.  there are no real benchmarks for performing basic modeling / texturing / animation tasks. So having said that, this new Z800 seems to be about the same as the last one as far as basic tasks goes, although overall, the whole interface and usability just seems to be a bit more "snappy" overall. I believe that a large part of this feel is due to running in windows 7. Again, it is hard to back this up with empirical evidence, but it just seems to be the case after spending a few months with the system and using it. On a personal note, I do like working in Windows 7 over XP, it makes the system feel modern without the lackluster performance that Windows Vista offered with DCC apps. Viewport frame rates overall seem to be on par with the previous Z800, with the new one being just a smidgen faster. This is probably due to the fact that the CPU's are clocked higher as they run the video card drivers a tad faster than the previous Z800. Despite this though, we only see a 1 – 2 frame per second increase over the last Z800. This however changed when I swapped out the Quadro FX5800 for the ATI Fire Pro V8800 that I am using in the system now, but as I mentioned before, I'll talk briefly about that later on. It is worth noting that HP currently is offering the Fire Pro V8800 as a video card option for the Z800 system. Below are a set of charts showing the viewport frame rates for the various systems and how the current Z800 stacks up to them.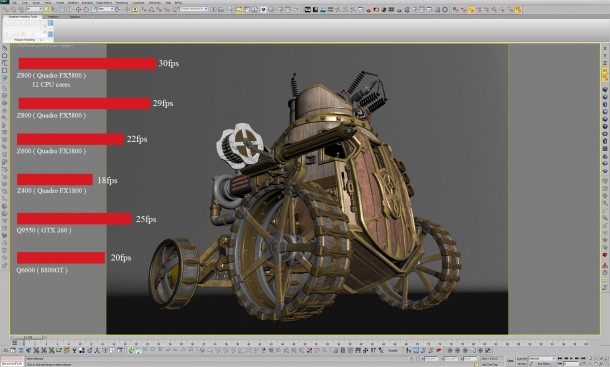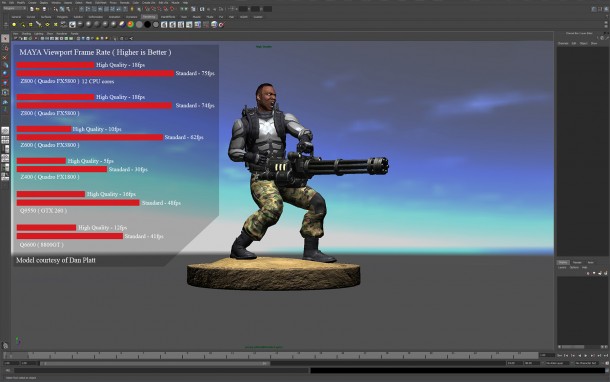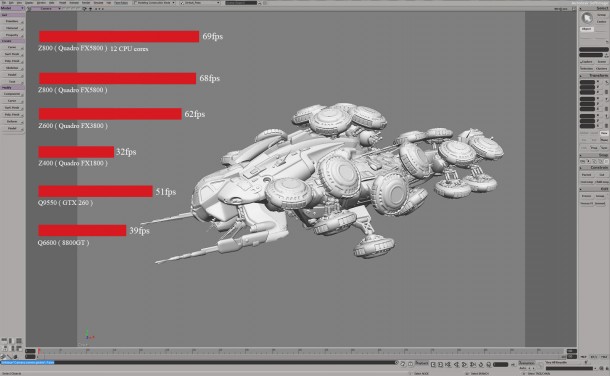 MAYA Cloth physics & 3D Rendering performance with Mental Ray / V-Ray / Brazil / Maxwell
Now here is where things get exciting. As many of you know, and as I have explained in previous articles, where 12  physical / 24 virtual CPU cores really comes in handy, is when you are doing 1 of 2 things, massive multitasking, ( which I will talk about here in a bit ) or using multi-threaded software that is written and designed to use multiple CPUs / cores. 3D & 2D rendering software is just that, software designed to use multiple CPUs, multiple cores, and/or both, and adding 50% more cores, and bumping up the frequency from the previous Z800 has a dramatic effect on rendering performance. Let's take a look at the charts below to see just how much is gained with the extra CPU cores.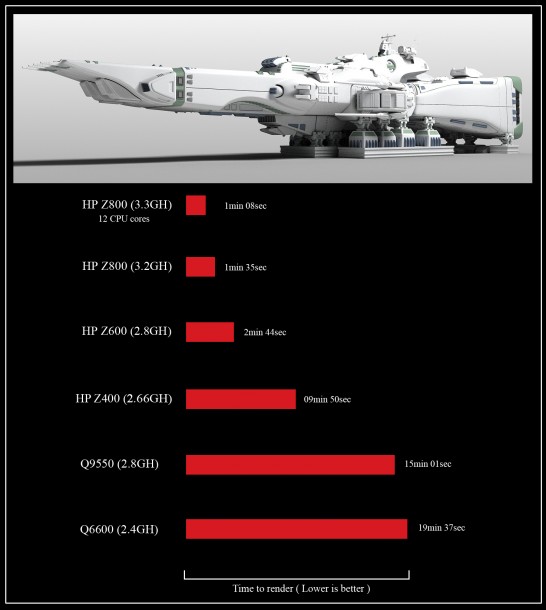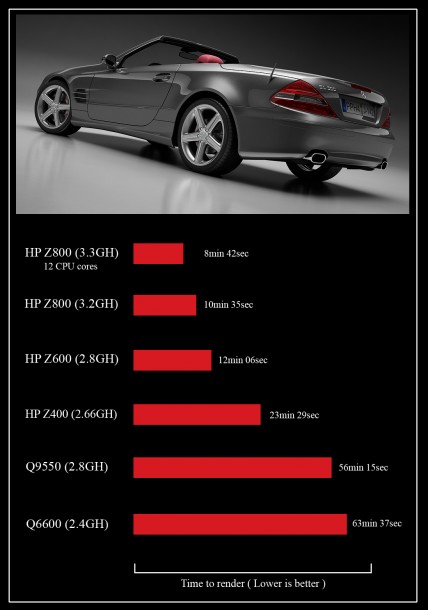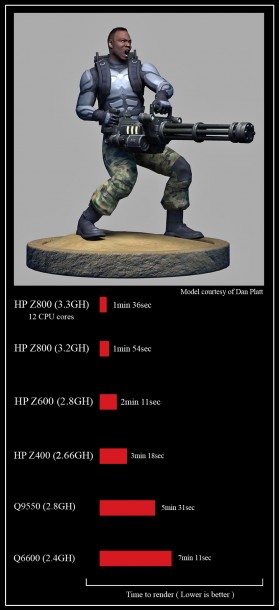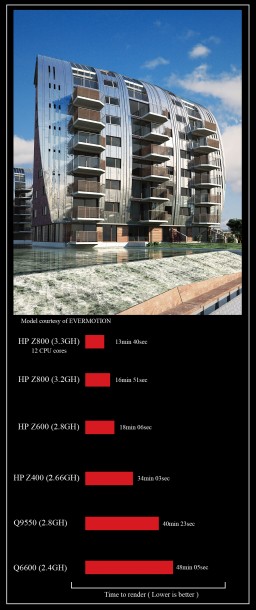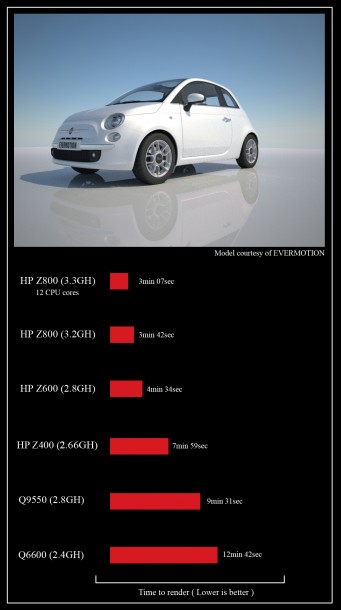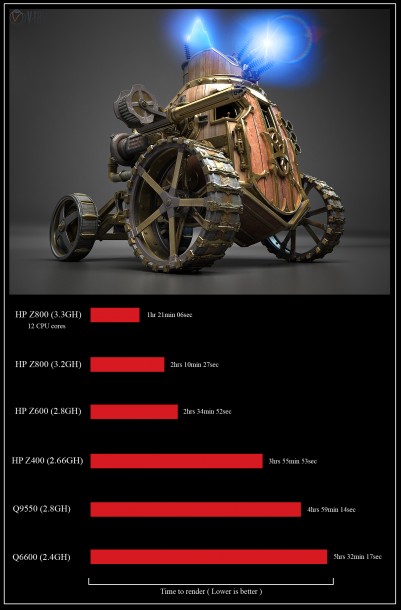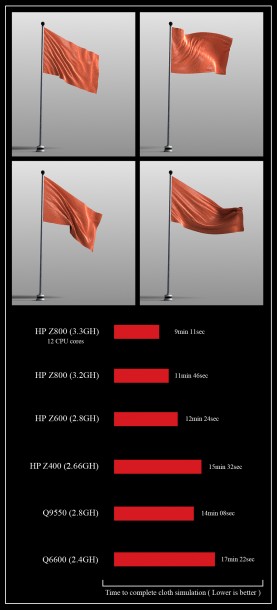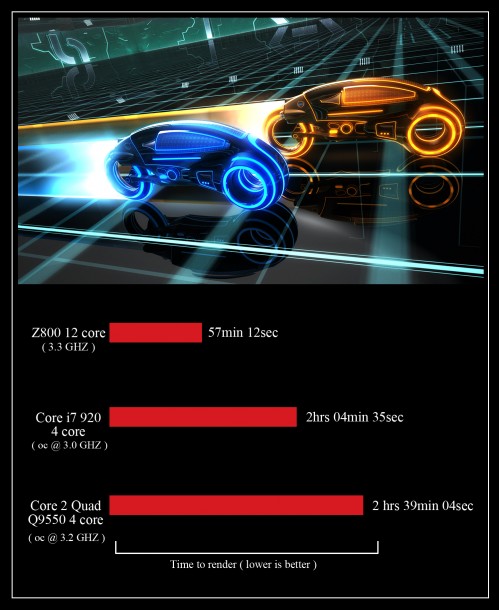 You can see that on average, with the addition of 4 more cores over the previous Z800, we are seeing an average 20% – 50% decrease in render times. Even the single threaded MAYA cloth simulation was quicker on the new Z800 due to the higher frequency of the Xeon 5680 CPUs.
Digital Sculpting performance with Mudbox 2011 & Zbrush 3.5
Sculpting performance with Mudbox and Zbrush is pretty much identical to the previous Z800 tested. This is to be expected, as while both programs are multithreaded, neither seems to scale much beyond 4 CPU core, and the rely much more heavily on the amount of RAM in the system then going to an 8 or 12 core CPU layout. Also, mudbox is very graphics card dependant as well, so seeing that the amount of RAM installed, and the Quadro FX5800 remains unchanged, it is no surprise that performance with these programs is pretty much the same.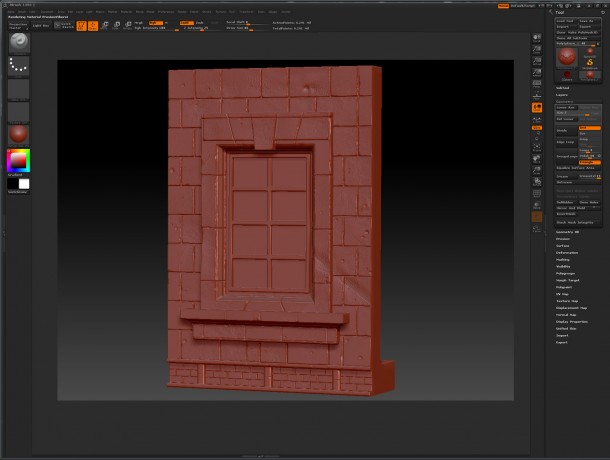 Adobe CS4 Performance
Like the digital sculpting applications, Adobe's CS4 suite relies more on RAM and frequency, than available CPU cores, so performance remains almost the same, with a slight edge going to the current Z800 due to the higher frequency of the Xeon 5680 CPUs. There were, however, 2 exceptions to this, rendering in After Effects, and media encoding with Premiere. Both, were 20% – 30% faster than the previous Z800 system. However, if you are looking to use the Z800, or any other HP Z workstation as an H.264 or other media transcoder, you are probably better off opting for 1 or more Quadro FX video cards, and a copy of the Elemental Accelerator plugin from Elemental technologies. It offers vastly superior performance in this arena by using the Quadro FX's GPU to do the encoding calculations instead of the system's CPU. You can find my earlier review of the Elemental Accelerator here.  You can also purchase your Z series workstation from HP bundled with the Elemental accelerator.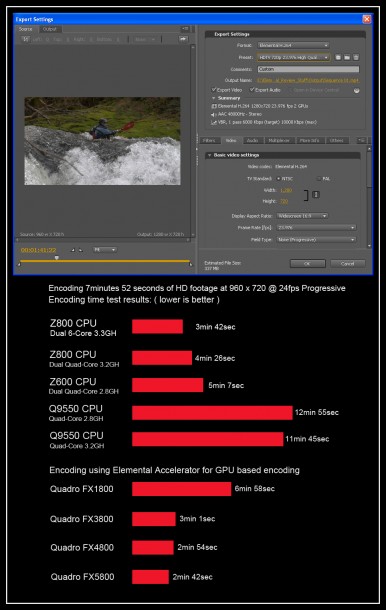 Cinebench results
Now I really don't care much for synthetic benchmarks, as their numbers really have no bearing on actual real world performance you would see with most popular DCC applications, and thus have no real meaning. However, since it is used by almost every other review site that tests workstations, and I have had requests to include these results, here you go.  I decided to do this test just recently, so it is being performed with the Fire Pro V8800 instead of the Quadro FX5800 since the V8800 is the card I am currently using in the Z800.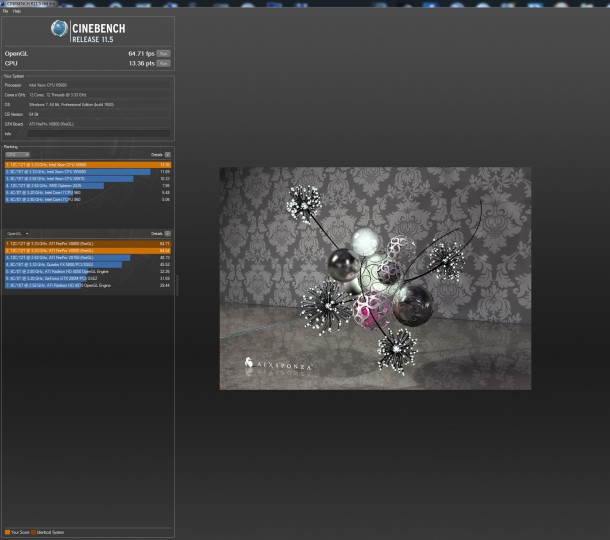 You can see that the Z800, equipped with the dual 5680 CPUs and the Fire Pro V8800 comes in at #1 compared to the Cinebench high end control systems scoring 13.36 CPU points, and 64.71fps in the OpenGL benchmark.
Multitasking performance
One more thing I want to touch on here is the multitasking ability of the Z800 with the 2 6-core CPUs. Now most modern desktop systems with either dual or quad core CPUs will multitask multiple applications decently, but to put it bluntly, they've got nothing on this system! With 12 CPU cores, 18GB of RAM, and a 4GB professional graphics card, the current Z800 is a multitasking monster for those of you who love to span your attention across many open apps and tasks simultaneously. I threw everything I could at this system, and it handled it like a champ. This included the following: Working in Maya / rendering with 3ds Max and Vray ( with low priority thread enabled ) / rendering in After Effects /  running a batch filter effect on 200 12MP images in Photoshop CS4 / playing a DVD movie in the background. While running all these apps at the same time, I was still able to work fluidly in Maya with only the occasional 1 – 2 second hiccup. The 2 renders, and the Photoshop image batch of course took longer than they would have running by themselves as they all had to share the available CPU cores, but the point I am making here is that with all of these tasks running together, I was still able to perform productivity tasks at the same time without much disturbance from the other applications.
Power Consumption & Noise
Now HP is really trying to "Go Green", and yes, I dislike that phrase as much as the rest of you, as it is often used in a far too trendy and casual sense these days, but the reality of this is not such a bad thing where HP is going with it. They are aggressively pushing the power efficiency of their systems, and this is especially true for the Z-series workstations. The current system I am testing sports an 1100W power supply rated at 89% efficiency, and with the die shrink of the new 5680 CPUs from 45nm to 32nm, power draw of the CPUs goes down a decent amount. So using my trusty Kill-A-Watt meter, I ran the Z800 through a series of common tasks and measured the power draw from the wall. At Idle, the new system drew 246 watts from the wall, 2 more over the 244 of the old Z800 which isn't bad considering there are 4 more CPU cores than the previous system at a higher frequency, but wait, it gets more interesting. When taxing the graphics card with high polygon / shader combos in MAYA & 3ds Max, the new system pulled 334 watts versus the old Z800's 342 watts, an 8 watt reduction from the previous Z800 using the same graphics hardware, nicely done! Now the real kicker is when the system is under full CPU load. While rendering the SL500 model with Vray, all 12 cores are at 100% load, and the current Z800 pulls 442 watts from the wall according to the Kill-A-Watt meter, while the previous 8 core Z800 was pulling 498 watts under the same circumstances. So adding 4 cores, and bumping up the frequency has yielded a decrease in power consumption under full load of 56 watts. Now this doesn't sound like a whole lot, but if you are rendering animations, and the system is continuously running for weeks at a time, you will see a difference in your electricity bill. As far as noise levels go, this system is very quiet. While it is not near silent like the Z400 & Z600, it is not far from them, especially since the issue of the high pitch hard drives has been resolved in this iteration of the Z800. All in all, the system in quiet enough to be non-intrusive in everything but a completely silent room.
Now real quick, I want to mention the ATI Fire Pro V8800. I am currently testing ATI's lineup of DX11 Fire Pro cards, ( I will be bringing those results to you all here soon ) and currently, I am running the V8800 in the Z800, which HP does offer when configuring a Z800 for purchase. I have found the V8800 to be the perfect match to the Z800's CPU horsepower, offering roughly 15% – 30% better performance than the Quadro FX5800, and DirectX 11 and OpenGL 4.0 support, something that Nvidia won't offer until Quadro boards based on their new Fermi architecture become available. ( no word on when that will be though ) Also, the V8800 has ATI's Eyefinity technology allowing the card to drive up to 4 30 inch 2560 x 1600 resolution displays, which is nothing less than awesome for DCC users who like to have many apps and toolbars open across multiple monitors. In addition to the superior performance, the V8800 also pulls less power than the FX5800. Under graphics card stress tests, the system pulled 334 watts with the FX5800, and 293 watts with the V8800. So if you are looking to purchase a Z800 with a high end pro graphics card, and you don't need CUDA, I would recommend the ATI Fire Pro V8800.
(Z800_collage_A.jpg )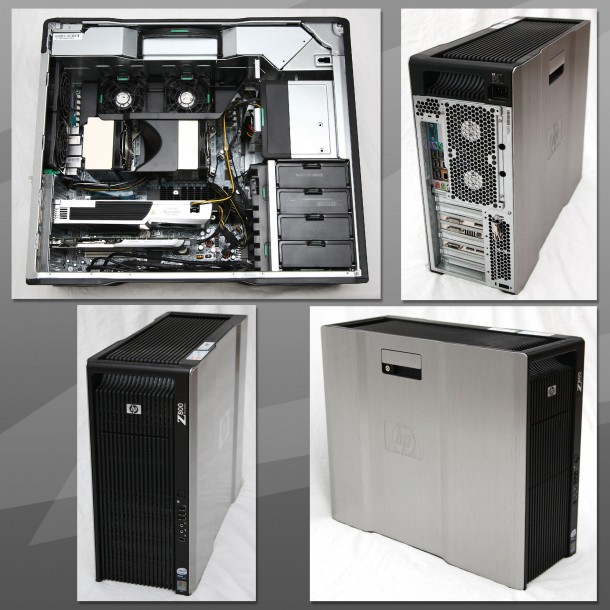 So to sum up here, HP has take what was already a great system, and made it better with the small updates, and the addition of the new 32nm Intel CPUs. Now many of you know that I have pretty much done nothing but sing praises about the Z-series workstation since I started reviewing them last year, and despite the fact that some people may think I am biased, the reality is that they really are great systems, and I will continue to give them high praise until they send me a product that gives me reason not to. Yes, anyone can take off the shelf components, throw them together into a box, and call it a workstation, but the Z workstations are more than just a mish-mash of computer parts, stuffed into a pretty box, they are a complete solution that includes not only a high quality workstation, but a high class service and support package as well. Hey, if you are skeptical, don't take my word for it, just look at their influence and market penetration throughout some of the biggest names in Hollywood CG and special effects! So I would defiantly recommend to anyone looking to purchase 1 or more professional level graphics workstations to take a serious look at the HP Z-series workstations, if your experience using them is anything like mine, I guarantee you won't be disappointed.
You can find more information on the complete line-up of HP systems on their website: www.hp.com
I'd like to give a special thanks to several vendors and individuals for their contributions to this article:
Autodesk, Adobe, Chaos Group, Splutterfish, Next Limit, Nvidia, Evermotion, Kiley Wiedeman, Dan Platt