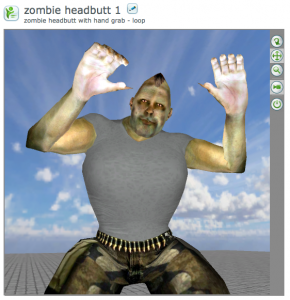 Mixamo announced at Casual Connect Seattle new customizable character creation features now available at www.mixamo.com. 3D animators and game developers can create fully rigged characters for their projects in a matter of minutes, according to their specific preferences.  Additionally, the entire Mixamo collection of animations can be applied to these characters in real-time for a powerful end-to-end character modeling and animation experience.
Cameron Petty, founder of JumpCore Productions and former CEO/Co-founder of Cryptic Studios, had this to say about the new service. "Mixamo's Custom Character Creator should be a huge benefit to game developer studios of all sizes," he commented.  "From rapid prototyping and background character scenes all the way to playable and non-playable characters, game developers now have a powerful way to create fully rigged characters quickly."
The new Mixamo customizable characters are geared toward 3D game developers and animators who need 3D rigged models for playable and non-playable characters, cut-scenes, animated shorts, or rapid-prototyping uses such as 3D storyboarding.  Users can choose between Standard or Pro characters, depending on the level of customization they require for body shape, hair, clothing styles, and technical settings such as geometry, poly resolutions, textures, and facial rigging.  Both Standard and Pro characters, fully rigged, can be created in less than ten minutes.
For specific information about these customizable character features, please visit http://www.mixamo.com/c/create-custom-characters.