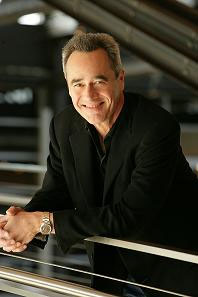 ACM SIGGRAPH has announced the selection of Jim Morris, General Manager and Executive Vice President of Production at Pixar Animation Studios, to give a keynote presentation at SIGGRAPH 2010.
At Pixar since 2005, Morris has worked as a producer and production executive in the motion picture industry for more than 23 years. As part of Pixar's executive team, he has served as production executive on many of Pixar's most successful films including "Ratatouiile," "Up," and the upcoming "Toy Story 3."  In 2009, he produced Disney·Pixar's highly acclaimed, "WALL·E," which won the Oscar for Best Animated Feature and garnered him the Producer of the Year Award in Animated Theatrical Motion Pictures from the Producer's Guild of America. He is currently producing Disney's much anticipated "John Carter of Mars," which is scheduled for release in 2012.
"As an industry leader and visionary, Jim's keynote will be one of many 'can't miss' moments of SIGGRAPH 2010," said Terrence Masson, SIGGRAPH 2010 Conference Chair from Northeastern University. "His contributions over the years have moved the industry forward in ways we never imagined. His impact will be felt for decades to come. With his breadth and depth of experiences, he truly is the epitome of this year's underlying focus of the 'People Behind the Pixels.'"
Prior to Pixar, Morris worked for Lucasfilm and its divisions for 17 years. He served as president of Lucas Digital Ltd. for 11 years, where he was responsible for Industrial Light & Magic (ILM), Lucasfilm Animation, and Skywalker Sound. At that time, Morris served as ILM's general manager, where he supervised a staff of more than 1,400 artists and technicians, and guided the largest visual effects facility in the entertainment industry. Under Morris' leadership, ILM created the groundbreaking and Academy Award®-winning visual effects seen in "Jurassic Park," "Death Becomes Her," "Forrest Gump," and more than 150 other films.
Morris had previously supervised all of ILM's  production, including "Terminator 2: Judgment Day," which won an Oscar for Best Achievement in Visual Effects, "Hook," "Star Trek VI," "The Rocketeer," "Backdraft," "Die Hard 2," and dozens of other successful film projects.
Morris first joined ILM in 1987 as a producer of visual effects for films and commercials. Among other films, Morris produced effects for James Cameron's "The Abyss,"  which also earned an Academy Award® for Best Achievement in Visual Effects, and Steven Spielberg's "Always."
Morris earned a B.S. degree in film from the Newhouse School, Syracuse University, and holds a M.S. in television and radio from the same institution. He has served as president of the San Francisco Film Commission and was the founding chair of the Visual Effects Society (VES). Morris is a member of the Academy of Motion Picture Arts and Sciences and the Producers Guild.
SIGGRAPH 2010 will bring approximately 25,000 computer graphics and interactive technology professionals from six continents to Los Angeles, California, USA for the industry's most respected technical and creative programs focusing on research, science, art, animation, music, gaming, interactivity, education, and the web from Sunday, 25 July through Thursday, 29 July 2010 at the Los Angeles Convention Center. SIGGRAPH 2010 includes a three-day exhibition of products and services from the computer graphics and interactive marketplace from 27-29 July 2010. More than 200 international exhibiting companies are expected. More details are available at www.siggraph.org/s2010
Related Links
SIGGRAPH 2010