If you've been thinking about doing some 3D modeling on an iPhone (or potentially an iPad), check out Lost Pencil's 3D modeling application iSculptor. The app, though on a small form factor, looks like it has a fairly comprehensive modeling feature set already. Below is a quick introductory video, but if interested, check out the entire set of tutorials over at the iSculptor website.
How to model a chair using iSculptor™
Description from the website:
iSculptor™ is a complete 3d modeling application for iPhone, iTouch, and iPad, that allows you to create and modify 3d objects.
Using email, you can email your 3d objects to anyone. With its free sister Macintosh® application, iSculptorNet™, you can import and export 3d models into and out of iSculptor™ (using the Wavefront OBJ file format).
iSculptor™ gives you the ability to create 3d models anywhere! We hope you have as much fun with our app as we do!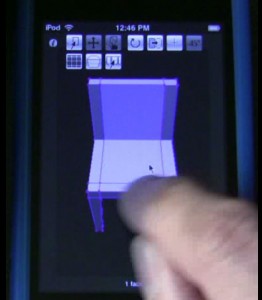 Features
full unlimited undo capability (undo camera rotation, pan, zoom, 3d element selection, and model editing)
rotate, pan, zoom camera
limit camera rotation to 45 degree increments for simulation of front, side, back, and top views
individual selection of vertices and polygons (additive selection mode)
marquee selection of vertices
convert vertex selection to polygons and polygon selection to vertices
grow polygon selection
move vertices and polygons (along the view plane or along polygon normals)
align vertices
merge vertices
split polygon loop
triangulate, quadrangulate
extrude polygons (combined and individual)
scale polygons or vertex selections
perspective or orthographic mode
wireframe or shaded view
models can be made up of different mesh pieces, but all of them must conform to the model limitations
Related Links
Lost Pencil – iSculptor