Hi guys,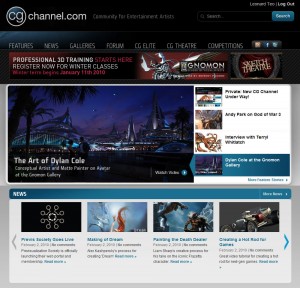 Welcome to the new CG Channel. We've been working hard over the last month to completely revamp CG Channel from the ground-up, and move everything over to a new content management system.
Still a work in progress!
As we've just moved everything over, we're still doing some final testing and making sure that everything works before we officially open all areas of the new site. Although we've done everything that we can to ensure that the transition goes smoothly, we ask that you please be patient with us as we do our best to debug and fix functionality as issues turn up.
Why the change?
Some of you might be wondering why we're doing this and what was wrong with the old CG Channel. Our main reason for doing it is because the old CG Channel was built on a content management system that is almost a decade old and wasn't maintained anymore. After Gnomon acquired CG Channel in 2008, it was clear that this system was preventing us from further improving the website and offering the best content for you. We believe that the new direction that CG Channel is taking will result in much better content for the digital entertainment arts community worldwide.
What next?
At the end of February 2010, we will be officially announcing our new content direction and rolling out some exciting new content that we believe will greatly benefit the entertainment arts community.
We'd like to hear from you!
If you have any comments, feedback, bug reports, rants, raves or suggestions, we'd love to hear from you. Please contact us at admin@cgchannel.com.
Best regards,
The CG Channel Crew
Leonard Teo, Managing Director
Matt McCorkell, Editorial Director
Sanaa Khan, Lead Designer
CG Channel, Inc.
Hollywood, CA