The Xindi: some of the new digital aliens you can expect to see on "Enterprise" EDEN FX ANNOUNCES
LATEST TV PROJECTS:
Company Provides CG FX to "Enterprise," "Navy NCIS,"
"Wilder Days," and "Homeland Security" Programs
Visual effects shop Eden FX, which specializes in the design, creation and production of Computer Graphics (CG) work for all facets of the entertainment industry, has announced its contributions to four TV programs — a returning syndicated series, a new network series, a cable TV MOW, and a pilot episode. The announcement was made today by Eden FX co-presidents John Gross and Mark Miller.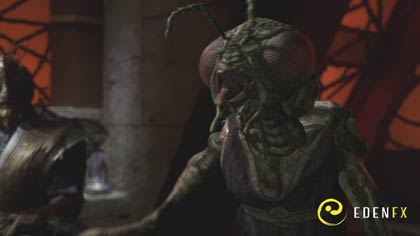 Eden FX continues its role as the primary provider of CG FX for the syndicated Paramount Television series, "Enterprise," which launches its third season at 8pm on UPN, Sept. 10th. For episodes that will be airing this Fall, Eden FX will be providing more of their Emmy-Award winning visual effects, including two new, entirely-computer generated creatures.
This season's "Enterprise" series takes the show in a new direction with some of the most intense action and visual effects in "Star Trek" history. Captain Archer (Scott Bakula) and his crew must work to conquer their greatest challenge: finding a mysterious alien race before they can destroy the Earth. Archer and his crew of explorers chart the galaxy on Earth's first deep space vessel, "Enterprise NX-01," as the first human beings to venture into deep space.
For the new CBS series "Navy NCIS," starring Mark Harmon, Sasha Alexander, Michael Weatherly, David McCallum and Pauley Perrette, Eden FX delivered a number of FX shots featuring a photo-realistic Air Force One, and other shots which included an entirely digital tarmac, cars and people.
"Navy NCIS," which premieres on CBS on Sept. 23rd, is a new drama that follows a team of special agents whose job is to investigate any crime that has a shred of evidence connected to Navy and Marine Corps personnel, regardless of rank or position. Leading the NCIS (Naval Criminal Investigative Service) team that operates outside of the military chain of command is Special Agent Leroy Jethro Gibbs (Mark Harmon), a highly skilled investigator and interrogator who is smart, tough and willing to bend the rules to get the job done. The new show is being produced by Belisarius Productions, in association with Paramount Television, with executive producer Donald P. Bellisario, and co-executive producers Chas. F. Johnson, John Tinker, and Mark Horowitz.
For the TNT cable movie-of-the-week "Wilder Days," starring Peter Falk and Tim Daly and airing Oct. 13th, Eden FX enhanced existing footage to create multiple dream and "story book" sequences.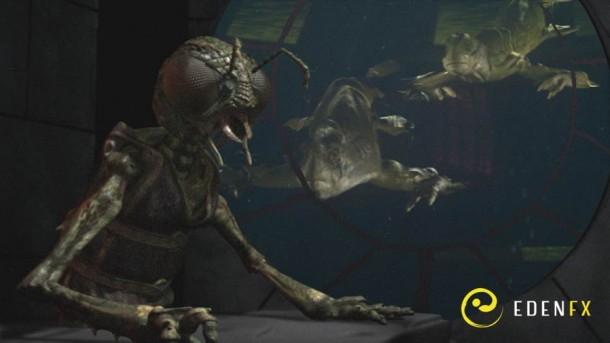 Multiple Emmy Award winner Peter Falk stars in "Wilder Days," an original film from Turner Network Television and Johnson & Johnson, which is a production of Magna Global Entertainment and Viacom Productions, with Craig Anderson as executive producer. The film depicts the joys and heartbreaks of family life as three generations embark on an odyssey led by a cantankerous grandfather (Falk,) as he regales his grandson with tall tales of his past.
And for the pilot episode of the Paramount TV series "Homeland Security," from producer Christopher Crowe, Eden FX provided numerous visual effects sequences, including all-CG fighter jets and commercial airplanes, exciting battle sequences, and the destruction of a terrorist convoy.
"Homeland Security," starring Scott Glen and Tom Skerritt, traces the historial events of 9/11 and the formation of the Homeland Security Department, while following government officials in their fight against terrorism.
Related Links:
Tags: Eden FX