An Interview with "The Freak" himself, Aristomenis Tsirbas (Meni).

Menithings, the company Meni created just a few years ago is just about to form a merger with a major film studio (to be announced shortly) and produce a feature film based on the short Menithings created called "The Freak". This short film has won several major awards in film festivals all over the world. We talk with Meni about his latest adventures!
CGC: Could you begin by telling us about the many adventures you went through since "The Freak" was first released?
Meni: Well, things were hectic the moment I finished "The Freak" in San Francisco. My attention shifted almost immediately to visual effects supervising a sequence for the upcoming "A Wrinkle in Time". Meanwhile Dane Smith, then still a part-time business partner, began researching film festivals.
Although I was happy with "The Freak", I had no idea if it would be a festival worthy film. Things began slowly, with few festivals responding to our submissions. Then the Palm Springs Short Film Festival hit, where we won Best Animation. A tiny write up in the Hollywood trades resulted in widespread attention for the short. Before we knew it, festivals began waving fees and asking us to be in their programs! Dane joined on full time to manage the festival traffic.
It quickly became apparent that we needed to attend many of these festivals, so we scheduled a trip almost every month throughout the following year. I feel very privileged to have traveled to so many wonderful cities as a festival guest. Most fests were very accommodating to their film-makers, making our experiences truly rewarding. One of the most memorable trips was being flown to Paris, France to attend the launch of Luc Besson's "Zero Un"; a feature film comprised of 10 short films including "The Freak".
So far, "The Freak" has won 10 awards, ranging from Paris and Switzerland to Hollywood and Sundance.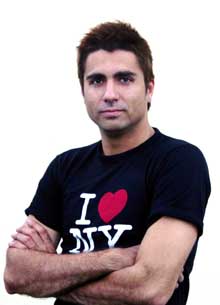 CGC: Tell us what's happening to the Freak now and to MeniThings?
Meni: "The Freak" is currently optioned, which means that a company pays to take the property off the market so it can help develop it into a film or TV show without the fear of someone else buying it up. In our case, we recently struck a deal to develop The Freak into a CGI feature film with a major company. We're currently in the first stage of the deal, where I work with one or more screenwriters to produce a script.
MeniThings continues to be a place that supports my contributions to the visual arts. It's also expanding to include more artists and performers as our collaborations continue. Also because of all the recent attention, we're now represented by ICM (a Hollywood talent agency) and have our own entertainment lawyer. I suppose you can say that we're now a bonified production company.
CGC: This is not the first time you've been approached to do something involving The Freak right?
Meni: "The Freak" has been honored with several different offers. The most attractive offer, besides this film deal, was the opportunity to make it into a television series. I actually worked on a very extensive pitch that involved the creation of an expanded Freak world and several new characters. The pitch was approved by a large family entertainment company, which then offered us a fairly attractive deal. At that point I had to make a decision between television and film. In situations like this I always follow my heart, which was set on a feature. Also, the people who were interested in the film version are very respectful and pleasant. We simply got along very well, which is a huge factor given that we'll be working together for several years.
CGC: In the very first interview we had with you, back in September 2000, you mentioned your ultimate dream was to create your own full-blown animated feature film, now, it seems it will happen. How does it feel?
Meni: It feels absolutely wonderful. There's still a sense of 'Is this for real?' because the film is not in production yet. There's a tremendous amount of work involved, particularly since I'm still doing visual effects and more short films. Nevertheless it's important to remind myself to be grateful. Realizing one's creative dreams to this level is a rare privilege for any artist.
CGC: Now that this is going forward, what are the resources you will need to make this happen?
Meni: Well, it all depends on the final production deal. For example, we may be offered to make the film with an already existing facility, such as PDI. In that case, we would adapt to their production pipeline, although the film's look would be thoroughly developed before we involve computers. On the other side is the option of building out a custom studio from scratch. In that case I would be directly involved with setting up the software/hardware, as well as hand-picking artists.
CGC: Will you still be using LightWave 3D on this project?
Meni: It all depends on what's the best option at the time of production. Remember, this movie may not begin CG work for quite some time. A lot can happen technologically in a mere year. At this point, the software we are examining is LightWave, Maya, and the intriguing new technology coming out of Luxology.
CGC: What do you think were the key elements or the people that were instrumental to your success?
Meni: I have so many people that I can't possibly list them all here. There's my MeniThings partner Dane Smith who deals with most of the harrowing business work, thereby freeing me up creatively. He also has an extraordinary work ethic, endless enthusiasm, and an ambition that matches my own. There's also Brad Peebler; a true business visionary. He hired me as part of LightWave 7.5's development team where, among other things, I made "The Freak". Carole Bouchard was also very helpful in getting MeniThings off the ground. She developed an interest in artist's rights after I was denied film credit on a very large motion picture, and encouraged me to create a self-titled home for my original projects. Not to sound like a suck up, but I also must thank CG Channel. You guys helped establish my web presence, which was instrumental at getting my work exposed to the world.
CGC: Many digital artists out there dream of accomplishing something like this. What would be your biggest advice to them?
Meni: Make films that are close to your heart and true to your beliefs. Spending too much time trying to guess what others might like is a creative trap.
CGC: Would you venture out a possible release date for the film?
Meni: We're currently still in the development stage pending a green light. So it's impossible to know when this film will begin production, let alone distribution.
CGC: Tell us about your other projects currently under way?
Meni: Since completion of "The Freak" I've directed two more short films. The first is "Terra", which is another all CGI film, but with a more dramatic tone. It just hit the festival circuit and is doing very well. Like "The Freak", "Terra" was made with a feature film version in mind. Our latest short is a complete departure called "TankUp.US". It's a live action 'mocumentary' which recently premiered in Seattle. It too was very well received, and will soon enter more film festivals. Most recently I've began studying acting to further sharpen my live action direction skills. It's a whole new craft to discover, deepening my appreciation and excitement for the film-making process.
Big thanks to Dane Smith and Aristomenis Tsirbas who took the time to answer all our questions.
Related Links: