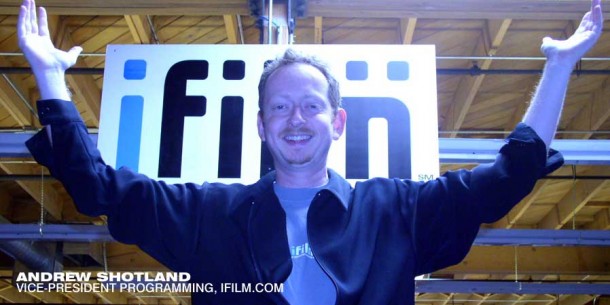 Carole Bouchard interviews, Andrew Shotland,
VP Programming at IFILM.
Andrew Shotland, 10 years experience in the internet business, Andrew Shotland started Showtime Networks Andrew Shotland 's website in 1995 and ran such ambitious web architecture as NBC.com.
He woke up at 8:00 AM on a Tuesday with the realization that IFilm needed more CG input. CG Channel spent time with him sharing some fruits in their LA Office, Mr. Shotland admitted that swimsuit models do better that CG but that CG swimsuit models might solve the issue.
CB: How did it all start?
AS: IFILM started in 1998 by Kevin Wendle, one of the original programming execs from Fox TV and a founder of CNET. The idea was to create a place for anyone who wanted to make movies to show their work. Since bandwidth was a bit constrained back then, IFILM initially focused on short films. In a short time IFILM amassed several thousand shorts because at that time short filmmakers had very few places to show their work. Almost overnight IFILM became known in Hollywood and the Indie Filmmaking community as the place for new filmmakers to be seen.
CB: How did Ifilm survive the Dot.com crash?
AS: The company diversified the business by starting a OTX, an online research company that provides research to the entertainment industry, consumer products companies and others, and acquiring the Hollywood Creative Directories, the definitive yellow pages for the entertainment industry. We also diversified the IFILM.com content. We expanded from just showing short films to showing Movie trailers and clips, clips from TV shows, Music Videos, Video Game previews, and short funny "Viral Videos" that are submitted to us by independent filmmakers.
CB: What kind of traffic are we currently talking about on Ifilm? From where? What is most popular?
AS: IFILM currently has an audience of over five million viewers per month. As high speed access grows so will IFILM's audience because we have one of the largest libraries of entertaining video out there.
CB: Can you make our hard core techno crowd salivate on specs (bandwidth, number of servers, etc)?
AS: My CTO would kill me if we gave out that data. Let's just say we're the seventh largest streamer of video on the planet. You do the math.
Below, some CG Shorts currently featured on IFILM.com

CB: What is the technological turning points that helped Ifilm?
AS: The increasing adoption of broadband access in the home and at work.
CB: Where do you find excitement in your work?
AS: Finding a great unknown film, putting it up on the site and seeing millions of people watch it.
CB: 405 the Movie is an example of success on your site, please describe:
AS: I believe we put 405 up in 1999 and at the time it was one of the first examples of what creative people could do with a video camera, some software and the Web. 405 became a viral phenomenon and it helped put IFILM on the map. In June 2000, Jeremy Hunt and Bruce Branit, the duo behind 405, signed with Creative Artists Agency to negotiate writing and directing deals. The duo's short has been featured on Access Hollywood and Roger Ebert & the Movies, among others. 405 is still on IFILM and continues to be one of the most popular films on the site. It's been seen millions of times.
Ray Tracey in Full Tilt was also popular, Aristomenis Tsirbas, its director, is now developing a project under Fox Searchlab, do you have other examples of success stories? Check out this page.
CB: What do you think the future of broadcasting is?
AS: I hope it involves making it easy for creative people to get their work seen by the public and making it easy for the viewing public to find great, entertaining stuff to watch. One of the problems that IFILM tries to solve is creating one place where you can go to find the best video when you want it and I hope that broadcasting gets more like that.
CB: Why did you give up the white background?
AS: Most sites have white backgrounds and we don't want to be most sites. We wanted an overall look that started to define IFILM as a brand and a place for people to find the coolest, funniest and sexiest videos. We think the new design starts to accomplish this.
Related Links:
Tags: Alien Museum, Alien Song, Andrew Shotland, Fifty Percent Grey, Final Flight of the Osiris, Fox TV, IFilm