For many of you already, Meats Meyer doesn't require any introduction. Most of you have already seen his work all over the web. His work is certainly creative and extremely stimulating. Hate it or love it, his art will certainly leave an impression on everyone.
CGC: First of all, perhaps you could introduce yourself, tell us who you are and where you are as a professional and as an artist?
MM: My name is Meats Meier and I've been creating 3D art for the last seven years. I started with Strata Studio Pro on the Macintosh, moved on to the "Wavefront Explore" package and then finally to Maya when the beta first came out. It has been my main tool ever since. I have worked as a lead artist at a video game company for many years and have also had great success as a freelance artist as well, doing everything from product packaging to pre-visualization work for feature films.
CGC: On your home-page, you state: "Subparadigital Creationism, artistic vandalism". What do you mean by that?
MM: Surprisingly, no one has every asked me about that one….I guess they both represent the way I see my art, seemingly containing a valid meaning, but when it comes right down to it, have no meaning at all….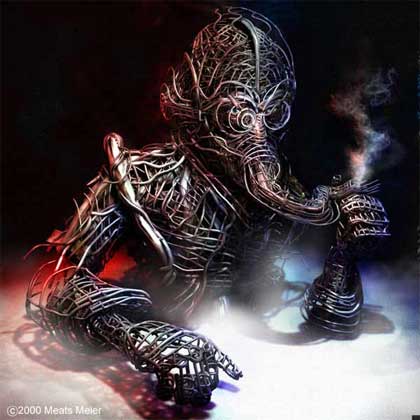 CGC: Your artwork is certainly unique. Where do you draw your inspiration? Your ideas?
MM: I get my inspiration by DOING, by not questioning myself, just planting the seeds of ideas and see what they grow into. I think the beauty of 3d is that once you master the tools, anything that you can dream of, you can take straight out of your brain and put it in to a form that normal humans can understand. Once I have something to look at, it is easy and fun to build upon the idea. I usually end up with 100 or so images by the time I grow bored of a project. I then weed out most of the crap and add the images to my online gallery to be used as more inspiration for me and others on future projects. I can see several roads that I could have taken on any image that I have done. I never spend more than a few days on any one piece, too much to do, once it starts flowing, I can't stop it…
CGC: Does music play a role in your work and if so, what type of music do you listen?
MM: Music does play a huge role in my work. I blast "Meats Radio" all day – 20 gigs of my favorite music randomized within WinAmp. I couldn't work without it. I listen to a large variety of music, everything from Vivaldi to the Kottomouth Kings. Some of my favorites right now – Queens of the Stone age, Floater, Soul Coughing, and too many others to list.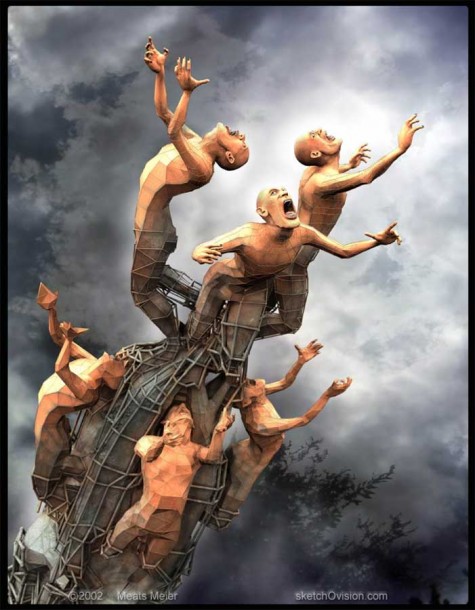 Click image above for full-size version
CGC: Your digital sculpture "Creation" represents an array of human characters somehow intertwined with each other. Was there some form of message or symbolism in this work?
MM: Sometimes I can only guess the meaning along with everyone else, and only after some time has passed after I finish the personal project. In this case, the Creation sculpture is demonstrating the steps a model goes through in the process of actually creating something in 3d. The base is in the form of a low-poly wire frame and as you work your way up, it becomes increasingly higher poly and detailed. The characters on top are fully formed and are worshipping their creator, erm, me. The name of this piece was originally titled, "Human, 12 pack". The motion tests that I have done with this model are just so creepy…
CGC: I am somehow curious to know how you created the wire frame effect on several of your digital sculptures such as the Gas Mask?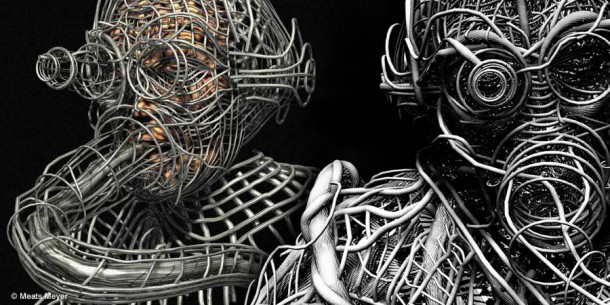 Click image above for full-size version
MM: I start out by building a fairly low poly version of the basic form of the sculpture. In Maya, I make the surface "live". Doing this allows me to be able to create curves that stick to the geometry surface. I try to follow the form's original wire frame layout as much as possible as I find them to be very beautiful (art nerd). The curves are then extruded into nurbs tubes. I make more curves, each time changing placement and tube width to give it a more natural, random feel. When I am done with the tubes, I use the original control curves to weave the tubes within each other. With a lot of frenzied tweaking, you can create some really intricate things rather quickly. It's virtual basket-weaving. This process has become a large part of my personal artistic style.
CGC: I believe many digital artists recognize themselves in your short film "The Future of Art" Do you recognize yourself in this character that finds himself at the command of that "ultimate art creation tool"?
MM: Oh, yeah, I'm exactly that character. Although the artist was clearly worked over by the technology, he did end up with some interesting art that he never would been able to do otherwise. If there was a sequel, you would see that he gets back up, dusts himself off, and gets back to work with the RT Bot.
CGC: What was the real message behind that project?
MM: The message, I guess, was – Don't get caught up in all the shiny gadgetry, plug-ins, and software upgrades, just concentrate on what's import, the art.
Mostly, although, I will be the first to admit that it was 90% just a demo reel for my animation and rigging skills. I was lucky to receive "best animation" at the 2001 Slam-Dunk film festival in Park City, Ut, and to be included in iFilm's book – "the Internet's 50 best short films".
CGC: What's your next big project?
MM: I was supposed to release "The Future of Sex" about six months ago, but found that it would be best to postpone it until after I learned 3d motion tracking and was able to afford a nice DV setup. This short film will demonstrate all of my current passions – blue screen, live action, 3d motion tracking and scene reconstruction. Oh, yea, and it will have a funny story line behind all of the effects……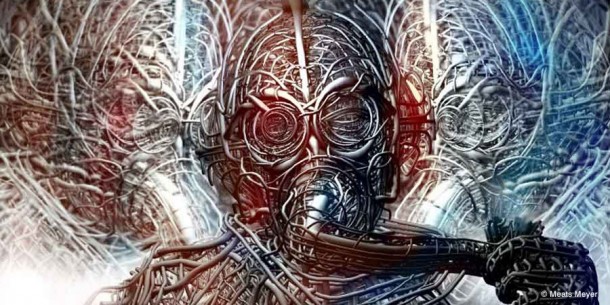 Story credits: Interview by Jean-Eric Hénault
Related Links:
Meats Meier's homepage
Contact Meats Meier by email
Tags: 3d, maya master, Meats Meyer