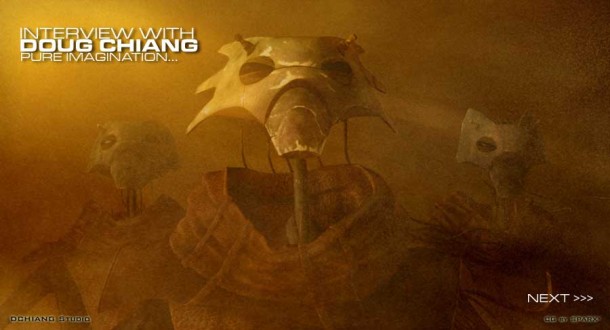 CGC: When people ask you what you do for a living, how do you answer them? Are you a filmmaker, a designer, an artist? How do you define yourself?
DC: I suppose I consider myself a film designer since that's what I get paid to do. Professionally, I would hesitate to call myself anything more. <grin>
CGC: Over the course of your career, you have been involved in a wide variety of projects, in many different capacities. What projects most inspired, or made an impression on you?
DC: Films like The Polar Express are the main reason why I love this business. For me, it's the thrill of being part of a creative team that pushes the limits of my skills.
Of the past films I've worked on, Forrest Gump, Death Becomes Her, T-2, and Star Wars were most notable. Death Becomes Her was my first real stage and model experience. For T-2 in addition to design work, I was given a chance to actually do shots by combining tradition 2D animated effects with 3D elements. That technique then evolved one step further on Forrest Gump where I was able to paint and animate new lip sync to archival footages. On Star Wars all those skills were tested and then pushed even more.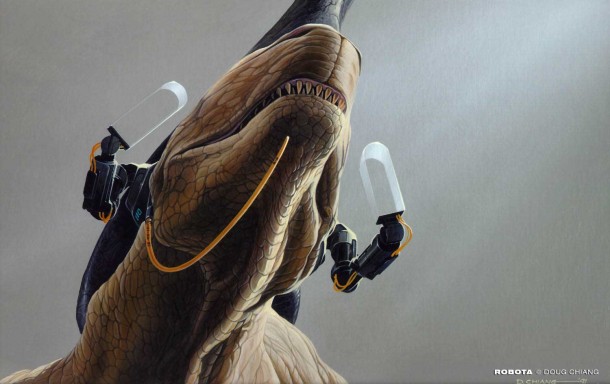 Click image above to see larger version
I am very fortunate to have had the opportunity to work on such a wide variety of cutting edge projects. The probabilities of failure were all very high on these films because we were breaking new ground. But that's what makes them exciting and memorable. When we succeeded, the rewards were equally as satisfying.
CGC: Even with just a quick glimpse at your body of work, you seem to be the man of a thousand trades. You have done everything from making your own films as a teenager, to doing Stop Motion animation, designing spaceships, and even designed a flying logo for Oprah. What do you most enjoy doing in a production?
DC: For me, it is exciting to create something that no one has ever seen before. When films like The Matrix or Lord of the Rings come out, I'm blown away and awed by what they've achieved and I strive to do the same with the films I work on. It's a very tough challenge given the plethora of great film designs today.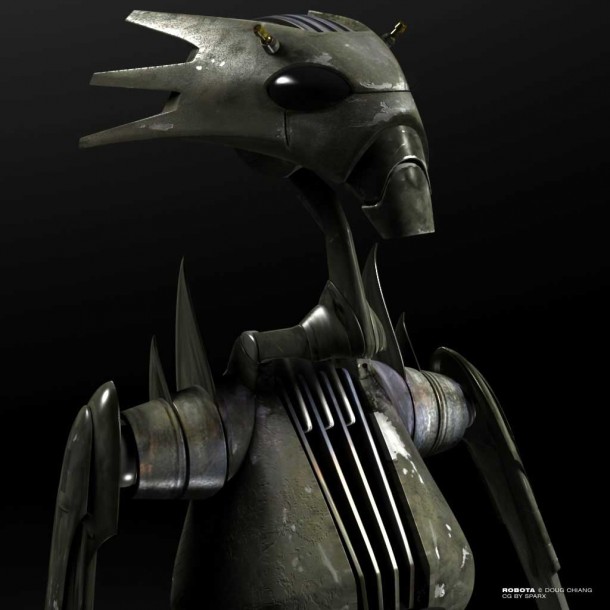 Click image above to see larger version
Of all the different phases of production, I most enjoy pre-production design. It's the only time when you can really let your imagination run wild and not be restricted by the realities of budget and time.
Production is enjoyable, too, because you start to bring those wild creations to life.
CGC: You began early concept work on Robota in 1993. How has the project changed/evolved since then?
DC: It's grown considerably since then. Now that I'm finished with the book, I am working on developing other aspects of it. For years, I have been working alone at nights and on weekends but now Robota involves more people and resources. It seems to have taken on a life of its own and I'm very fortunate to have a network of the finest designers, sculptors, model makers, and animators to tap in to. The completion of the two minute teaser by the French Visual Effects company, Sparx, is the culmination of some of that effort.
CGC: What can you tell us about the second teaser for Robota, and your collaboration with Sparx on the making of it? How will it differ from the first teaser?
DC: This second teaser is fully animated whereas the first was mostly just panning and scanning over flat artwork. The paintings for the book used exaggerated color and lighting and were designed with movement in mind. I was curious to see how that would actually translate to film. For the look of the second teaser, I wanted to go beyond what could be photographed and yet still be photographic in quality.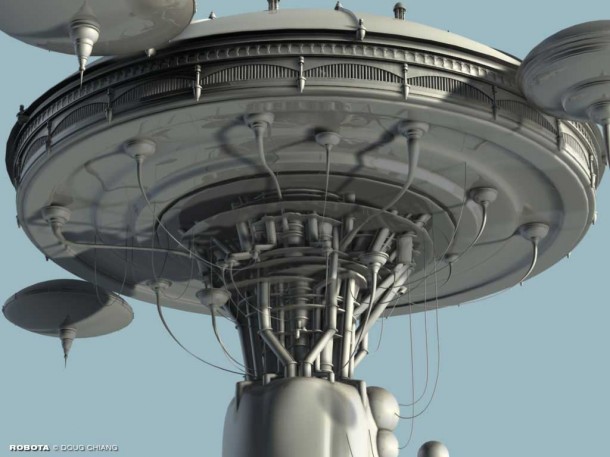 Click image above to see larger version
At first, it was a bit of gamble to do the second teaser because I would be directing the teaser virtually via the internet. With Sparx based in France and me in California, my schedule didn't allow for me to be at Sparx. We tried our best to use the distance and time difference to our advantage though. For example, Stephane Marty, the VFX Supervisor, would send me jpeg images at the end of his day – which was the beginning of mine. Then, I would make my comments and paint on the images and send back that night to arrive by the start of his next day. This process turned out to be very effective in communicating my direction to the rest of the team.
In the end though, it was the talent and dedication of Stephane Marty and his Sparx team that made the difference. They really came through and the final result is wonderfully executed. It's exactly what I had in mind – the paintings have come to life.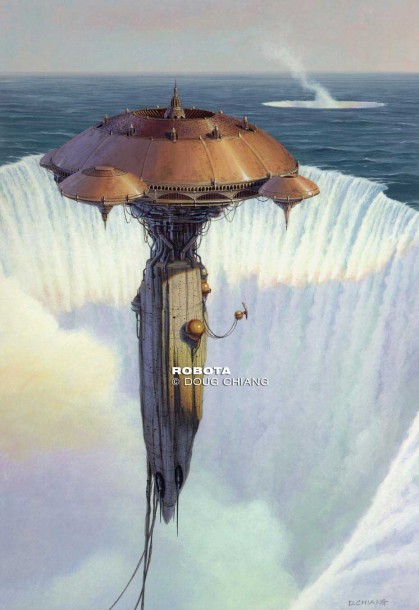 Click image above to see larger version
After the visuals were completed, I then worked with my music composer Chance Thomas who composed the fantastic score and my sound designer Tim Larkin to create the sound effects and do the final mix.
CGC: Are you looking into turning this project into a full-blown motion picture?
DC: That would be the dream but I'm also very realistic about the prospects. CG animated films, as you know, are expensive and difficult to produce. Even this teaser was a leap of faith. Someday I would like Robota realized as a film but in the meantime my goals are a bit more modest.
CGC: If so, what would you say is the biggest obstacle you currently face?
DC: Probably money. The technology is making it easier and it is becoming more feasible to do high quality work with a smaller team. The work by Sparx is a beautiful example of what can be accomplished with a small team. But at present, I would need a major studio behind this to make it viable. It's not realistic to think that I could do it on my own, even though I have access to some of the most talented people in the industry.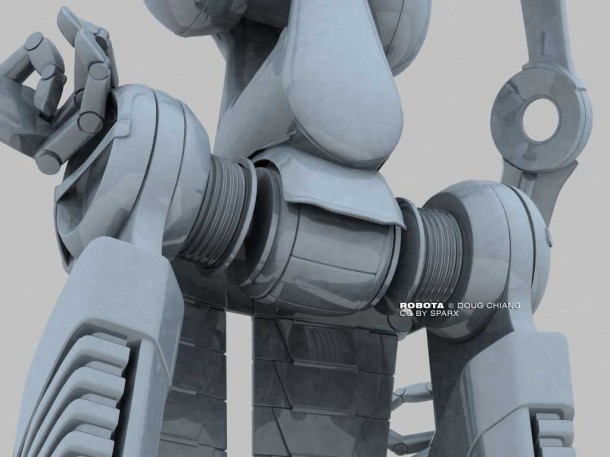 click image above to see larger version.
CGC: Given the quality of your work, it would not be too preposterous to ask…would you eventually have aspirations for an Oscar if this project is taken to film?
DC: I would be happy just to get this made into a film! <grin>
CGC: You are currently involved in the production of "The Polar Express." What is your role in the project?
DC: I'm part of the creative team designing the look of the film based on Zemeckis' vision.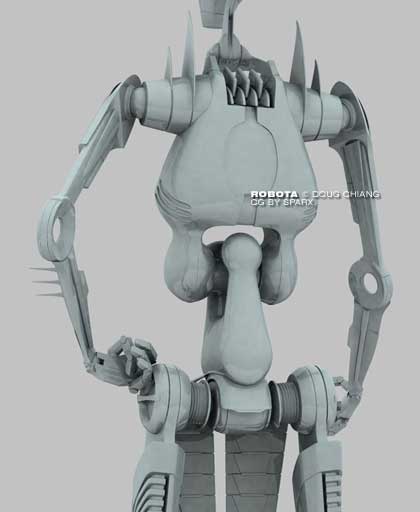 I can't talk much about Polar Express, as you may understand since we are in the middle of production. But I can say that it is by far one of the most challenging, ambitious, and exciting films that I've ever had the privilege to work on. I think this film will be really unique in terms of execution and look. It is truly the cutting edge of filmmaking. Beyond that, you'll have to wait two more years to see what I'm talking about.
CGC: Besides working on spaceship design for Star Wars, you recently contributed your talents in designed a number of spaceships for the game Earth and Beyond. Would you say you have a certain affinity for spaceships? If so, has this always been an interest?
DC: have a love-hate relationship with spaceships. I love designing and drawing them but it's also painfully hard. Because the standard of today's audience is so high and the expectations so great, anything less than wonderful is not enough. Today's audiences are too visually savvy. This makes my job very challenging. Designing spaceships for Star Wars Episodes I and II, for instance, was very demanding even though the end results may make it seem easy.
Sometimes the simplest solutions are the most difficult to find. The X-wings by Joe Johnston is a perfect example. It seems so simple and obvious in hindsight but it was incredibly bold in execution and strong in design. Since then, the X-wing influences have become ubiquitous in science fiction spaceships.
CGC: What can you tell us about your work on the Matrix 3?
DC: I was hired by ESC, the visual effects company doing the effects, to set up the post-production art dept for Matrix 3 and contributed post-production designs. However, in the big scheme of things, my contribution to the Matrix films is minor by comparison to all the truly amazing designs already created by the production art team. I just felt lucky to be a part of the Matrix films.
CGC: What inspired you the most about the first film?
DC: It was fresh and visually stunning. For me, The Matrix is one of the few films that is so unique that it sets new standards for other films to follow. I loved the art direction and visual style.
CGC: Beyond Robota, what other personal projects are percolating in the back of your mind?
DC: Between Robota and my current commitment to Polar Express, my plate is pretty full. However, I do have a bunch of other projects in the works that I'll be able to share with you at a later date. I don't want to jinx them by mentioning them now. <grin>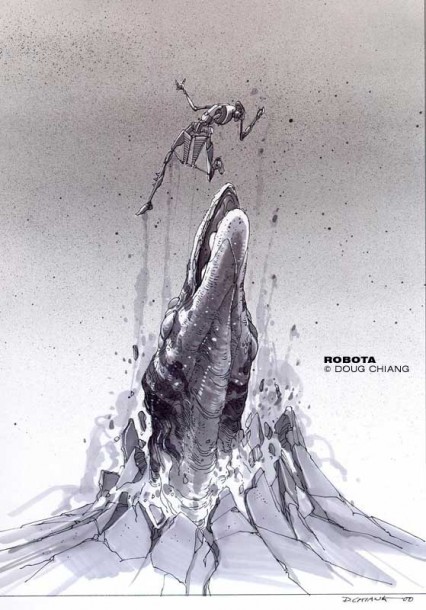 Click image above to see the larger version.
CGC: With so many high-profile projects under your belt, you must serve as a major influence to many aspiring artists in the field. Did you ever have a mentor, over the course of your art career? Who would you say most influenced, or continues to influence, you?
DC: There were many people who influenced me. Some of them I've had the good fortune to meet. Ray Harryhausen was a major influence in getting me interested in films. George Lucas for the obvious reasons. And, of course there is Ralph McQuarrie. I owe my career to Ralph. To this day his gentle genius continues to amaze and inspire me.
CGC: Looking at your portfolio, it is obvious that you must draw on a number of different sources for inspiration. Can you think of one particular instance when a common day object inspired you to create an exceptionally fantastic design or object?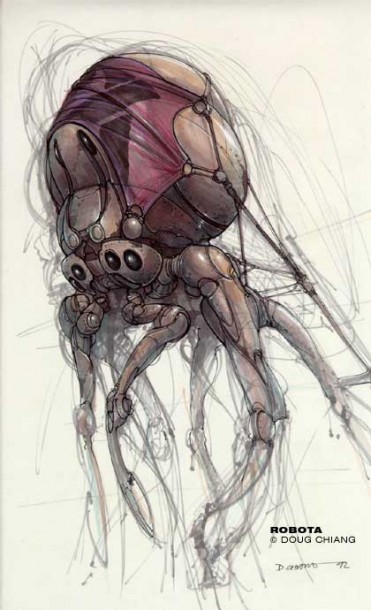 DC: There are a few that come to mind. In Star Wars Episode I for example, the design for the Naboo Starfighter was inspired by jewelry. I saw an art nouveau hairpin with a delicate butterfly design and a long, tapered tail that immediately struck me as being a cool spaceship design. The scythe became Darth Maul's speeder bike, and the dragonfly for the Federation Landing ships.
CGC: With a background in industrial design, animation, film, illustration and conceptual design, does any one art type or medium speak to you best? Do you have any favorite type of art style (i.e. classical, modern)? How about architecture? Music?
DC: I like them all. I don't know where my next inspiration will come from so I try to keep an open mind and study a broad range of subjects. Specifically though, I'm particularly fond of Victorian designs and designs from the 40's and 50's. When I'm working, I listen to Classical music.
CGC: On a more abstract plane, in an ideal situation, where any one wish you desired could be granted (apart from world domination and monetary wealth), what would you ask for?
DC: More time. It seems like there is never enough time to do all the things I would like to do and still have time to spend with my kids and wife. Next on list, would be to realize the full potential of Robota.
Image Credits:
Concept art:
Doug Chiang
CG Work:
Sparx (France)
Jereme Desvignes
Story Credits:
Interview & research by:
Jean-Eric Henault
Related Links:
All images featured in this article are the property of their respective owners and cannot be duplicated or used in any manner without the prior consent of their respective owner(s).
Tags: 3d, Doug Chiang, film designer, robota, star wars