Thursday, September 14th, 2023

Posted by Jim Thacker
Epic Games releases Twinmotion 2023.2 Preview 1

Epic Games has released the first public preview of Twinmotion 2023.2, the next major version of its Unreal-Engine-based real-time visualisation software.
Preview 1 adds support for Lumen, Unreal Engine's real-time global illumination system, reworks Twinmotion's exposure controls, and adds a fast-rendering new glass material.
In addition, the old free trial of Twinmotion has been replaced with a new watermarked Community Edition, which will also be used for all future preview releases.
An easy-to-use tool for visualising CAD data
Created by visualisation studio KA-RA, Twinmotion was desgned to help architects with limited 3D experience to create still or animated visualisations of buildings.
It imports hero models in a range of standard 3D file formats, or via live links to CAD applications. Users can then create background environments from a library of stock assets, and assign lights.
Atmospheric properties – including clouds, rain and snow, and ambient lighting based on geographical location and time of day – can be adjusted via slider-based controls.
The software was acquired by Epic in 2019, and initially made available for free, before being re-released commercially in 2020 with an aggressive new price point.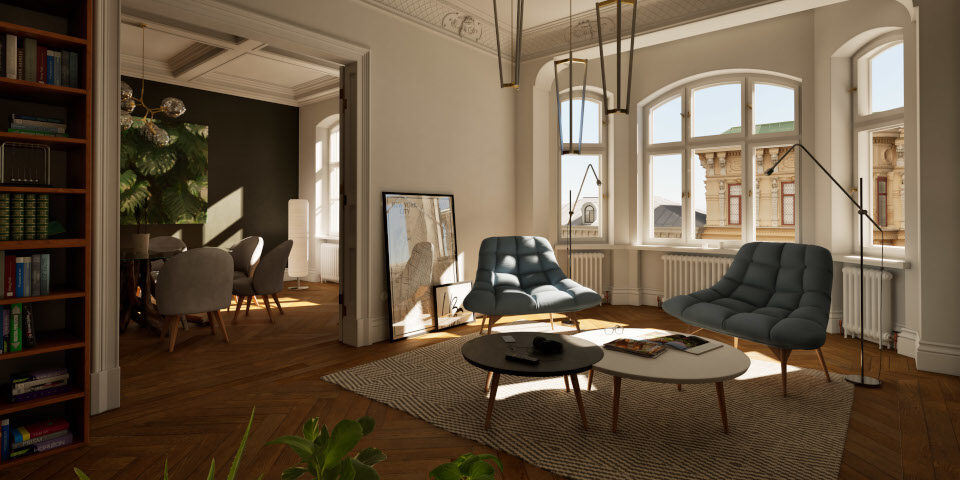 Twinmotion 2032.2: support for real-time global illumination system Lumen
Twimotion 2023.2 updates the software to the same foundation as Unreal Engine 5.3, the latest version of the game engine and real-time renderer.
The updated engine has a number of new features, the major one being support for Lumen, Unreal Engine's real-time global illumination (GI) system.
The software now has two real-time rendering modes: Standard, which uses a volumetric approach to ambient lighting, and Lumen, which is a surface-based approach, using ray tracing to calculate one light bounce and one reflection bounce.
Lumen generates better-quality renders, but uses more CPU/GPU resources and RAM.
It provides a middle option between the old real-time rendering and the Path Tracer, which provides even greater render quality, but uses even more resources.
In the initial release, Lumen is not available in VR mode, or on the cycloramas or LED walls used in virtual production, although the latter should be supported "soon".
Changes to Twinmotion's exposure system
Twinmotion 2023.2 also moves the software to real-world light values for sun intensity.
As a result the software's auto-exposure algorithm has been adjusted to work with a larger range of exposure values, with the total range increased from 4 stops to 26 stops.
In addition, new Local Exposure settings have been added to help preserve shadow and highlight details in scenes with high dynamic ranges.
New Basic glass material and better import of Sketchfab models
Other changes include a new Basic glass material, intended as a faster-rendering alternative to the more fully featured Standard and Colored glass materials for scenes that contain a lot of clear glass.
In addition, assets from Sketchfab, the Epic-Games-owned online model library, can now be imported with the model hierarchy intact.
Old free trial replaced by a watermarked Community Edition
Epic Games has also replaced the old non-commercial free trial of Twinmotion, which capped exports at 2K resolution, but which was otherwise fully featured, with a new Community Edition.
It's still free, but as well as limiting resolution, it watermarks output, and lacks access to online collaboration system Twinmotion Cloud.
Twinmotion 2023.2 Preview 1 is only available in the Community Edition, which Epic Games says will now be the policy for all future preview releases.
Price, system requirements and release date
Twinmotion 2023.2 is available as a public preview for Windows 10+ and macOS 12.0+. Integration plugins are available for CAD and DCC apps including 3ds Max 2016+, SketchUp Pro 2019+ and Unreal Engine 4.27+. Epic hasn't announced a final release date.
New licences cost $499. The software is free for students and educators, and there is also a free Community Edition of the software which caps export resolution at 2K, watermarks output, and lacks access to Twinmotion Cloud.
Read a full list of new features in Twinmotion 2023.2 Preview 1 in the online changelog

Have your say on this story by following CG Channel on Facebook, Instagram and X (formerly Twitter). As well as being able to comment on stories, followers of our social media accounts can see videos we don't post on the site itself, including making-ofs for the latest VFX movies, animations, games cinematics and motion graphics projects.