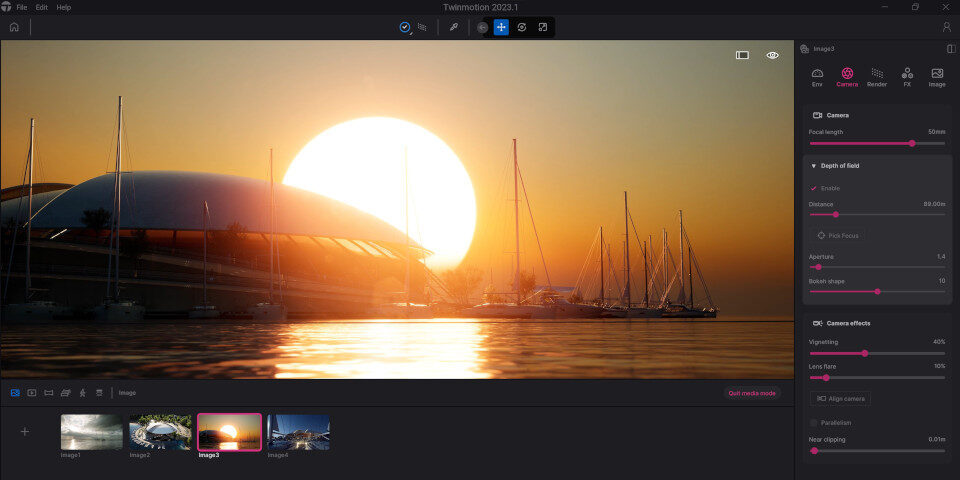 Originally posted on 8 March 2022 and updated for the release of Preview 2.
Epic Games has released Twinmotion 2023.1, the next major version of its real-time visualisation software.
Preview 2 reworks the software's interface to streamline access to common tools, and adds support for decals, volumetric fog, multi-GPU rendering and video denoising in the path tracer.
Preview 1, released in December, added support for LED walls for virtual production, shifted support for VR headsets to OpenXR, and overhauled Twinmotion's material system.
An easy-to-use tool for visualising CAD data
Created by French visualisation studio KA-RA, Twinmotion was desgned to enable architects with limited 3D experience to create still or animated visualisations of their buildings.
It imports hero models in a range of standard 3D file formats, or via live links to CAD applications. Users can then create background environments from a library of stock assets, and assign lights.
Atmospheric properties – including clouds, rain and snow, and ambient lighting based on geographical location and time of day – can be adjusted via slider-based controls.
The software was acquired by Epic in 2019, and initially made available for free, before being re-released commercially in 2020 with an aggressive new price point.
A recording of Epic Games' livestream announcing the new features due in Preview 2 of Twinmotion 2023.1. The section on the new interface starts at 00:12:20 in the video.

Twinmotion 2032.1 Preview 2: more streamlined, customisable user interface
One very visible change in Twinmotion 2023.1 is the new interface design, which Epic Games says is intended to make Twinmotion more accessible to users working in fields outside architectural visualisation.
The new layout is designed to reduce the number of mouse clicks need to access key tools and settings, with a Properties panel to the right of the screen, shared with the scene graph, and a library panel on the left.
For access to more advanced controls, users can switch to a two-column layout, hiding the library panel.
The height of the bottom bar has been reduced, maximising the screen space devoted to the viewport.
It is also now possible to change the scale of the interface manually – there are presets ranging between 75% and 200% – enabling users to trade viewport space against the legibility of interface text.
However, one commmonly requested change to the interface that will not be available in the release is the option to detach interface panels to display on a second monitor.
Preview 2: decals, fog, multi-GPU rendering and video denoising in the path tracer
The software – which uses Unreal Engine for rendering – has also been updated to Unreal Engine 5.1.
The change will make it possible to support more features in Path Tracer, the Windows-only path tracing render engine introduced last year, including decals and volumetric fog.
The path tracer also now supports multi-GPU rendering and gets experimental support for temporal denoising, making it possible to denoise rendered videos as well as still images.
Preview 2: viewport resolution scaling and other changes
Other changes include viewport resolution scaling, letting users boost frame rates when working on complex scenes by having Twinmotion render the viewport at lower resolution, then upscale to fit the screen.
There are also workflow improvements to the Scale tool, IES lights and UV mapping of primitives.
Preview 1: support for LED walls for virtual production
Features added in Preview 1 include support for LED walls, making it possible to use environments rendered in Twinmotion as backdrops for live shoots during virtual production.
Both Twinmotion's raster renderer and the new path tracer are supported, with users able to configure the number and size of screens used to make up the LED wall, and the curvature of the wall.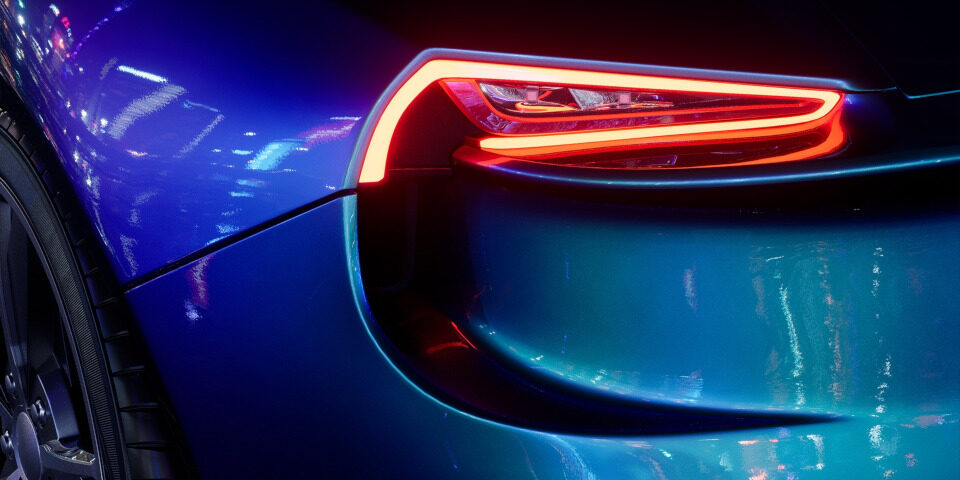 Preview 1: updates to the material system
The update also overhauled Twinmotion's materials, adding support for opacity maps on "most material types", plus the option to adjust metalness and to do "basic colour correction" on the Base Color texture.
Glass materials now use a metallic-roughness PBR workflow and support iridescence, with a new Colored glass material type for generating coloured shadows.
The release ships with 21 new readymade glass materials and 34 new car paint materials.
Preview 1: OpenXR support, and compatibility-breaking changes to the Twinmotion file format
In addition, Twinmotion now supports VR and mixed reality hardware via the OpenXR open standard. New headsets supported include those developed by Varjo.
The Twinmotion .tm file format has also been updated, with meshes and textures now automatically de-duplicated on export, and HDRIs compressed and embedded, reducing project file sizes.
The change is compatibility-breaking, with Twinmotion 2023.1 no longer able to open files created in Twinmotion 2019 and earlier.
Outside the core software, it is now possible to import projects exported via Twinmotion's Datasmith Exporter in .udatasmith format directly into Unreal Editor.
Price, system requirements and release date
Twinmotion 2023.1 is available as a public preview for Windows 10+ and macOS 12.0+. Integration plugins are available for CAD and DCC apps including 3ds Max 2016+, SketchUp Pro 2019+ and Unreal Engine 4.27+.
New licences have an MSRP of $499. The software is free for students and educators, and there is also a free trial edition of the software which caps export resolution at 2K, but which is otherwise fully featured.

Read a full list of new features in Twinmotion 2023.1 in the online changelog
Tags: .udatasmith, 3ds max, animation, arch viz, architectural visualization, asset library, backwards compatibility, BIM, CAD, car paint material, compatibility breaking, cyclorama, Datasmith, decal, Epic Games, free beta, free educational licence, free trial edition, Game Engine, glass material, HDRI, IES light, integration plugin, iridescence, LED wall, M1, material, materials, metallic/roughness, mixed reality, new features, new interface design, new UI, OpenXR, path tracer, path tracing, PBR, preview, Preview 1, Preview 2, price, product design, public beta, real time, release date, rendering, Scale tool, SketchUp, subsurface scattering, system requirements, temporal denoising, TM file, Twinmotion, Twinmotion 2023.1, UE5, Unreal Editor, Unreal Engine, Unreal Engine 5.0, Unreal Engine 5.1, uv mapping, Varjo, video denoiser, viewport resolution scaling, virtual production, virtual reality, visualization, volumetric fog, VR