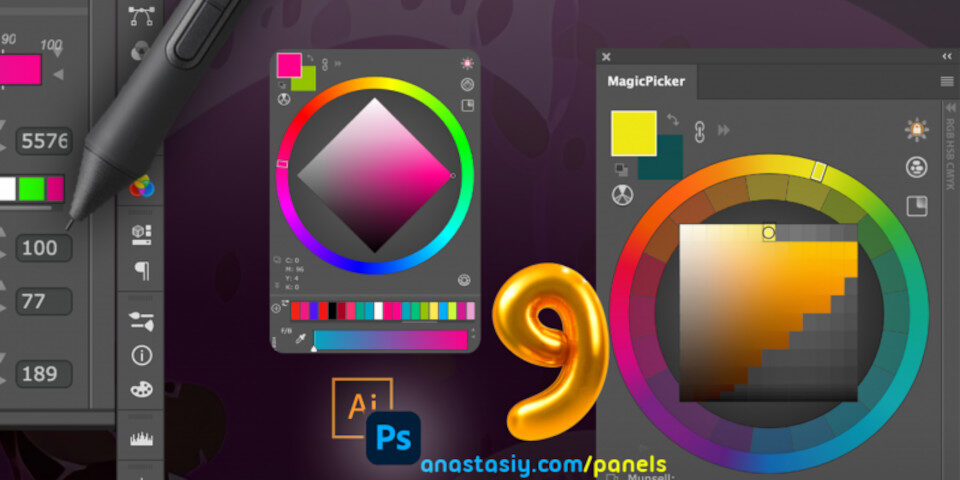 Anastasiy Safari has released MagicPicker 9.0: the latest version of the colour wheel and colour-picker add-on for Photoshop and Illustrator, widely used in digital painting and concept art work.
The update makes it possible to display the colour wheel in Munsell colour space, and to select colours by pasting text like 255,255,10 or #fff – or even 'Persian Rose' – into MagicPicker from the clipboard.
MagicPicker 9.0: now also a Munsell colour wheel
New features in MagicPicker 9.0 include the option to switch the colour wheel to Munsell colour space.
It is also now possible to set colours by pasting text from the clipboard: it works with RGB, CMYK, HSL, LAB, LCH, LUV and XYZ colour values, and even plain-text colour names.
Workflow improvements include the option to scroll through colour history using a new slider control, to enter parameter values into sliders, and to pin the HUD into a consistent place on the screen.
Pricing and availability
MagicPicker 9.0 is available now for Photoshop and Illustrator CS4 and above on Windows and macOS. It has an MSRP of $29.
Read a full list of new features in MagicPicker 9.0 on Anastasiy's blog
Tags: Anastasiy, Anastasiy Safari, CIELUV, CMYK, color history, color name, color picker, color slider, color space, color wheel, Concept Art, digital painting, HCL, HSB, HSL, HSV, HUD, HUD mode, illustration, illustrator, Lab, LCH, MagicPicker, MagicPicker 9, MagicPicker 9.0, Munsell color space, Munsell color wheel, new features, Photoshop, price, RGB, system requirements