Originally posted on 5 November 2021. Scroll down for news of the Light Tracer Render 2.4 update.
Light Engine has released Light Tracer Render 2.0, the latest version of its physically based GPU renderer, available as a both commercial product for Windows and macOS, and as a free browser-based service.
The update adds support for IES lights, mesh lights, transparent shadows, and a new caustic mode; adds shadow and reflection catchers for product renders; and reworks the software's handling of coated materials.
A phyically based GPU ray tracer for web and desktop
First released in 2019 as an experimental browser-based renderer, and pitched as the "world's first physically based GPU renderer for web", Light Tracer Render is an unbiased GPU ray tracer.
Over the past two years, it has acquired a standalone desktop edition, which runs on Windows and macOS, and grown steadily in functionality, particularly for architectural and product visualisation.
Light Tracer Render imports models in standard 3D formats including OBJ, FBX, Collada and glTF, and CAD data in STEP/IGES format and Rhino's 3DM format.
The software supports the Disney Principled material model widely used in other DCC software, and comes with a library of over 300 readymade PBR materials.
Although initially designed for HDRI-based lighting, it is increasingly supporting other lighting workflows. Render features include render passes, post effects, filmic tonemapping, and CPU and GPU denoising.
Being based on WebGL 2.0, the software is hardware-agnostic, working with both AMD and Nvidia GPUs: Light Engine says that it will run on "almost on any GPU produced after 2012-2013".
New in version 2.0: IES and mesh lights, shadow and reflection catchers, and accurate caustics
Key changes in Light Tracer Render 2.0 include support for IES and mesh lights, increasing its usability in architectural visualisation workflows.
For product visualisation, the update introduces shadow and reflection catchers, to help integrate rendered 3D objects into photographic backplates or solid-colour backgrounds.
Other changes include a new mode for rendering caustics effects based on path guiding, and better handling of shadows cast by transparent and translucent objects, as discussed in this blog post.
Handling of coated materials like car paint and varnished wood has also been reworked, with the old clear coat model replaced by a new physically correct layered model.
Workflow improvements include the options to store and switch between camera views; to hide objects from the render camera, but allow them to continue to contribute to scene illumination; and a new modelling widget for adding 3D primitives to a scene, primarily intended for mesh lights.

Updated 24 December 2021: Light Engine has released Light Tracer Render 2.2.
New features in the update include a physical sun and sky system based on the Hosek-Wilkie model, also supported in render engines like OctaneRender and Blender's Cycles renderer.
Light Tracer Render also now supports PBR materials following the specular-glossiness workflow, as well as the more common metallic-roughness workflow, automatically converting parameters on import.
In addition, the update adds support for material layers and a new physically plausible bloom post effect.

Updated 5 March 2022: Light Engine has released Light Tracer Render 2.3.
The update reworks the software's animation toolset, with users now able to loop or retime imported animation tracks from a dedicated Animation tab, or apply readymade camera animations.
Users can also now import and export skeletal animations in glTF format, as well as FBX format.
In addition, it is now possible to import models in PLY format and SketchUp's SKP format; and to import vertex colour data – for example, surface colours from ZBrush's PolyPaint toolset – in glTF and PLY files.
Other changes include new built-in libraries of studio light set-ups and PBR materials – the latter from online CC0 material library ambientCG – and a new Color Correction widget for grading rendered output.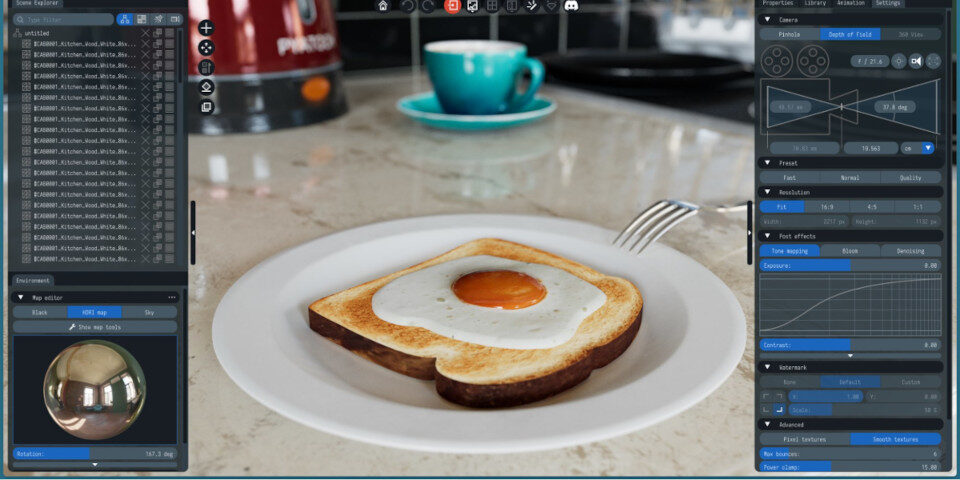 Updated 20 June 2022: Light Engine has released Light Tracer Render 2.3.2.
The update focuses on the web edition of the renderer, which gets "almost all" the new features from the desktop version, including the new libraries of PBR materials and studio light set-ups.
In addition, the new version features "significant improvement" of the UI when used with touch screens, and is now compatible with the mobile edition of Apple's Safari browser, making it possible to use on iPads.
According to Light Engine, the web edition will even run on iOS and Android phones, with "acceptable performance" on the latest mobile processors, although the small screen size makes it harder to use.

Updated 27 July 2022: Light Engine has released Light Tracer Render 2.4.
The update adds a new physics-based layout system based on Guerrilla Games' Jolt Physics library, making it possible to place objects in a scene, and have them settle naturally under gravity.
The engine only supports convex collision objects, to Enscape approximates the form of the 3D models being placed with a series of convex hulls, but in the demos, the results look fine for simple object scattering.
Workflow improvements include the option to edit the scene hierarchy and changes to selection behaviour: by default, clicking on an object now selects the entire object, not a part of it.
Pricing and system requirements
The desktop version of Light Tracer Render 2.4 is available for Windows 10+ and macOS 10.15+. New perpetual floating licences cost $99; rental costs $9/month or $84/year $72/year.
The online version is free and works in any browser that supports WebGL 2.0: Light Engine recommends Chromium-based browsers like Chrome or Edge.

Read more about the new features in Light Tracer Render on Light Engine's blog
Read more about Light Tracer Render on the product website

Editor's note: in the light of Russia's invasion of the Ukraine, readers may wish to know that Light Engine is incorporated in Russia.
Tags: 3DM, ambientCG, AMD, animation, arch viz, architectural visualization, Blender, bloom, browser based, CAD, camera animation, camera view, car paint, caustics, Chrome, Chromium, coated material, Collada, color correction, color grading, CPU denoising, Cycles, DCC, denoising, Disney principled, Disney principled material, edge, edit scene hierarchy, emissive material, FBX, flythrough, free edition, glTF, GPU denoising, GPU ray tracing, GPU rendering, Guerilla Games, hardware-agnostic, HDRI, hide object from render, Horizon Forbidden West, Hosek-Wilkie sky, IES light, IGES, Jolt Physics, layered material, Light Engine, Light Tracer, Light Tracer 2.0, Light Tracer Render, Light Tracer Render 2.0, Light Tracer Render 2.2, Light Tracer Render 2.3, Light Tracer Render 2.4, loop animation, material library, Mesh Light, metallic/roughness, metalness, motion graphics, new features, NVIDIA, OBJ, OctaneRender, OIDN, Open Image Denoise, OptiX, path guiding, PBR, physical sky, physical sun, physics based layout, physics-aware, PLY, PolyPaint, post effect, post effects, price, product visualization, ray tracing, real time, reflection catcher, render pass, rendering, retime animation, Rhino, shadow catcher, skeletal animation, SketchUp, SKP, specular/glossiness, STEP, studio lighting, system requirements, tonemapping, transparent shadows, turntable, unbiased, vertex color, visualization, WebGL, WebGL 2.0, ZBrush