Glassbox Technologies has released DragonFly 3.0, the new version of its virtual camera system for Maya and Unreal Engine, adding a mixed-reality Simulcam mode to overlay CG elements on live plates in real time.
The update also improves the accuracy with which DragonFly simulates real-world cameras and lenses, and adds new options to edit already captured takes, and to record directly from the viewport.
A hardware-agnostic virtual camera system
Originally released in 2019, DragonFly enables directors and DoPs to scout CG sets in the same way as they would live sets, testing camera angles and exporting finished camera moves.
A free iOS app, DragonFly Companion, makes it possible to use an iPad or iPhone as a virtual camera, with the virtual camera view displayed on the screen of the mobile device.
It is also possible to control the virtual camera via a gamepad, or using HTC's Vive controllers or Vive Trackers; and the software is natively compatible with OptiTrack optical motion-capture systems.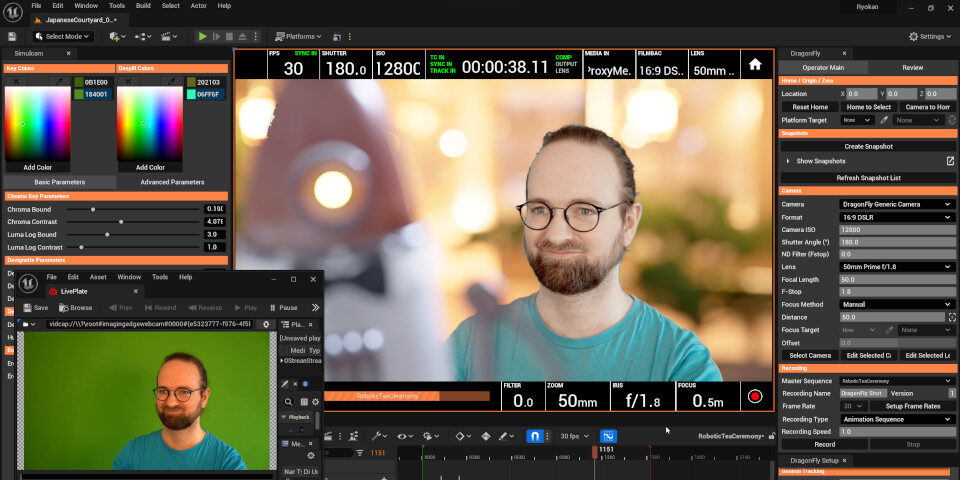 New in DragonFly 3.0: new Simulcam mode composites CG elements into live footage in real time
DragonFly 3.0 introduces a new mixed-reality 'Simulcam' mode, compositing Unreal Engine scenes into live footage in real time, making it possible to preview CG and live performances simultaneously.
The system is natively compatible with Vive Mars CamTrack, HTC's new virtual production system, and features "one-click timecode and genlock set up".
Better simulation of real-world cameras and lenses, plus workflow improvements
Simulation of real-world cameras and camera lenses has been improved, with support for anamorphic lenses and lens distortion, as well as ISO, shutter speed, frame rate, ND filter strength and aperture.
The software also now includes a dedicated window for editing stored camera profiles, with changes to settings previewed in the camera view, or on a standard checkerboard.
Other changes include the option to edit takes after shooting, making it possible to change the starting frame or camera settings for already recorded takes; and viewport recording, making it possible to generate final renders directly as .mp4 files, rather than having to render takes in Unreal Engine.
DragonFly's file naming convention has also been simplified, storing recording files with shot name metadata as a clear-text filename, and automatically creating JSON files containing metadata for the respective shot.
Now only available for Unreal Engine, not Unity?
However, one feature from DragonFly 2.0 that seems no longer to be available is support for Unity: the product website lists DragonFly 3.0 as only being compatible with Maya and Unreal Engine.
We've contacted Glassbox to ask if the Unity integration is still available, and will update if we hear back.
Updated 18 May 2022: Glassbox told us that the Unity edition of DragonFly was discontinued last year, with support for users with existing maintenance contracts ending on 30 April 2022.
Pricing and system requirements
DragonFly 3.0 is compatible with Maya and Unreal Engine 4.27 and 5.0.
Node-locked perpetual liences, which used to cost $1,000, are now available on enquiry. Rental costs $690/year for node-locked licences; $950/year for floating licences.

Read more about the new features in DragonFly on Glassbox Technologies' website
Tags: anamorphic lens, camera profile, Dragonfly, DragonFly 3.0, DragonFly Companion, Glassbox, Glassbox Technologies, iOS, iPad, iPhone, lens distortion, lens simulation, Maya, mixed reality, new features, OptiTrack, price, real-time compositing, real-world cameras, Simulcam, system requirements, UE4, UE5, Unreal Engine, viewport recording, virtual camera, virtual cinematography, virtual production, Vive Controller, Vive Mars CamTrack, Vive Tracker