Chaos Czech has previewed Corona 8, the next major version of its production renderer for 3ds Max and Cinema 4D, officially changing its name from Corona Renderer to Chaos Corona.
The release, due out early next year, will add new object scattering, decal and cutaway rendering systems, introduce support for Cryptomatte, and rework handing of tonemapping.
Chaos Czech is also changing the price of subscriptions to the software, with the cost of annual subscriptions falling, but monthly subscriptions rising, and render licences now charged per node.
Corona Renderer becomes Chaos Corona
First up, that change of name. Corona was the only product not affected when parent company Chaos Group rebranded itself as Chaos earlier this year, so it is now playing catch-up.
As well as now being officially called Chaos Corona, the software gets a new logo in the same format as those of Chaos's other products like V-Ray and Phoenix.
New Chaos Scatter plugin bundled with the software
New features in the release include Chaos Scatter, a "full featured, production ready" object scattering plugin, which will be bundled with both editions of Corona 8.
Improvements over the existing Corona Scatter system include new options to exclude parts of a scene from receiving scattered objects: either automatically, according to slope angle, or manually, using splines.
The plugin also suports frustum culling, making it possible to limit scattering only to the camera field of view.

New V-Ray-style decal system
Other changes include a new system for projecting decal textures onto surfaces in a scene without the need to set up or modify UVs for a mesh.
As with its V-Ray counterpart – introduced in recent updates to V-Ray 5 – users can control where the decal texture appears in the scene by using a viewport gizmo to adjust its position, size and angle.
It is also possible to selectively exclude scene objects from the texture projection, and to overlap decals. Decals support displacement and motion blur.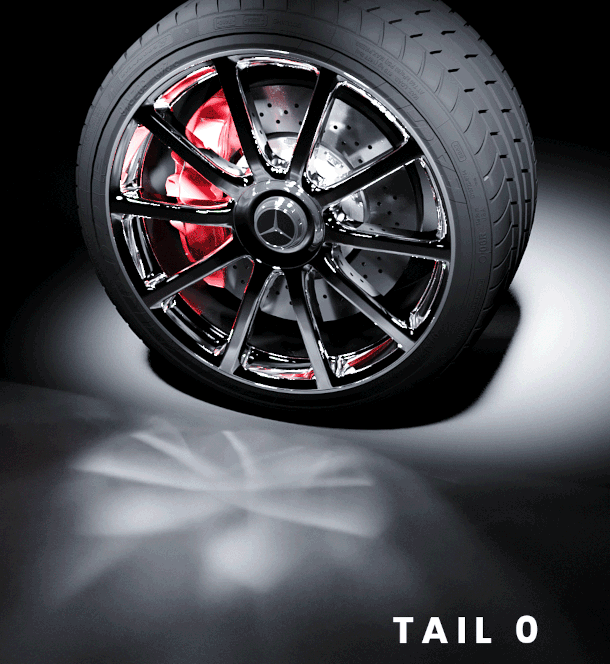 New Slicer material, Curvature map and Cryptomatte support
The update will also introduce a new Slicer material for creating cutaway renders of scene objects, as shown in this video, and a new Curvature map for adding wear effects to the edges of objects.
Corona also becomes the latest renderer to support Cryptomatte, the open-source ID matte generation system originally developed at VFX studio Psyop.
Improvements to existing functionality include a rework of tonemapping in the Virtual Frame Buffer, and a new Reflection Tail parameter (shown above), for finer control over the look of reflections and refraction.

Cinema 4D edition only: native support for M1 Macs and dome mapping for environments
Cinema 4D users also get support for dome mapping for environment maps: the video above shows a comparison between the new system and Corona's existing spherical mapping.
In addition, Corona 8 for Cinema 4D will introduce native support for Apple's new M1 processors, resulting in a "45–50% speed increase" compared to running Corona under Apple's Rosetta emulation system.
Support for Chaos Cosmos, with Chaos Cloud and Scans to come
Corona 8 will also integrate the renderer with other services previously only available to V-Ray users.
In the initial release, that means Chaos Cosmos, the firm's new online library of stock architectural assets, with cloud rendering service Chaos Cloud and material scanning service Chaos Scans to follow.
New licensing system and subscription prices
Chaos Czech is also moving its licensing system to the same backend as the rest of Chaos, and changing the cost of new subscriptions: active subscriptions will continue unchanged.
The cost of a new annual subscription, which currently starts at €289.99/year ($330/year), falls slightly to €280/year ($310/year), although that doesn't include any render nodes.
Render nodes, which used to be bundled with subscriptions – the price listed above includes three nodes – are now charged separately, with prices starting at €100/year ($110/year) or €36/month ($40/month).
According to Chaos Czech, "over 90%" of Corona users never activate a render node, so that means a reduction in costs for most freelancers with annual subscriptions; and an increase in costs for larger studios.
The cost of monthly subscriptions rises to €40/month ($45/month), up from €25/month ($28.50/month).
In addition, perpetual 'Box' licences of the 3ds Max edition will no longer be listed on Chaos Czech's website, although they will still be available on request.
Pricing and system requirements
Corona 8 is due to ship "at the beginning of 2022". You can find details of the new pricing above.
The current release, Corona Renderer 7, is available for 64-bit 3ds Max 2014+ running on Windows 7+ and Cinema 4D R14+ running on Windows 7+ or macOS 10.14+.
Subscriptions start at $28.50/month (€24.99/month) or $330/year (€289.99/year). Perpetual 'Box' licences of the 3ds Max edition are still available, priced on request.

Read an overview of the new features in Corona 8 on Chaos Czech's blog
Tags: 3ds max, annual subscription, Chaos, Chaos Cloud, Chaos Corona, Chaos Cosmos, Chaos Czech, Chaos Group, Chaos Scans, Chaos Scatter, Cinema 4D, Corona 8, Corona Renderer, Corona Renderer 8, Cryptomatte, curvature map, cutaway render, decals, displacement, environment dome, environment map, ID matte, licensing, M1, monthly subscription, motion blur, new features, new logo, new product name, object scattering, price, price change, price rise, reflection, reflection tail, refraction, release date, render ID, render node, Slicer material, subscription price, system requirements, texture projection, tonemapping, V-Ray, V-Ray 5, VFB, Virtual Frame Buffer