Act-3D has released Lumion 12.0, the latest version of its real-time architectural visualisation software, adding a volumetric spotlight effect and a new surface decal system to the Pro edition.
Users of the standard edition get the option to set the colour temperatures of lights in Kelvin, and a new system for displaying international licence plates on 3D cars within a scene.
An easy-to-use near-real-time tool for architectural visualisation work
First released in 2010, and now one of the three most widely used renderers for arch viz work, Lumion creates renders of architectural scenes in near real time.
The software is intended to provide architects with little background in visualisation with a more straightforward way to create realistic stills and animations than conventional DCC apps.
Users import building models from other software, either in standard 3D file formats like FBX, OBJ, SKP and MAX, or via built-in live links to major CAD applications.
They can then edit materials inside Lumion, set up lighting and weather effects, dress the scene using readymade models from the accompanying asset library, and create simple camera animations.
New in Lumion 12.0 standard: workflow improvements, plus new car licence plate system
For users of the standard edition, the bulk of the Lumion 12.0 changelog is workflow improvements, with a fairly extensive list of changes to scene building, particularly when working with library assets and materials.
Notable changes include the option to set colour temperatures for spotlights, omni lights and area/line lights in Kelvin; and a new Character Billboard object type for adding cutout 2D people to a scene.
There is also a new licence plates system, making it possible to add readymade plates matching 10 different countries and all 50 contiguous US states to 3D cars within a scene.
Pipeline changes include a new live link plugin to FormIt, Autodesk's architectural sketching software.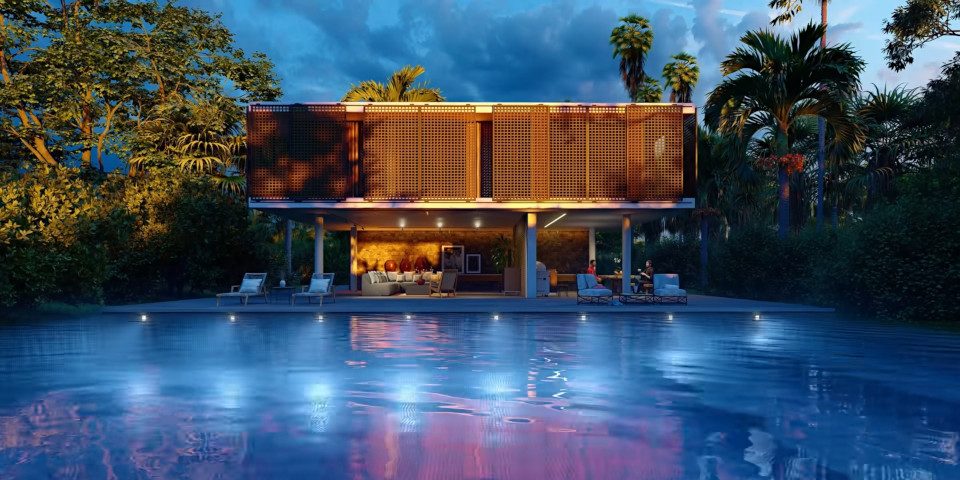 Pro edition only: new volumetric spotlight effect and surface decal system
Users of the Pro edition get a new volumetric spotlight effect, making it possible to mimic cones and beams of light from real-world light sources, as shown in the image above.
The update also adds a new Decals object type, used to add decal textures to 3D models in a scene: the accompanying asset library includes "60-70" decals ranging from surface dirt and damage to road markings.
The library itself gets 570 new assets, with content only available to Pro users including 65 architectural materials and 41 'fine detail' nature assets, like 3D models of flowers, grasses and small plants.
Pricing and system requirements
Lumion 12.0 is available for 64-bit Windows 10+. The standard edition of the software costs €1,499 (around $1,736); the Pro edition costs €2,999 ($3,474). You can see a comparison table here.

Read a full list of new features in Lumion 12.0 in the online release notes
Tags: 3D car, Act-3D, arch viz, architectural material, architectural visualization, area light, asset library, autodesk, car license plate, character billboard, color temperature, damage decal, decal, dirt decal, Formit, Kelvin, line light, live link, Lumion, Lumion 12, Lumion 12.0, new features, omni light, plant, plugin, price, real time, rendering, spot light, system requirements, vegetation, volumetric, volumetric spotlight