Originally posted on 25 June 2021. Scroll down for news of the latest update.
Nvidia has released Canvas, a neat free AI-based painting tool that translates rough blocking sketches into matte paintings – or images that could be used as the basis for matte paintings, at least.
The app, currently available free in beta, is hardware-accelerated via the Tensor cores in Nvidia GPUs.
Turn rough blocking sketches into photorealistic landscapes
Canvas enables you to block out the overall form of a natural environment using different-coloured brushtrokes to represent different landforms like hills, mountains, rivers and seas.
The app – trained on photographic source images using a generative adversarial network – then translates the blocking sketch into a realistic landscape in real time.
Other options in the palette add finer details, like sand, rocks and grass – or, for the sky, clouds and fog.
You can then choose an overall visual style for the image, picking from nine presets for different lighting conditions and times of day.
A neat tool for exploring compositions for concept art or matte paintings
Canvas's raw output isn't high enough quality to use in production: in the demo above, you can see artefacts and repeating details when you get up close to the image.
However, the app exports in PSD files, making it possible to refine the raw image in other painting apps.
The video shows Canvas being used to explore compositions for concept art or matte paintings, showing the raw images side-by-side with final versions created by artists like Jama Jurabaev and Darek Zabrocki.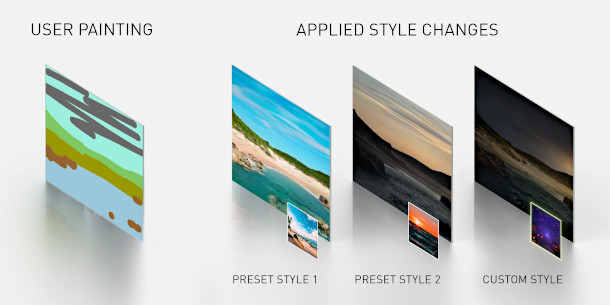 Updated 21 September 2021: Nvidia has updated Canvas, adding support for custom styles.
The new functionality enables users to use their own images as style sources, making it possible to transfer the visual style of a painting or photo to a new one generated by Canvas.
At the time of writing, custom styles aren't covered in the online manual, but according to Nvidia's blog post, the feature is available in the current build of the software, version 1.0.0.231.
Based on Nvidia's GauGAN web app
Cavas is GPU-accelerated via the Tensor machine learning cores in Nvidia GPUs, and requires a RTX card.
However, if you're using an older GPU – or an AMD, Intel or Apple processor – you can still try the underlying technology online, via Nvidia's GauGAN web app,
It isn't as slickly presented, but it covers a wider range of landscape types, including buildings and other man-made structures, and offers a slightly wider range of preset visual styles.
System requirements
Canvas is available in beta for Windows 10. You need a Nvidia GeForce RTX, Titan RTX, Quadro RTX or RTX GPU with version 460.89+ of the Nvidia GeForce, Studio or Quadro driver to use it. It's a free download.

Read more about Canvas in the online documentation
Download Canvas from Nvidia's website
Tags: AI-based, AI-trained, AMD, Apple, beta, compositional sketch, Concept Art, custom style, Darek Zabrocki, digital painting, download, environment, free, game art, game development, GauGAN, generative adversarial network, GPU-accelerated, illustration, Intel, Jama Jurabaev, landscape, machine learning, Matte Painting, NVIDIA, PSD, RTX, shape exploration, style transfer, system requirements, Tensor core, turn sketches into concept art, turn sketches into matte painting, use your own images, vfx, visual effects