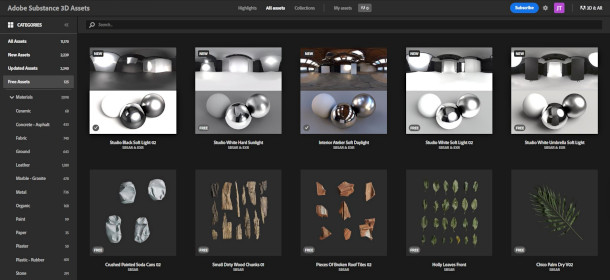 Adobe has made a new set of free 3D assets available via Substance 3D Assets, its online library of resources for its Substance 3D applications, previously known as Substance Source.
The site used to host materials in Substance SBS and SBSAR formats, but with the release of new scene layout and rendering tool Substance 3D Stager, it has been expanded to include stock models and HDRIs.
The latest update adds five interiors HDRIs replicating real-world studio lighting set-ups and 50 stock 3D models of furnishings and household objects.
Expanded from a library of Substance materials to include 3D models and HDRIs
Substance 3D Assets began life as Substance Source, a library of procedural materials for use in Subtance 3D Designer, Substance 3D Painter, and other DCC apps that support the SBSAR material format.
It has been regularly updated since launch, both by original developer Allegorithmic and Adobe itself, with a sample of the new materials being made available as free downloads each time.
With the release of the Substance 3D Collection last month, the site has had a change of name and URL to match that of the Substance 3D applications themselves.
And with the introduction of Substance 3D Stager, a new scene layout and rendering app aimed at the 'virtual photography' market, the library has been expanded to include stock models and HDRIs.
Download over 100 free materials, HDRIs and stock models
At the time of writing, the library includes 125 free assets, 70 of them previously available materials.
The new content includes five free HDRIs, all of them interiors, and most replicating real-world studio photography set-ups, supplied at 4,000 x 2,000px resolution in EXR and SBSAR format.
There are also 50 untextured low-poly models for dressing sets inside Stager, including furniture, machinery, household objects and clothing, supplied in FBX and GLB formats.
We'll update this story if Adobe keeps adding new free resources to the site, so check back here – or the Free section of Substance 3D Assets itself – for new content.
Pricing and availability
You can download free materials, HDRIs and models from Substance 3D Assets via the link below.
Materials are usually provided in SBS and SBSAR format, HDRIs in EXR and SBSAR format, and models in FBX and GLB format. The files are updated regularly.
Access to the full commercial library is avaiable via Adobe's Creative Cloud subscriptions to the Substance 3D tools, which start at $19.99/month for individual artists.

Download free materials, HDRIs and models from Adobe's Substance 3D Assets library
(Requires registering for a free Adobe user account)
Tags: 3D model, Adobe, Allegorithmic, asset library, clothing, download, EXR, FBX, free, furniture, GLB, HDRI, low-poly model, machinery, material, procedural material, prop, SBS, SBSAR, stock model, studio lighting, Substance 3D Assets, Substance 3D Designer, Substance 3D Painter, Substance 3D Sampler, Substance 3D Stager, Substance Source