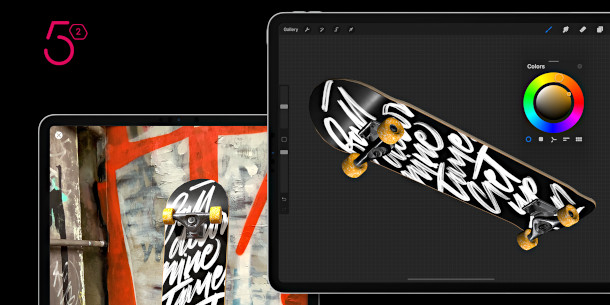 Savage Interactive has unveiled Procreate 5.2, the next version of its iPad sketching and painting app.
The update, due out "soon", will add a new 3D painting system, making it possible to import and paint onto 3D models, plus native support for Apple's M1 processors, and new accessibility features.
A professional sketching and painting tool with an interface tailored to touchscreen devices
Used by artists at studios including Pixar and Blizzard, ProCreate packages a range of professional drawing and painting tools inside an interface tailored for use on a touchscreen device.
The app currently features close to 200 brushes, both natural media and abstract, plus a smaller range of vector drawing and transform tools.
It includes a layer system with layer groups, masks and blending modes, can export to the PSD file format, works in DCI-P3 colour space, and supports canvases up to 16,000 x 4,000px on iPad Pros.
As well as gestural inputs, Procreate supports pressure-sensitive drawing via the Apple Pencil stylus.
New in Procreate 5.2: 3D painting and native support for M1 processors
Procreate 5.2, previewed at Apple's Spring Loaded product announcement event, will introduce a new 3D painting system, making it possible to use the app to paint onto 3D models, as well as on a blank 2D canvas.
So far, Savage Interactive has only released a brief overview of the toolset, but users will be able to import a 3D object as a canvas and paint on it from any angle.
An AR-based system will make it possible to see the model in the real world with "realistic lighting and shadow effects".
The 5.2 update will also add support for Apple's new M1 processor, now due to roll out in the firm's upcoming iPad Pro and iMac systems, as well as its current MacBooks and Mac minis.
According to Savage Interactive, Procreate runs "up to four times faster" on iPad Pros with M1 chips.
In addition, Procreate 5.2 will add new accessibility features, including "simplified touch controls, audio feedback and adjustable font sizes".
Pricing and system requirements
Procreate 5.2 is "coming soon". The update will be free to existing users. The current stable release, Procreate 5.1.5, is available for iOS 13.2+. New licences cost $9.99.
Read more about Procreate 5.2 on Savage Interactive's website
Tags: 3D painting, accessibility features, app, Apple Pencil, AR, ARKit, Augmented Reality, Concept Art, digital painting, filters, illustration, iOS, iPad, iPad Pro, iPadOS, M1, mobile, new features, paint onto 3D model, price, Procreate, Procreate 5.2, release date, Savage Interactive, sketching, system requirements