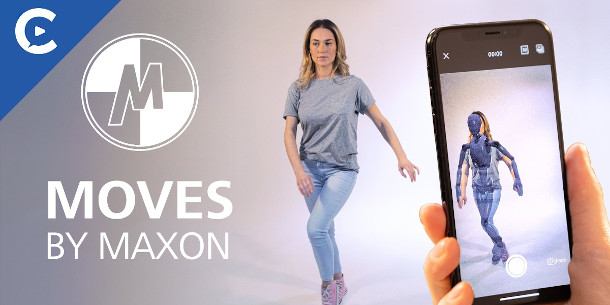 Maxon has released Moves by Maxon, a free iOS app for capturing full-body or facial motion capture data for use within Cinema 4D, its 3D animation software.
The tool is an expanded version of Maxon's previous free app CV-AR, which is restricted to facial capture.
Capture facial or full-body mocap data on an iPhone or iPad for use in Cinema 4D
Moves by Maxon is a markerless capture solution based on Apple's ARKit augmented reality platform, and requires the IR-augmented TrueDepth camera in recent models of iPhones and iPads.
It processes camera and sensor data to analyse the motion of an actor and translate it to a 3D skeleton.
Users can then import the capture data into Cinema 4D via a separate plugin: by default it generates a QR code that can be used to transfer data directly, but it is also possible to export manually.
We've contacted Maxon to ask whether data can be exported in a format that other DCC applications can use, and will update if we hear back.
Updated 6 March: Maxon tells us that it isn't possible to transfer the data directly to other applications, although it can be exported from Cinema 4D itself.
Current limitations on capture conditions and data quality
Maxon describes full-body capture as a "relatively new feature" of ARKit, and warns that "unexpected results can occur" with the technology in its current state.
In particular, the app may struggle to accurately record fast or overlapping movements, actors wearing loose or patterned clothing, or clothes with a low tonal contrast to the background.
However, Maxon says that the capture quality is suitable for previs work or as a "starting point for animation".
Pricing and system requirements
The Moves by Maxon app is free, and is compatible with iPhones from the XR, XS and 11 series, and third-generation iPad Pros and above, running iOS 13.0+.
The Cinema 4D transfer plugin is also free, and requires Cinema 4D R21+.

Download Maxon's free Moves by Maxon motion-capture iOS app from the App Store
Download the Cinema 4D transfer plugin
(Link includes videos showing how to install and use the software)
Tags: app, AR, ARKit, Augmented Reality, Cinema 4D, CV-AR, download, free, iOS, iPad, iPad Pro, iPhone, iPhone X, motion capture, Moves by Maxon, performance capture, plugin, previs, system requirements, TrueDepth