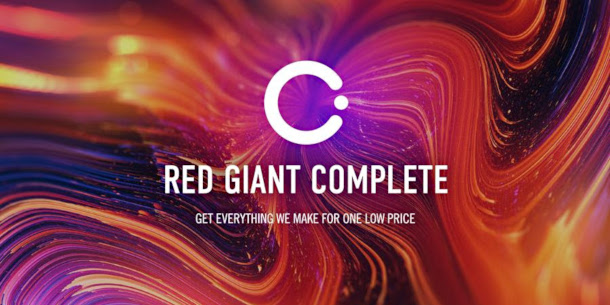 Red Giant has launched Red Giant Complete, a new $599/year subscription package providing access to its Trapcode Suite, Magic Bullet Suite, VFX Suite and Shooter Suite toolsets, plus its Universe library of effects.
Perpetual licences for the individual versions of the products are still available alongside software rental.
A single annual subscription to all of Red Giants VFX and motion graphics add-ons
Red Giant Complete is a super-bundle of four other product bundles – After Effects motion graphics toolset Trapcode Suite and VFX toolset VFX Suite, multi-host colour-correction and looks toolkit Magic Bullet Suite, and standalone on-set tools Shooter Suite – plus Universe, Red Giant's subscription-only effects library.
An individual subscription costs $599/year, compared to $3,495 for new perpetual licences of the four bundles plus a one-year subscription to Universe.
By the standards of the VFX tools market, that's a pretty competitive price ratio between subscriptions and perpetual licences, although unusually – and unlike Universe – there is no pay-per-month option.
It's also worth noting that in the past, Red Giant hasn't always raised its subscription prices in line with inflation: the cost of an annual subscription to Universe doubled with the Universe 3.0 update this January.
However, perpetual licences haven't gone away – according to Red Giant's blog: "Nothing has changed. We're still selling traditional perpetual licenses at the usual prices" – so pick the option that suits you.
Pricing and Availability
An individual Red Giant Complete subscription costs $599/year, or $299/year if you're a student or teacher. There are separate prices for businesses wanting volume licensing and more support.
You can check which host applications are compatible with each of the tools included here.

Read more about Red Giant Complete subscriptions on Red Giant's blog
Find a full list of tools included in Red Giant Complete subscriptions on the product website
Tags: After Effects, effects, Magic Bullet Suite, motion graphics, perpetual licences, plugin, Premiere Pro, price, Red Giant, Red Giant Complete, Shooter Suite, subscription, Trapcode Suite, vfx, VFX Suite, visual effects