Next Limit has released Maxwell 5.0, the next major update to its physically based renderer, adding multi-GPU support, integrated cloud rendering, and a V-Ray scene importer.
The release also updates the user interface to display better on modern Hi-DPI displays.
The release is the first significant update to Maxwell in some time: Maxwell 4.0 came out in 2016, and the last bugfix update was over 18 months ago.
A performance-focused update, for both preview and final-quality rendering
Performance is a key focus of the update, with speed increases in both preview and final-quality rendering.
Fire, the software's interactive render preview, is "now faster and optimized to update instantly".
The video at the top of the story shows the GPU version of Fire being used to preview a scene with over 3 million triangles, although there's no information about which graphics card is being used.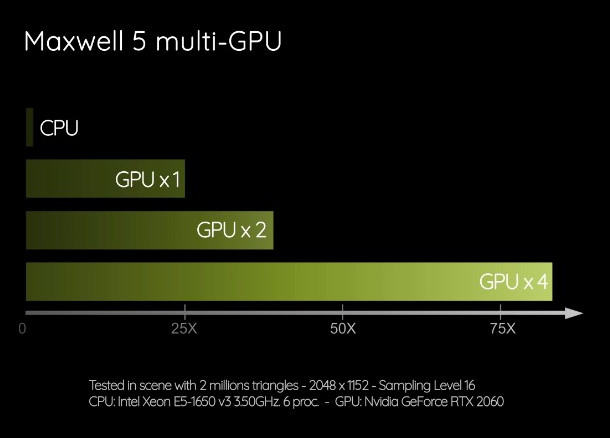 Support for multiple GPUs in Maxwell GPU
In addition, Maxwell GPU, the CUDA-based GPU render engine introduced Maxwell 4.0, now supports multiple GPUs, for a "more than 50x speed-up compared with a high-end CPU".
The benchmark on the product website, reproduced above, suggests that you'd need to be using at least three GPUs to see that kind of speed boost, but that performance scaling is relatively close to linear.
Maxwell GPU can also now handle additive materials, although there are still a number of Maxwell features that the engine doesn't support, including procedural textures, coatings and SSS.
You can see a feature comparison table of the CPU and GPU render engines here.
Other changes: light grouping in Multilight, UI scaling on Hi-DPI displays
Other changes include the option to group lights and treat them as a single emitter in Multilight, Maxwell's toolset for adjusting the colour and intensity of light sources in an image after rendering.
The interface has also been reworked to display better on modern high-resolution displays "4K or higher".
Workflow improvements include support for nested references, making it easier to work with complex scenes; and the option to search for scene dependencies in file paths with up to three levels of subfolders.

In Maxwell Studio only: built-in cloud rendering, new V-Ray scene importer
Users of the standalone edition of the renderer, Maxwell Studio, also get built-in access to a new cloud rendering service, Maxwell Cloud.
As with Chaos Cloud, the equivalent feature in V-Ray, sending a render to the cloud is a one-click operation, although currently, you can only render using the CPU engine.
At the time of posting, Maxwell Cloud instances are 96-core Intel Xeon machines with 86.4GB of RAM.
To use the service, you need to buy credits online in advance, which entitle you to rent individual machines by the hour, with prices starting at €40 (around $44) for 10 machine-hours of rendering.
The Studio edition also includes a V-Ray scene importer, which automatically converts V-Ray materials and lights into their Maxwell equivalents for rendering.
Similar importers are "coming soon" in the application-specific versions of Maxwell.
Pricing and availability
Maxwell Studio 5.0 is available for Windows 7+ and Windows Server 2008+, Linux and macOS 10.11+. You can find more detailed specs and a list of supported GPUs here.
At the time of posting, only the application-specific editions for 3ds Max, Maya, Rhino and SketchUp had been updated to 5.0; the other native versions, including Cinema 4D and Modo, were still on 4.x.
New perpetual licences of Maxwell Studio and the integrated editions are now priced identically, at $595 for a node-locked licence or $795 for a floating licence. Prices include one additional render node.
Multilight is a free download for Windows, Linux and macOS.

Read more about new features in Maxwell 5.0 on the product website
Read a full list of new features in Maxwell 5.0 in the online documentation
Tags: 3ds max, additive material, Cinema 4D, cloud rendering, CUDA, download, fire, free, GPU rendering, GPU-accelerated, GPU-based, Hi-DPI, interactive preview, light groups, Maxwell, Maxwell 5, Maxwell 5.0, Maxwell Cloud, Maxwell GPU, Maxwell Studio, Maya, modo, multi GPU, Multilight, nested references, new features, Next Limit, perpetual licence, physically based, plugin, price, renderer, Rhino, SketchUp, standalone, system requirements, V-Ray, V-Ray importer