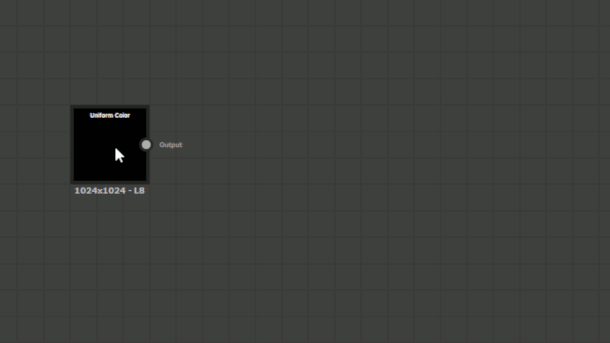 Adobe has previewed some of the upcoming features in Substance Painter 2019.2, the next update to its material-authoring software, including improvements to the node graph and MaterialX support.
The features were unveiled at Substance Days, the firm's user event at the start of Siggraph 2019, alongside Project Anorigami for Substance Painter and a new free trial edition of Substance Alchemist.
The release will be the first update to Substance Designer fully under Adobe's branding, following its acquisition of original developer Allegorithmic earlier this year.
Workflow improvements to the node graph
The next release of Substance Designer – on its blog, Adobe refers to it as the 'Summer 2019' update, but if it sticks to its current version numbering, it will be version 2019.2 – extends the software's node graph.
The update adds a new Dot node, described as acting as a pass-through between parts of a node network.
Users can add multiple Dots to create custom paths between nodes, enabling them to organise node graphs in new ways.
Workflow improvements include the option to display the node drop-down menu while dragging out a link to create a new node, as shown above; plus filtering and favorites within the drop-down itself.
Other changes: improved OpenGL view, performance improvements
Substance Painter 2019.2 will also update the software's viewport, with support for anisotropy and clearcoat materials in the OpenGL view.
Performance improvements include optimisations to Substance Designer's asset library: according to Adobe, it should be possible to "see your shelf two to six times faster".
Adobe's round-up of upcoming technologies in its Substance tools. Skip to 01:45 for Substance Designer.

Support for the MaterialX standard for rich material data
The update will also introduce support for MaterialX, Industrial Light & Magic's open standard for exchanging rich material data beween DCC applications.
The video above, which rounds up work-in-progress features across Adobe's entire set of Substance tools, shows MaterialX in use to transfer materials between Substance Designer and Substance Painter.
In addition, the format is supported in Arnold and Multiverse, J Cube's tool for transferring data between Maya and other VFX tools, and features on Autodesk's roadmap for 3ds Max.
The video also shows a new dual viewport system within Substance Designer: one viewport using MDL, Nvidia's Material Definition Language, the other using OpenGL's GLSL shading language and MaterialX.
The demo refers to a new "agnostic shader graph", so presumably, it will be possible to author materials in both formats from a single node network.
Pricing and availability
Substance Designer 2019.2 is due to ship "in the upcoming weeks". Adobe hasn't announced an exact date.
The current release of the software, Substance Designer 2019.1 is available for Windows 7+, CentOS 6.6 or Ubuntu 16.04 and Mac OS X 10.11+.
New Indie licences of the software, intended for artists and studios earning less than $100,000 per year, cost $149; Pro licences cost $990. Both prices include 12 months' maintenance.
Read Adobe's overview of the new features due in Substance Designer 2019.2
Tags: 3ds max, Adobe, agnostic shader graph, Allegorithmic, anisotropy, Arnold, clear coat material, Dot node, dual viewport, GLSL, material authoring, MaterialX, Maya, MDL, Multiverse, new features, node graph, node network, NVIDIA, OpenGL, price, Siggraph 2019, Substance Designer, Substance Designer 2019.2, Substance Painter, Summer 2019, system requirements