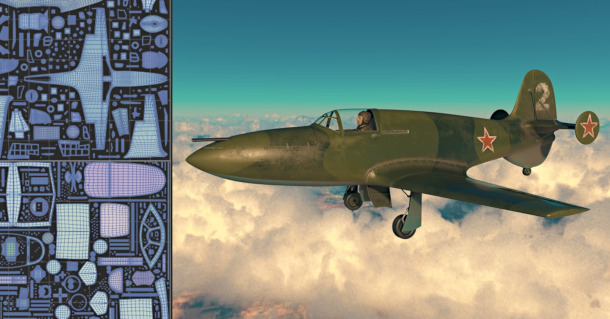 Rizom-Lab has shipped RizomUV 2019 Virtual Spaces (VS) and RizomUV 2019 Real Space (RS), the latest updates to its family of UV unwrapping software.
The releases add a new Lua scripting panel, improve snapping workflow, and extend FBX export.
New Lua script launcher panel, plus improvements to workflow and FBX export
Changes in the RizomUV 2019 updates include a script launcher panel for running Lua scripts from the UI.
Rizom-Lab has also introduced a supporting script library, which currently includes a starter script for finding similar edges to the one selected on a model, and unwrapping and packing UVs accordingly.
Workflow changes include the option to set the snapping distance for both point and grid snapping based on absolute distance, viewport zoom level, or the grid itself.
Both of the software's viewports can now display only flattened or only unflattened UV islands, or both.
FBX export has also been extended, with UDIMs, tile geometry, UV island groups and island properties now saved in FBX files; while a model's old UVs are now erased by default when exporting multiple UV sets.
There are also changes to the way UV islands are stacked, plus a number of smaller new features and UI changes: you can find a full list via the link at the foot of the story.
Pricing and system requirements
RizomUV 2019 VS and RizomUV 2019 RS are available for 64-bit Windows 7+ and macOS 10.12.5+. Rizom-Lab is calling for testers for a new Linux edition, which supports Ubuntu 18.4+.
The two editions have similar features, but whereas VS is designed for games and VFX, RS is designed for product design, and works in unnormalised UV space, respecting the dimensions of the original model.
Licensing varies between Indie users – artists and companies earning under €100,000/year – and Pro users.
Indie users get the option to rent to own or buy a perpetual licence; Pro users get a rental-only model. Indie licences of both types are node-locked to two computers, while Pro users can also rent floating licences.
For RizomUV 2019 VS, a perpetual licence costs €149.90 (around $170) and rent-to-own costs €14.90/month ($17/month). Pro licences cost €34.90/month/token ($40/month/token).
For RizomUV 2019 RS, a perpetual licence costs €299.00 (around $340) and rent-to-own costs €29.90/month ($34/month). Pro licences cost €59.90/month/token ($68/month/token).
There are third-party integration plugins for 3ds Max, Blender, Cinema 4D, LightWave, Maya and ZBrush.

Read a full list of new features in RizomUV 2019 VS and RizomUV 2019 RS in the online release notes
Tags: 3ds max, automated UV unrwapping, Blender, Cinema 4D, FBX, LightWave, Linux, Lua, macOS, Maya, multiple UV set, new features, price, Rizom-Lab, RizomUV, RizomUV 2019, RizomUV 2019 VS, RizomUV Real Space, RizomUV RS, RizomUV RS 2019, RizomUV Virtual Space, RizomUV VS, script library, scripting, scripting panel, snapping, Ubuntu, UDIM, UV island, UV packing, UV seam, UV unfolding, UV unwrapping, Windows, ZBrush