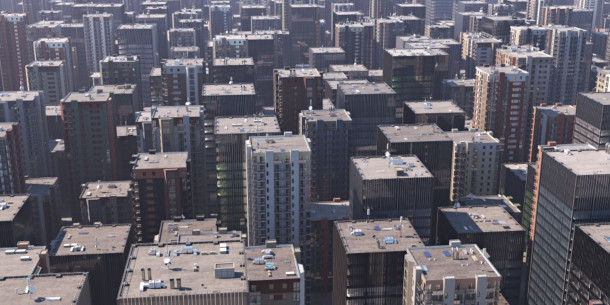 iToo Software has previewed RailClone 4.0, the latest update to its parametric modelling plugin for 3ds Max, at Chaos Group's Total Chaos 2019 conference.
The update, which is due in beta shortly, adds support for nested generators, a new RC Spline modifier, a Quick Mesh viewport display mode for working with large scenes, plus a lot of workflow improvements.
Nested generators create more complex geometry arrays
New features in RailClone 4.0 include the option to nest generators, making it possible to generate more complex arrays of model components.
One example shown at Total Chaos showed the feature in use to generate a chandelier, with one generator used to distribute the hanging lightbulbs in a circular array, and another to vary the lengths of the cables.
The properties of the nested generator can be accessed directly from within the parent generator, both in the node graph, and from the Modify panel.
New RC Spline modifier helps distribute model parts along splines
Another new feature is the RC Spline modifier, which enables users to distribute model components at arbitrary positions along a spline, rather than having them spaced evenly.
The Total Chaos demo showed the system in use to control the distribution of windows along a wall.
The markers along the spline can contain data, enabling users to control the properties of individual model components, and move with the spline itself. The feature works with both X and Y splines.
Better workflows for assigning materials and manipulating geometry
Workflow improvements include better handling of materials: it is no longer necessary to create a single Multi/Sub-Object Material for a RailClone system.
The change should make it easier to perform tasks like using RailClone to distribute stock assets like cars that come with multiple Multi/Sub-Object Materials.
A new Use Segment Material option in the Modify panel picks the textures for each asset automatically.
Other changes include automatic capping of holes created in geometry by Clipping Splines, support for local axis aligment in the Transform operator, and a "more intuitive" workflow for the Compose operator.
New Quick Mesh display mode for complex scenes
Viewport changes include a new Quick Mesh display mode as a halfway house between full quality and a point cloud or bounding box view when working with a lot of instanced geometry
The update also introduces support for Hi-DPI displays.
Usability improvements to the Style Editor
There have also been a number of UX improvements to RailClone's Style Editor: inserting a node into the middle of a wire on the graph now connects it automatically, while removing it heals the connections.
There is also a new Select All Children option in the contextual menu when selecting a node.
Other changes include the option to snap nodes to an underlying grid to keep graphs tidy, and unique names for every node in the graph, making them easier to reference in complex set-ups.
Pricing and availability
RailClone 4.0 is due in beta in "a few weeks" for users of the paid version of the plugin with active maintenance. iToo Software hasn't announced a final release date yet.
The current version, RailClone 3.3, is available for 3ds Max 2012+. Feature support varies between the different compatible renderers. New licences now start at €220 (around $245) including one year's support.
There are is also a free, feature-limited Lite edition of the plugin.

Visit the RailClone product website
(No extra information about RailClone 4.0 at the time of posting)
Tags: 3ds max, cap geometry, Clipping Spline, Compose operator, generator, Hi-DPI, iToo Software, macro, modeling, Multi/Sub-Object Material, nested generator, new features, node graph, node-based, parametric modeling, plugin, price, RailClone, RailClone 4.0, RC Spline modifer, release date, spline, Style Editor, Total Chaos 2019, Transform operator, Use Segment Material, visual programming