Blackmagic Design has unveiled DaVinci Resolve 16, the latest update to its colour grading, editing and post-production software, and the DaVinci Resolve Editor Keyboard, a dedicated $995 control device.
The update adds a 'cut page' to the software's UI for fast-turnaround editing, new ResolveFX effects plugins, and the DaVinci Neural Engine: an AI-driven toolset for automating repetitive tasks.
The software was released in public beta at this week's NAB 2019 show, alongside Fusion 16 Studio, the latest version of Blackmagic's standalone compositing software.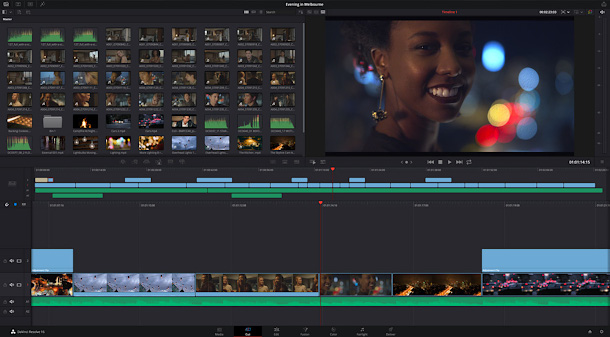 New FCPX-like 'cut page' streamlines editing jobs
Although it isn't necessarily the one that will most appeal to CG Channel readers, the headline feature in DaVinci Resolve 16 is the new cut page.
Intended for editors working on projects with tight deadlines, it provides a more "streamlined" alternative to the existing edit page, with integrated colour, audio and titling capabilities.
It also introduces what Blackmagic describes as "revolutionary new tools", including a source tape mode and dual timeline for trimming.
The former presents all of the clips in the media bin as a single, continuously scrubbable 'tape', making it quicker to locate the relevant sections of footage.
The latter provides parallel timelines showing an entire program and the current work area. Both can be used for trimming, minimising the need to zoom in and out.
On Blackmagic's forum, users have compared the cut page to the changes Apple made to Final Cut Pro in Final Cut Pro X. Like FCPX itself, it divides opinion, but it is provided in parallel to the edit page, so it is still possible to work in the traditional way, or to switch between workflows as jobs demand.
New AI-driven DaVinci Neural Engine speeds up repetitive tasks
The update also adds the DaVinci Neural Engine, a new AI-based system designed to provide "simple tools to solve … repetitive and time-consuming problems".
Examples include sorting clips into bins according to whether people feature in the shot, driven by the Neural Engine's face-recognition capabilities.
Other features driven by the Neural Engine in Resolve 16 include retiming or upscaling footage, and automated colour-matching between clips.
Improvements to the ResolveFX effects toolset
Graphics-related changes include "major improvements" to the ResolveFX toolset, including new plugins for adding vignettes, drop shadows, analogue noise and chromatic aberration; and for removing objects.
In addition, there are improvements to the scanline, beauty, face refinement, blanking fill, warper, dead pixel fixer and colorspace transformation plugins.
Users can also now view and edit ResolveFX keyframes from the timeline curve editor on the edit page or from the keyframe panel on the color page.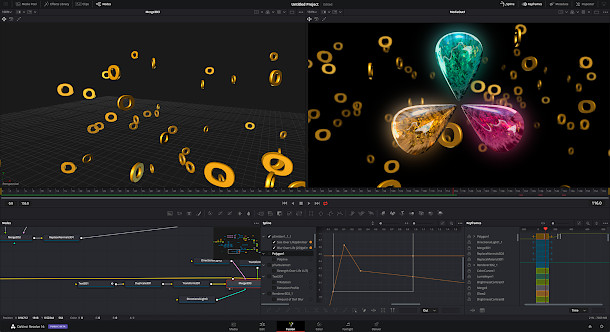 Other new features: adjustment clips, more GPU acceleration, and integration with Frame.io
Other new features in DaVinci Resolve 16 include adjustment clips, making it possible to apply blend modes, grading changes, ResolveFX effects or transfomation to stacks of clips in the timeline.
Support for GPU acceleration has also been extended, notably in the Fusion compositing toolset (pictured above); and there are new GPU-accelerated scopes for waveform monitoring.
The software's Fairlight audio toolset also gets a number of new features, and the software now features native integration with video review platform Frame.io.
You can find a full list of changes and performance improvements via the link at the foot of the story.


New dedicated $995 editing keyboard with built-in search dial
Outside the software, Blackmagic Design has also announced the DaVinci Resolve Editor Keyboard: a dedicated control device for editing.
It is designed to be used two-handed, with users scrubbing through footage via a built-in search dial to the right of the keys, and features a number of other ergonomic improvements.
At $995 – over three times the cost of the Studio edition of the software – it isn't exactly cheap, but it's an all-metal design, and sounds as though it should be pretty durable.
Pricing and system requirements
DaVinci Resolve 16 is available now in public beta for Windows, Linux and macOS.
The base edition of the software is free; the Studio edition, which enables you to work at resolutions higher than UHD and adds a range of advanced features, costs $299.
The DaVinci Resolve Editor Keyboard is due for release in August 2019, and will cost $995.

Read a full list of new features in DaVinci Resolve 16
Visit the DaVinci Resolve product website
Tags: adjustment clips, AI, audio, automation, beta, Blackmagic Design, color correction, color grading, color matching, compositing, control surface, cut page, DaVinci Neural Engine, DaVinci Resolve, DaVinci Resolve 16, DaVinci Resolve 16 Studio, DaVinci Resolve Editor Keyboard, download, editing, effects, face recognition, Final Cut Pro X, Frame.io, free, Fusion, GPU acceleration, keyboard, NAB 2019, new features, plugins, post-production, price, release date, ResolveFX, retiming, scope, system requirements, upscaling, waveform